Mining Precinct|Africa|Bell Equipment|Building|Business|Business Growth|Chute|Copper|Design|drives|Electrical|Energy|Engineering|Environment|HPE|Hydro Power Equipment|Industrial|Innovation|Logistics|mandela mining precinct|Manufacturing|Mineral Processing|Mining|Multotec|Power|Projects|Resources|Safety|Sensor|Service|Services|Simulator|Slurry|Steel|supply-chain|Surface|Syspro|System|Systems|Technology|Testing|Training|Tubes|Underground|Waste|Water|Equipment|Maintenance|Manufacturing |Products|Solutions|Environmental|Drilling|Waste
MEMSA brings together key mining, manufacturing industry role players and equipment manufacturers at 2023 Mind Shift Conference & Awards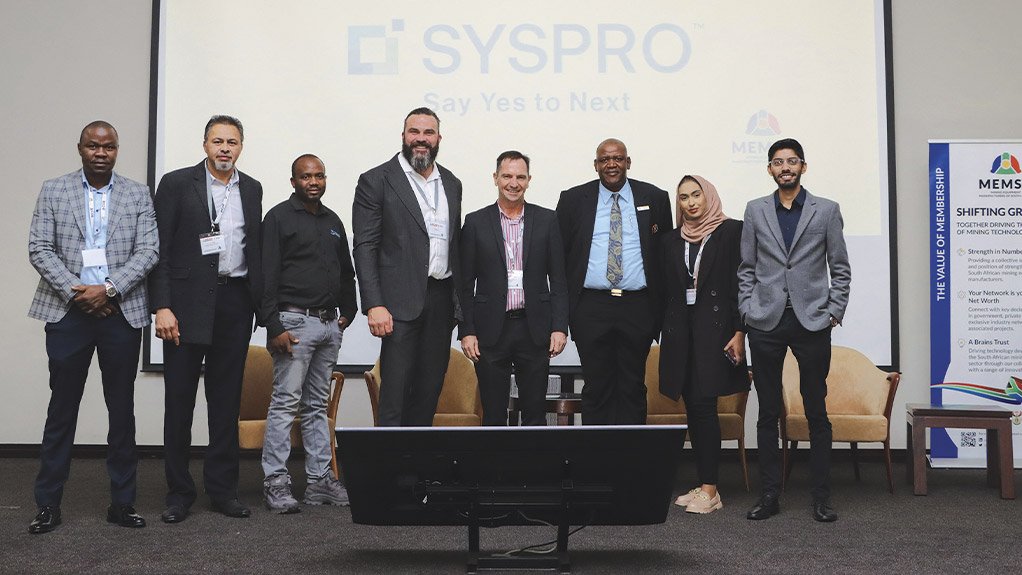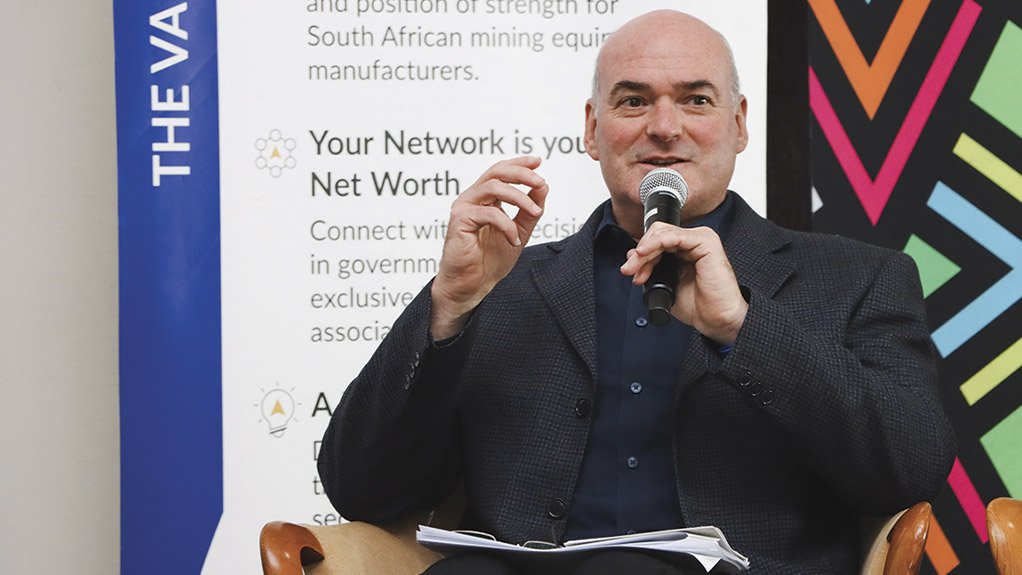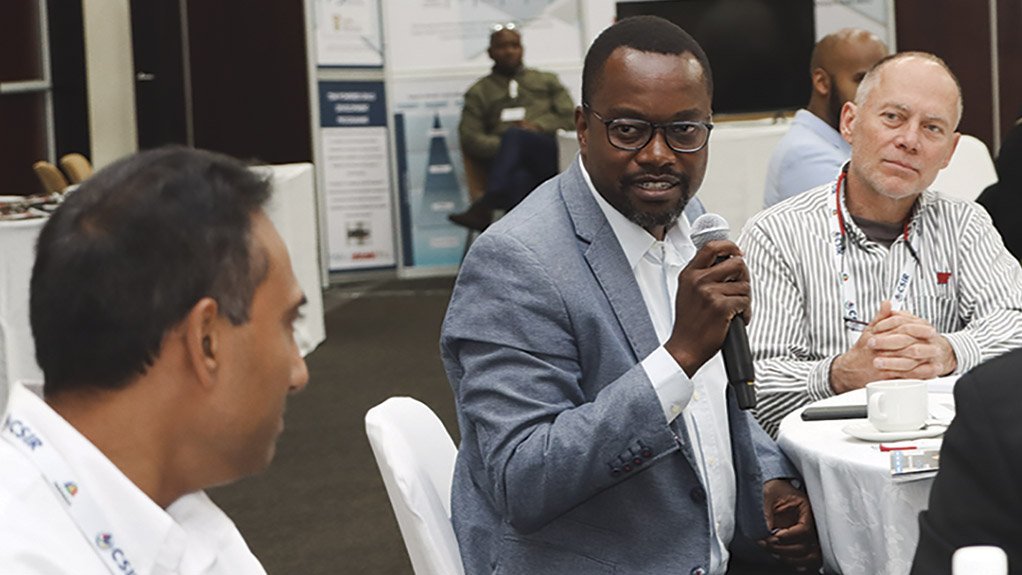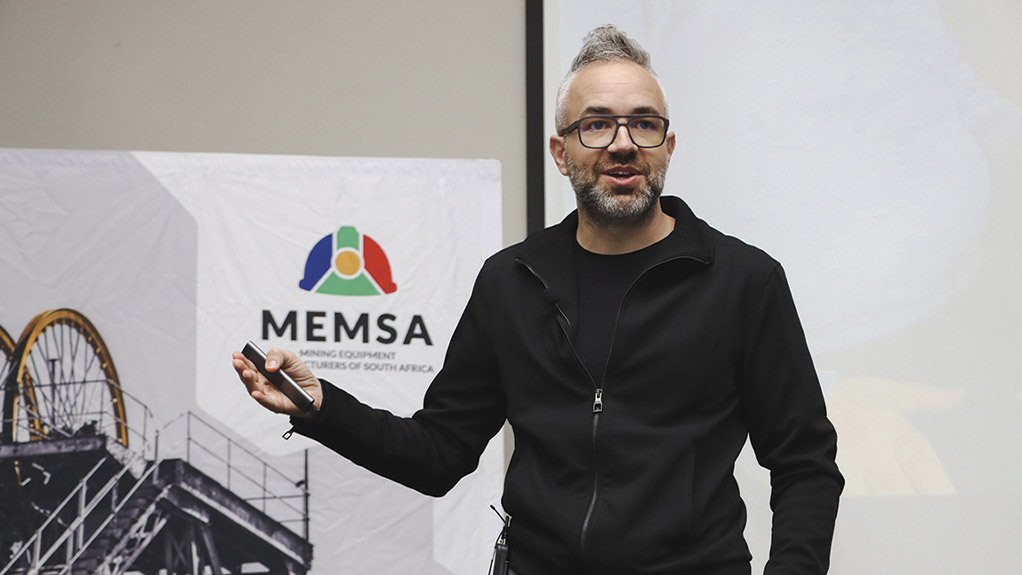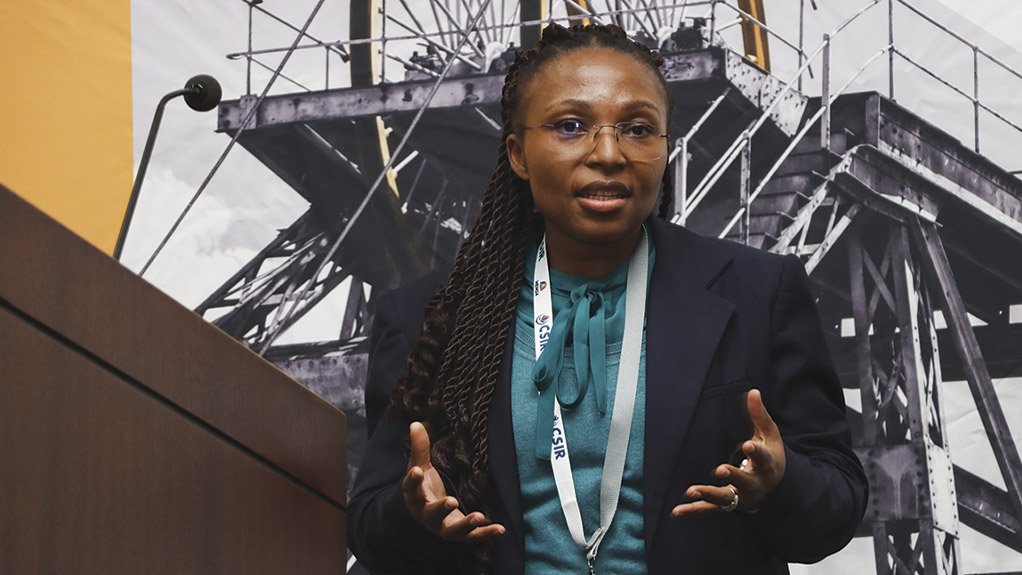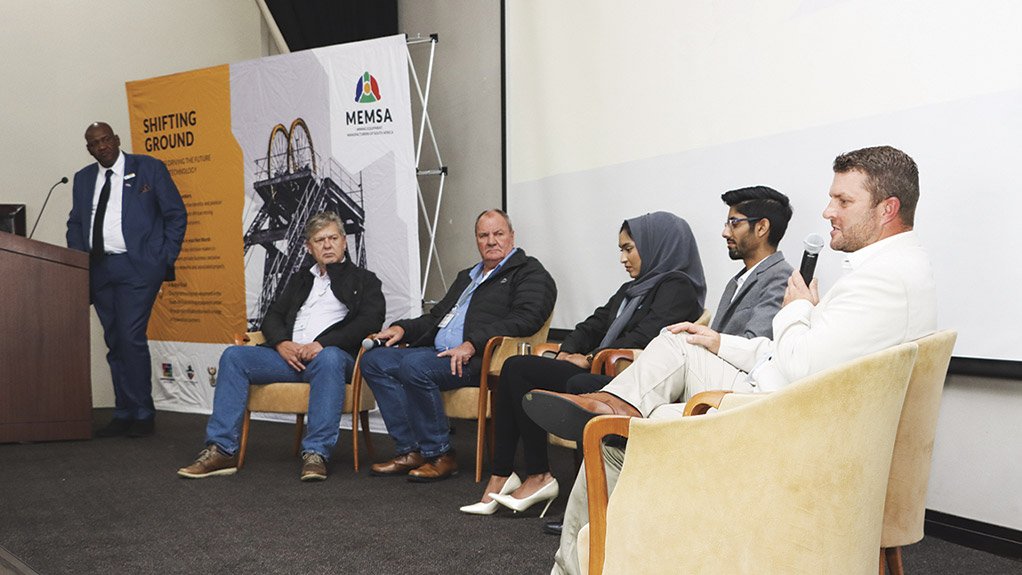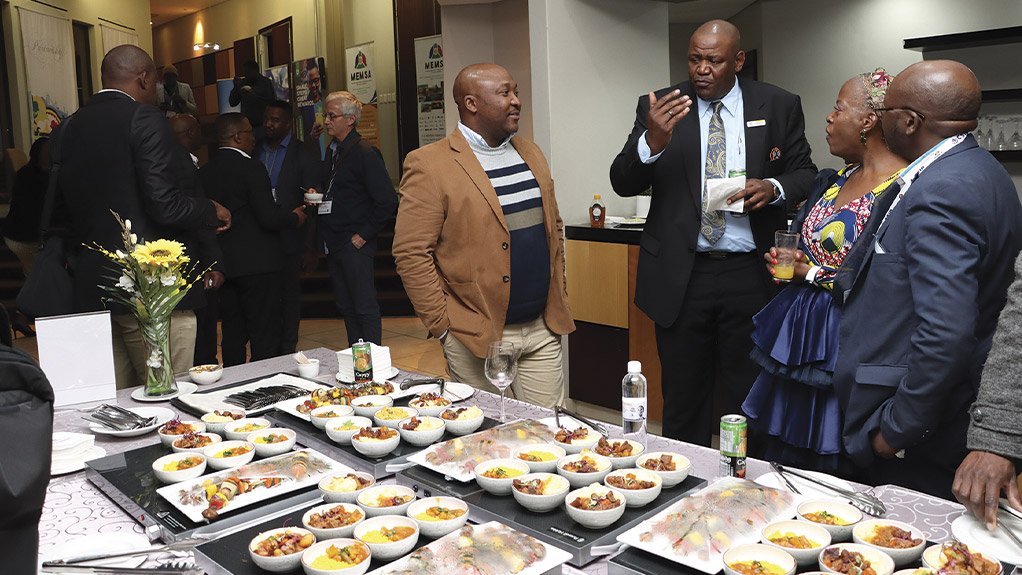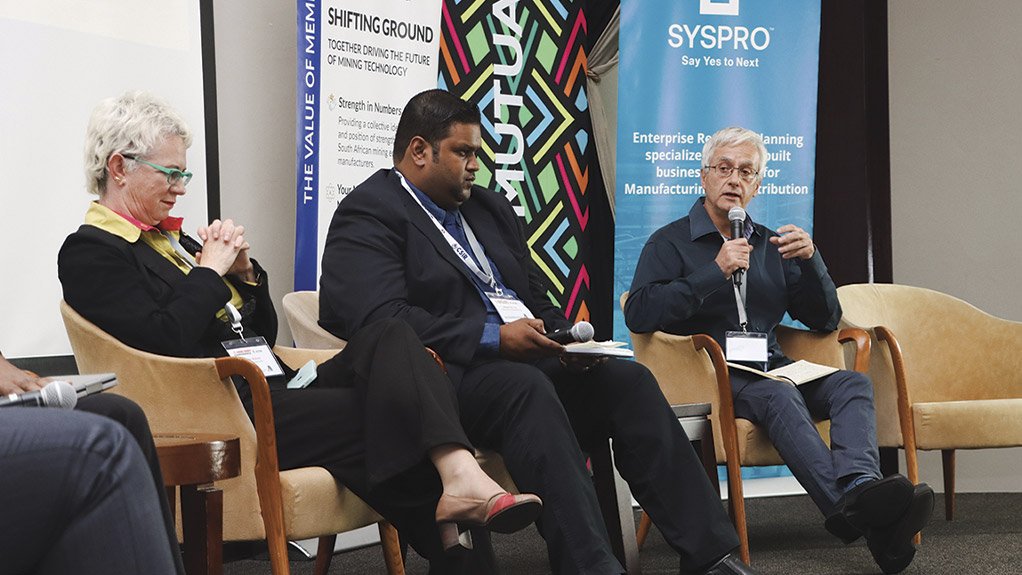 Manufacturing Excellence Award winners - Nico Mkhari of NTGR Engineering, SAM Kader of Buraaq Mining Services, Eugene Els CEO of Afromix, Johann Jordaan awards sponsor Syspro, Lehlohonolo Molloyi MEMSA CEO, Sayeeda Mayat of Buraaq, Muhammad Kudoos from Buraaq (absent Bell Equipment)
JJ Verhaeghe, Real Time Information Management Systems (RTIMS) Programme Manager
Freddy Mugeri – Founding Chairperson of MEMSA asking Ajith Gopal of CSIR a question during the Q&A Session
Dr Adam Pantanowitz, head of the Wits Centre for Innovation setting the scene for Day 2 of the Conference
Sibongile Ntsoelengoe - The Council for Scientific and Industrial Research CSIR
Innovation for Mining Winners – Lt – Rt (Anton Wheeler of Bell Equipment, Martin Pretorius of Nkangala Mining, Sayeeda Mayat of Buraaq Mining Services, Muhammad Kudoos of Buraaq and Ruan Kukard of AZMET Technologies and Projects
Networking Dinner Sponsored by Scan Global Logistics
Panel Discussion 'Making the most of digital in South African manufacturing – Philippa Rodseth of Manufacturing Circle, Steve Jardine of RSA Clusters, Shaniel Dhavraj of the University of Johannesburg.
South Africa has a long intertwined history of mining as well as the manufacture of equipment for mining and has been a site for innovation for the mining industry since its early beginnings. Recognising the need to cultivate and nurture this innovative and resilient spirit, the Mandela Mining Precinct's South African Minerals, Extraction, Research, Development and Innovation (SAMERDI) initiative, a partnership between the South African government and the Minerals Council of South Africa, has supported Mining Equipment Manufacturers of South Africa (MEMSA) and its members in fostering innovations in safety and solutions-driven mining equipment. It is in this context that MEMSA hosted the first Mind Shift Conference in Sandton on May 24 and 25, 2023.
According to Department of Trade, Industry and Competition Acting Deputy Director General: Industrial Competitiveness Dr Nimrod Zalk, who opened the conference, demand for critical minerals, of which Africa has an abundance, will have a profound effect on mining and the mining supply chain on the continent. The transitions to green energy and digital technologies, as well as the agricultural revolution, will each fuel the demand for the required minerals, including battery minerals, copper and fertiliser minerals.
South African mining and equipment industries are perfectly poised to lead the way from "climate destructive" to "climate smart" mineral recovery, with South Africa one of the few countries on the continent able to bridge this technology gap.
The 2023 Mind Shift Conference drew together a wide range of stakeholders from the mining industry and supply chain, research institutions, the skills sector and government to build a shared understanding of the opportunities and challenges of the fourth Industrial Revolution (4IR), and strategies for succeeding together. It was under the refrain of "mind shift" that the MEMSA Manufacturing Excellence Awards, sponsored by world-class ERP software provider Syspro, were awarded to companies who had embraced and employed digital technologies aimed at providing greater competitiveness, value delivery to the mines and an improved contribution to the South African economy through skills development, meaningful jobs, company growth, safety and environmental sustainability.
Manufacturing 4.0
Day 1 of the conference focused on the effective integration of digital technologies in manufacturing and customer service applications. While South African manufacturers are generally in the early phases of this journey, speakers and awards winners demonstrated that strategic use of new technologies can hold tremendous benefit. Speakers, Johan du Toit of Syspro, Tapiwa Samanga, CEO of the Production Tooling Association of SA (PtSA), Gideon Potgieter, CEO of Resolution Circle, Tebogo Mahluli at NextGenOpX, and Dr Ajith Gopal of the Council of Scientific & Industrial Research (CSIR), demonstrated that the technology is available to unleash greater productivity and competitiveness in the manufacturing industry, and that expertise to support decision making, implementation and skills development is available to South African companies. The reality of the shortage of the required skills cannot be ignored, and this will need to be addressed to ensure that technology does not displace unskilled labour, only to find a lack of skilled alternatives. "Industry cannot ignore the role it can play in creating an environment for in situ training of technicians and graduates," said Potgieter.
The highlight of the day was the MEMSA Manufacturing Awards. These awards were open to qualifying member and non-member companies, and were widely publicised through industry associations, social, print and on-line media. We would like to sincerely thank our expert judges MMP SATCAP Programme Manager Sherin Rampersad, Productivity SA marketing manager Andrew Mbatham, and Samanga.
SME company NTGR Engineering Products won the Digitised Services Award for demonstrating improved and transformed customer services through digital technologies. NTGR adopted a strategic approach to customer needs, identified potential value-add using existing enterprise and supply-chain data, and recruited additional staff with the digital skills to grow the business. NTGR director Nico Mkhari encouraged start-ups to persevere despite "resourcing challenges for R&D".
The award for Manufacturing 4.0 went to African Mixing Technologies (Pty) Ltd for their use of digitised equipment and a robotic arm in their manufacturing process, which has led to a better quality product and business expansion. The Afromix products are predominantly bespoke and fit for purpose, this in itself poses a challenge for a digitised manufacturing process. Their manufacturing plant based in Uitenhage also faced a technical skills shortage, so they partnered with local training facilities to bridge the gap in skills and provided on-the-job training.
Bell Equipment Company South Africa is an accredited training provider with two well-equipped training facilities. Bell offered nine apprenticeships and trained 170 apprentices in 2022, working closely with merSETA, DHET and the YES programme. Bell also has a two-year Graduate-in-Training programme which focuses on the application of technology skills, while on-the-job training includes digital fleet, power, fuel and equipment monitoring systems. This ensured they were the clear winners of the Future Skills Development Award.
SME company Buraaq Mining Services won the award for People-Centered Growth, having created quality employment and learning opportunities as they incorporated digital technologies in their product design.
Satisfying the DMRE technical requirements meant engaging two new specialist staff members, and upskilling the existing manufacturing team. According to Buraaq design engineer Muhammad Kudoos, "It takes an organisational effort to embrace new technologies." The 17 apprentices hosted by Buraaq benefit from exposure to advanced technologies.
Bell Equipment Company was further recognised as MEMSA Manufacturer of the Year for consistent, excellent performance across all categories.
Winners emphasised that new technologies should be employed where called for by business strategy, and that educating and upskilling staff to embrace digital tools and methods as enablers of business growth is critical to success.
Baletsema Mining's Bokang Kelepa led a lively discussion on 'Making the most of digital in South African manufacturing'. On the panel were Philippa Rodseth of The Manufacturing Circle, Dr Ajith Gopal and DrShaniel Dhavraj of the University of Johannesburg, and of RSA Clusters CEO Steve Jardine. Some of the take-homes from the discussion was ensuring that digitisation is meaningful and not undertaken for digitisation's sake, thus it is important that "industry leads the technology change for the industry," said Jardine.
It is not necessary to reinvent the wheel. If the technology exists out there, adopt it, adapt it and apply it to your needs. Technologies designed initially for one application are now finding applications in unexpected industries. According to Gopal , "South Africa needs to focus its limited resources on R&D and technologies which make a difference, save lives, and improve productivity and competitiveness. The Internet of Things and cloud services are examples of technologies which are easy to adopt."
What is abundantly clear is the need for industry to work together. "Collaboration speaks to what we can do better, together as an industry, as a country, and how we use our collective skills to the benefit of the South African manufacturing sector," says MEMSA CEO Lehlohonolo Molloyi. "The world is watching South African manufacturing for mining solutions; we need to keep our Intellectual Property local."
Innovation for Mining
Day 2 of the conference focused on innovation for mining and began with a stimulating and inspiring speech by Wits Centre for Innovation head Dr Adam Pantanowitz, an iconic biomedical and electrical entrepreneur. His themes of scarcity and necessity sparking innovation, and bravely exploring the art of the possible, spoke strongly to the South African audience and were echoed throughout the day.
Real Time Information Management Systems (RTIMS) Programme Manager JJ Verhaeghe shared learnings from a study on the state of digital transformation in the South African mining industry by PWC and the Mandela Mining Precinct. The study for the Minerals Council of South Africa highlighted how 4IR is building value in the South African mining industry and where it is headed, who owns and drives digital transformation in mining businesses, how mines perceive the evolution of 4IR affecting their business in years to come, and what steps they are taking in preparation of those changes.
Sibanye-Stillwater's Alex Fenn motivated for a regulatory and institutional environment which supports innovation and innovators, while Wits Digimine's M. Ahsan Mahboob shared how collaboration between mines, manufacturers and research partners can powerfully drive digital innovation.
Nerospec's Tiaan Tromp moderated a panel including Verhaeghe, RamJackTech's Hugh Maleka and Mahboob on the urgent need for standardisation and coordination in the development of equipment and software, to ensure that data from diverse sources can be integrated. Open source technologies have an important role to play in building inclusivity. There are opportunities for smaller companies and start-ups, as they are more agile and can bring disruptive technologies to the market. This was certainly evidenced in the number of awards taken home by SMEs over the two days.
The MEMSA Innovation for Mining Awards entries were judged by a panel of mining technology experts, including SAMERDI Programme Manager for Mechanised Mining Systems Martin Pretorius, Jean-Jacques Verhaeghe, Mandela Mining Precinct Strategic Advisor Dick Kruger, Mintek's Dr Maje Phasha, and Coaltech director Henk Lodewijks. Entries were scored on innovation, expected impact on the mining industry, and relevance to core challenges faced by the mining industry.
The Innovation in Hard Rock Mining Equipment (The Navin Singh Award) was won by Nkangala Mining Equipment for their design of an intelligent bolter with several advanced and innovative features including a PLC system, alternate power sources, remote reporting of drilling data and a smooth switch between drilling and bolting.
A runner-up award in the same category was presented to Buraaq Mining Services for its low profile mechanised roof bolter, with PLC-based operation offering remote control up to 100 m. Notably, both companies are SMEs who have built expertise and experience through refurbishment, and have now levelled up to provide their own solutions to mining customers.
Nkangala Mining were further awarded the Merit Award for Innovation in Soft Rock Mining, recognising the fuel-saving, low maintenance and environmental benefits of its hybrid LHD. The hydrostatic drive is controlled via CAN-BUS remote control or operator joystick, offering greater safety for the operator.
Bell Equipment won the award for Innovation in Surface Mining for its collision warning and avoidance interface conversion for ADT, which enables immediate compliance with L9 safety regulations, software which enhances safety, and a simulator which allows speedy testing and integration.
The Innovation in Mineral Processing Award was won for the second year by AZMET Technology and Projects, this time for a carbon to metal converter which recovers metal from coarse or fine activated carbon, wood chips and other processing wastes, reducing waste while increasing mine profitability.
Graf-In Tech, another SME won the Digital Solutions for Mining Award, for their end-to-end business intelligence driven fleet management solution for mines. The system integrates GPS, fuel sensor and camera inputs with data from third-party sources, providing management with actionable insights via a smart dashboard.
Finally, Kapabrake was awarded the Chairman's Award for Innovation by an SME for its mine winder brake pad. The locally manufactured brake pads offer cost savings and improved lead time to delivery, as well as the option to customise, and has passed rigorous tests in the US and by the CSIR.
A discussion with the winners revealed that self-funding innovation makes for slow progress. For innovators, funding and commercialisation are major challenges, a strong commercialisation partner can be the difference between success and failure. For many it has taken years of development and testing, at great expense, to reach the point where they are now recognised for their innovations. Advice from Andrew Frost of Kapabrake to fellow innovators is "do not give up, no matter the obstacles."
CSIR Executive Manager for Future Production Sibongile Ntsoelengoe spoke on how the CSIR is committed to connecting science and industry.
The final panel discussion was moderated by Umeesha Naidoo of the IDC, with the panel consisting of Minerals Council of South Africa's Sietse van der Woude, Fenn, Gravitas Minerals' and 2022 Innovation Award Winner Tebogo Kale, and Sibongile Ntsoelengoe. The panel was very impressed with the quality of the entries, the caliber of companies and their innovations. As van der Woude said, "it takes real bravery to be an entrepreneur and an innovator. Resilience seems to be the most important and abundant characteristic of the people within the room". He further highlighted that safety has now become one of the greatest drivers of innovation. "As a country we have decided that it is not acceptable to have a single fatality in our mines."
Alignment of regulations and legislation to create greater certainty and a supportive environment, could stimulate greater innovation. In addition to the innovation for mining awards winners there are currently excellent examples of the strength of innovation in the sector that speak to these new technologies.
The Hydro Power Equipment (HPE) maxi bolter and PP3 power pack provide a safe, fast, environmentally friendly, water wise and complete roof bolting solution which can be operated remotely via umbilical controls. The power pack delivers high pressure water to operate three maxi bolters in a typical bord and pillar mining section and can be transported via utility vehicle cassette.
Energy Densification Systems (EDS) have designed a compact vertical multi-shaft mill using high-speed impacts to break down particles with large reduction ratios, low energy consumption and improved liberation compared to traditional milling methods.
Multotec's pulping chute scrubs ore material in a carrier liquid. Through the innovative use of slurry deflectors, calibrated turbulence and reverse flows are created, improving the efficacy of scrubbing and laundering actions.
SME Khentsa Steel have developed a tube pressure testing device, which will aid the seam welded tube industry to ensure the safety and integrity of products such as lancing tubes which are used in mineral processing.
GR Mining has reduced the time and cost involved in commissioning underground refuge bays, by designing collapsible, easy to erect and legally compliant emergency toilets. Their vent trapdoor is designed to open automatically and improve airflow when dangerous levels of methane are detected.
In terms of digital solutions for mining, Riis worked with consortium partners to develop two innovative applications. The first supports SMEs through the process of qualifying as vendors with local mines; while the second allows mines to assess digital leadership capabilities amongst its workforce.
In the South African context new technologies do not need to replace employment by mines, but can enhance human decision making and safety, and machines can be sent into depths and areas too risky for human operators. Also, by manufacturing equipment locally, quality jobs are created in manufacturing.
Collaboration remains key, and MEMSA, a member-based cluster together with a wide range of innovation partners such as the Mandela Mining Precinct is helping to drive innovation and competitiveness in the local mining equipment manufacturing industry through activities such as the first Mind Shift Conference and facilitating technology development partnerships.
MEMSA wishes to thank expert speakers and panelists; guests; the event's key sponsor, Old Mutual, for 178 years of serving South Africa; Syspro, the Manufacturing Excellence Award sponsor; Scan Global Logistics; the CSIR and member company HPE.
The feedback from delegates has been overwhelmingly positive. One participant reported, "Words cannot describe the impact of this event".
Latest Multimedia
sponsored by
Subscribe to improve your user experience...
Option 1 (equivalent of R125 a month):
Receive a weekly copy of Creamer Media's Engineering News & Mining Weekly magazine
(print copy for those in South Africa and e-magazine for those outside of South Africa)
Receive daily email newsletters
Access to full search results
Access archive of magazine back copies
Access to Projects in Progress
Access to ONE Research Report of your choice in PDF format
Option 2 (equivalent of R375 a month):
All benefits from Option 1
PLUS
Access to Creamer Media's Research Channel Africa for ALL Research Reports, in PDF format, on various industrial and mining sectors including Electricity; Water; Energy Transition; Hydrogen; Roads, Rail and Ports; Coal; Gold; Platinum; Battery Metals; etc.
Already a subscriber?
Forgotten your password?
MAGAZINE & ONLINE
R1500 (equivalent of R125 a month)
SUBSCRIBE
Receive weekly copy of Creamer Media's Engineering News & Mining Weekly magazine (print copy for those in South Africa and e-magazine for those outside of South Africa)
➕
Recieve daily email newsletters
➕
Access to full search results
➕
Access archive of magazine back copies
➕
Access to Projects in Progress
➕
Access to ONE Research Report of your choice in PDF format
RESEARCH CHANNEL AFRICA
All benefits from Option 1
➕
Access to Creamer Media's Research Channel Africa for ALL Research Reports on various industrial and mining sectors, in PDF format, including on:
➕
➕
➕
➕
➕
➕
➕
➕
➕
Receive all benefits from Option 1 or Option 2 delivered to numerous people at your company
➕
Multiple User names and Passwords for simultaneous log-ins
➕
Intranet integration access to all in your organisation