Africa|Building|Business|Coal|Components|Consulting|Energy|Engineering|Engines|Environment|Financial|Forklift|Freight|Gas|Gold|Indaba|Industrial|Innovation|Iron Ore|Logistics|Mining|Motors|OPENCAST|Platinum|Power|PROJECT|Renewable Energy|Renewable-Energy|Road|Solar|Storage|Sustainable|System|Systems|Technology|transport|Trucks|Water|Equipment|Maintenance|Operations
Minimum of 14 000 jobs a year from South Africa's first hydrogen corridor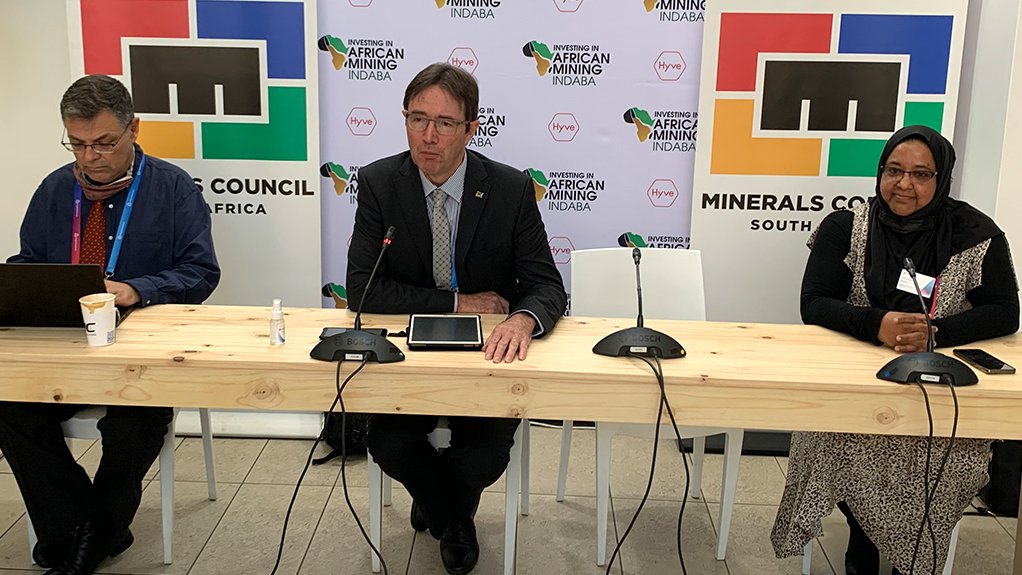 Minerals Council hydrogen briefing from left Allan Seccombe, Roger Baxter and Fahmida Smith.
Photo by Creamer Media
CAPE TOWN (miningweekly.com) – South Africa's first hydrogen corridor now under development has the potential to generate a minimum of 14 000 jobs, $400-million in gross domestic product and $900-million in taxes a year by 2050.
In an addition, there is potential to grow platinum group metal (PGM) demand by between 1% to 2% within the valley.
"That touches on some of the aspects why we as Anglo are interested in hydrogen and see it perfectly aligned with our purpose of reimaging mining to improve people's lives," said Anglo American market development principal Fahmida Smith during a media briefing at the Investing in African Mining Indaba covered by Mining Weekly.
Emphasising that the hydrogen economy is being advanced to mitigate against climate change, Minerals Council South Africa CEO Roger Baxter told journalists: "We are sitting here with climate change being probably the single biggest risk that we are facing from the company and country-level perspective and clearly if we do nothing, the results of climate change will end up being catastrophic at a particular point. We all accept the science of climate change and the need for the just energy transition."
The green hydrogen needed is produced by electrolysis using renewable energy sources and the process splits water into hydrogen and oxygen. It doesn't have any greenhouse gas emissions.
While at the moment green hydrogen is still costing between $5/kg and $6/kg and grey hydrogen from coal between $1.50/kg and $2/kg, it is contended that economies of scale and cost focus would bring them down to a much lower level.
Why is South Africa so ideal for green hydrogen?
"We think that South Africa will become a global player in the game of green hydrogen. The reason for thinking that is first of all we rank in the top ten sunniest countries in the world, making us very well placed to produce renewable energy from photovoltaics and from wind," said Baxter.
South Africa has a significant resource and reserve base of PGMs, which are used in fuel cell technology and based on this country's experience in using the Fischer-Tropsch technology through Sasol, we possess the know-how.
Already if you look at it on a grey hydrogen basis, South Africa, through Sasol, already produces 2% of global grey hydrogen.
In countries such as Germany, Japan, South Korea and others, the level of solar radiation is considerably lower than what South Africa has, which gives the country a comparative advantage in the production of green energy, which can be theoretically translated into the production of green hydrogen.
"We also possess in the mining sector large volumes of water on mine sites at, for example, Kumba Iron Ore in the Northern Cape, and at gold and platinum operations," said Baxter.
"We have access to sufficient water required to do the hydrolysing and we are working hard on the process because the benefits could be quite substantial."
In fact, the Minerals Council commissioned a consulting company, Singular, to do some detailed work which pointed to South Africa's green hydrogen economy sector potentially being 25 times bigger than this country's iron-ore mining industry by 2050.
Going through the just energy transition and reducing carbon intensity in production were all cited as being critically important components of the hydrogen economy, which would bring a big market for PGMs.
"So, it's really a big area of focus. It has a huge job creation potential as well as significant economic potential from a country-level perspective.
"We estimate that the green hydrogen economy in South Africa could generate something like 20 000 to 40 000 extra jobs as we go forward," said Baxter.
A number of other countries have already embarked on green hydrogen strategies. Australia already has offtake agreements for green hydrogen with South Korea and Japan, as well as a hydrogen road map and a hydrogen strategy in place.
South Africa has the Hydrogen Societal Road Map, which Minerals Council South Africa participated in developing, and Anglo American's 300 t articulated green hydrogen platinum fuel cell driven dump truck has created global interest.
"We think there are a lot of linkages that could be made. On the big issues, we must drive down the cost of green hydrogen, which is very much related to renewable energy availability, and that's going to require a significant amount of investment in the renewable energy space," said Baxter.
South Africa's mining sector has already started focusing on renewable energy, with 4 GW of additional power anticipated.
Minerals Council South Africa has developed its own hydrogen leadership forum, made up of experts within the various companies, including some CEOs from platinum and the other commodity groupings, looking at the potential for green hydrogen.
"We're looking at how we can unlock a specific road map and we are having discussions on how we unlock specific opportunities, particularly opportunities that enable a critical mass of leadership and industrial focus on taking the right steps from the Minerals Council side."
The Minerals Council is already in discussion with Sasol and looking into appropriate tax incentives for the value chain.
Original equipment manufacturers (OEMs) are being engaged, and the hydrogen corridor is being advanced with Anglo American.
A policy framework conducive to driving the green hydrogen process is required.
"We think the mining industry is well positioned to drive the green hydrogen process. We've got the capability, engineering, financial and balance sheets to be able to do so.
"We think we can play a leadership role and ultimately drive the future of green hydrogen in South Africa from a mobility perspective. We envisage that in due course railway networks and shipping will run on green hydrogen depending on how quickly the technologies can be developed over time," Baxter emphasised.
The green hydrogen concept around fuel cell technology is a 40-year to 50-year technology and Minerals Council has already played a role in demonstrating that the technology works through the 100 kW platinum fuel cell that it installed in 2014 at the Minerals Council building, which is still working perfectly and will continue to be worked by a mining company when the council exits its Johannesburg premises and moves to Rosebank.
"We've got the ability to attract the capital and we have significant industrial capability as a sector to advance the green hydrogen economy. Anglo American Platinum and the broader Anglo group is one example, but there are other mining companies, such as Sibanye-Stillwater and Impala Platinum, that have their own specific platinum and hydrogen programmes.
"It's been brilliant to see how that has advanced the technology from a real practical point of view. You just look at hydrogen fuel cell forklift programme that Impala Platinum has. I tried to borrow a forklift from them a short while ago to demonstrate it to associate members who came from the rest of the world for a visit and Impala couldn't lend me the forklift because it was too busy," Baxter recalled.
VIEWED THROUGH THREE LENSES
Smith said hydrogen was viewed by Anglo American through three different lenses.
"The first is in terms of our PGM market development. We've always understood that our PGMs play a crucial role within the key technologies in the hydrogen value chain, all the way from production to storage to end-use," she said.
PGMs are in the electrolysers that generate green hydrogen, the fuel cells and also within the liquid organic hydrogen carrier, or LOHC, storage technology
To this end, the London- and Johannesburg-listed Anglo American has been invested in the hydrogen economy for the better part of 15 years, with its market development initiatives focused on creating an ecosystem around hydrogen.
"We identify hydrogen as an opportunity area and we've looked at how we shape businesses within this ecosystem and then how the environment in which these businesses operate is shaped," said Smith.
For shaping the business, it decides how to assemble new ventures, put them in place and position them to access growth capital through its investment in AP Ventures.
It determines how it will partner with others to ensure that it can get large-scale uptake of the technology.
Shaping the environment is really focused on policies and it engages governments across the world on how to ensure that policy frameworks are put in place to facilitate global uptake of the technology.
"We also determine how we communicate correctly, timeously and transparently about what the technologies do and what we are doing in the environment," said Smith.
The second area is hydrogen being one of the key opportunity areas to decarbonize its operations, with the celebrated zero-emission mine haul truck an opportunity to displace diesel in its operations.
"We have always understood heavy-duty, high utilisation applications such as these haul trucks and we launched the truck on Friday.
"The truck is a tangible demonstration that has potential to unlock additional opportunities such as other large-scale train and ship applications.
"This is really opening that pathway for the thinking capacity around what else is possible around hydrogen and fuel cell technologies.
"Our technology uses green hydrogen. We produce the green hydrogen on site. We harvest solar energy through solar panels. We put that green energy through the electrolyser, which contains our PGMs. We add water to the system, it splits the water into hydrogen and oxygen," said Smith.
That hydrogen is then compressed and stored and goes through a hydrogen refuelling station, which is very similar to a petrol or diesel station, with the nozzle being put into the vehicle and the hydrogen being stored on board.
But unlike diesel and petrol, which are burnt in the current internal combustion engines (ICEs) and emit carbon dioxide emissions, diesel particulate matter, sulphur and nitrous oxide emissions that are environmentally unfriendly, the hydrogen fuel cell emits only water.
The catalyst in the ICE car system contains PGMs and that helps to reduce emissions, with the hydrogen fuel cell we don't emit emissions at the source of the energy generation.
The hydrogen travels to the fuel cell, which contains PGMs, and in an electrochemical process, as soon as the hydrogen comes into contact with the platinum catalyst, it splits it into its positive and negative ions. The negative ions generate energy or power, which makes the motors turn, and the positive ions combine with oxygen from the air to produce water.
"The haul truck launched on Friday is the first prototype of its kind. We have 40 of these vehicles on site at Mogalakwena and the idea is to roll this out to all 40 and eventually across seven of our other opencast mines that have a collective number of vehicles around 400.
"Operating these 400 vehicles on the mine sites removes a carbon dioxide equivalent of 500 000 diesel vehicles on the road currently.
"From a decarbonization perspective, we see this as the key opportunity area for us.
HYDROGEN VALLEY EASILY REPLICATED
The third lens is around the support of the just energy transition through the hydrogen valley as well as the freight corridor project already under development
The hydrogen valley study was done in conjunction with the Department of Science and Innovation, Engie and Bambili Energy.
What this study identified is that within the 835 km range of Limpopo, Gauteng and KwaZulu-Natal, there is potential to have three green hydrogen hubs.
"What's important to understand is that within those hubs, to ensure that the green hydrogen cost is minimised, is to have colocation of the production and use of the green hydrogen.
"What is important around the hydrogen valley and for long-term sustainability is aggregation of demand and ensuring that the demand is within this area.
"It's not just around a single application. It's multiple and diverse applications focusing on mobility, the potential to use hydrogen fuel cells within stationary applications for use as back-up power. All of these factors have to be brought together to ensure the development of a sustainable ecosystem," said Smith.
The report identified that the hydrogen valley is easily replicated within other regions. "We look at it from a total operating cost, or TOC, perspective, so we look at initial cost, the operational cost of its lifespan, and everything involved from maintenance to the cost of the hydrogen. This is then compared against diesel, looking at the same situation.
"We want to roll out at Mogalakwena and by 2030 start rolling out across seven of our other opencast mines.
"In addition, we want the technology to be available to the commercial market because we see it as a market development avenue. There is no intention to hold back the technology. We want it to be accessible and other miners to be able to buy and use the equipment firstly to decarbonize but also ensuring demand for our PGMs.
"Along this corridor there is potential to generate $4-billion in gross domestic product for South Africa, $900-million in taxes and a minimum of 14 000 jobs a year by 2050.
"In an addition, there is potential to create additional PGM demand of between 1% to 2% within the valley.
"That touches on some of the aspects why we as Anglo are interested in hydrogen and see it perfectly aligned with our purpose of reimaging mining to improve people's lives.
"When you think about the journey towards net-zero greenhouse gas emission by 2050, there is battery technology. The energy density in the batteries has not yet achieved a level of density where one can run big articulated trucks on a continual basis, without having a more permanent energy source that the hydrogen fuel cell provides," Smith said.
Hydrogen fuel cells provide electrochemical processes like having continually fueled batteries.
The fuel cells have no moving parts, have zero emissions, do not require oil changes and the fuel stacks do not require the heavy maintenance demanded by other mobility.
With battery technology, the energy density challenge in large-scale trucks and trains has not yet been met.
In the heavy-duty transport and shipping sectors, hydrogen fuel cell technologies are oised to become a bigger game-changer globally as the rest of the world looks at decarbonising.
"We see battery technology as complementary, and we do believe battery will have its space in the economy. But battery is not there yet for heavy duty, high utilisation, long distance applications and hydrogen fuel cells make sense.
"We do a TOC incorporating capital expenditure as well as maintenance over the life of the equipment. When you do a like-for-like TOC analysis, you understand that it gets to parity and in some instances the hydrogen fuel cell systems become cheaper, with time and economies of scale, to diesel equivalents. That's the work that we're doing on the hydrogen freight corridor and on the mine haulage truck.
"You can buy commercial fuel cell buses from OEMs, and these are the OEMs we're engaging with. Those that have already deployed and developed this technology and work is being done with them to determine how we can deploy the same logistics trucks and buses here in South Africa.
"Mining vehicles are slightly different. When you get to niche applications, OEMs are more reluctant to invest. They want to first understand the market and the implications. They are a little bit slower coming to the table but within commercial applications we see major uptake already," said Smith.
Regarding the cost of building the haul truck, it has to be emphasised that this is a world-first prototype. With any technology the prototype is more expensive. However, as you get uptake and economies of scale, that price point comes down.
"Solar at its onset was in the exact same position. There are a number of things the team is looking at to work with partners to ensure that the cost can come down to make it more affordable," said Smith.
Latest Multimedia
sponsored by
Subscribe to improve your user experience...
Option 1 (equivalent of R125 a month):
Receive a weekly copy of Creamer Media's Engineering News & Mining Weekly magazine
(print copy for those in South Africa and e-magazine for those outside of South Africa)
Receive daily email newsletters
Access to full search results
Access archive of magazine back copies
Access to Projects in Progress
Access to ONE Research Report of your choice in PDF format
Option 2 (equivalent of R375 a month):
All benefits from Option 1
PLUS
Access to Creamer Media's Research Channel Africa for ALL Research Reports, in PDF format, on various industrial and mining sectors including Electricity; Water; Energy Transition; Hydrogen; Roads, Rail and Ports; Coal; Gold; Platinum; Battery Metals; etc.
Already a subscriber?
Forgotten your password?
MAGAZINE & ONLINE
R1500 (equivalent of R125 a month)
SUBSCRIBE
Receive weekly copy of Creamer Media's Engineering News & Mining Weekly magazine (print copy for those in South Africa and e-magazine for those outside of South Africa)
➕
Recieve daily email newsletters
➕
Access to full search results
➕
Access archive of magazine back copies
➕
Access to Projects in Progress
➕
Access to ONE Research Report of your choice in PDF format
RESEARCH CHANNEL AFRICA
All benefits from Option 1
➕
Access to Creamer Media's Research Channel Africa for ALL Research Reports on various industrial and mining sectors, in PDF format, including on:
➕
➕
➕
➕
➕
➕
➕
➕
➕
Receive all benefits from Option 1 or Option 2 delivered to numerous people at your company
➕
Multiple User names and Passwords for simultaneous log-ins
➕
Intranet integration access to all in your organisation