A Strong Psychological Contract – A key enabler to change culture and to establish a safe, agile and creative mindset
Injuries and loss of life incidents are tainting the mining industry and are severely impeding its ability to sustain and grow the industry and to meet legal, social, and environmental commitments.
The ultimate objective of a positive culture is to achieve business success. This can only be achieved if both the systemic and humanistic axes of the Business Success Model (diagram 1 below) are present. Both these axes ultimately determine the culture of a business – "the way things are done around here". A positive culture achieves business success and has zero harm as outcome.
Diagram 1: A Business Success Model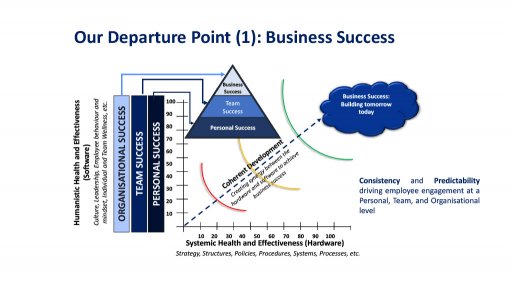 The departure point to nurture a positive culture is the presence of a strong psychological contract. In any relationship – at work and at home – two contracts are in play. At home, the commercial contract could be either a commitment made to a partner and/or a formal agreement endorsed by the laws of the country. At work, the commercial contract is normally a letter of employment for either full-time or part-time work in essence specifying remuneration to be received for work done. If the commercial contract at home fails, separation could be the outcome and at work dismissal could follow. Such outcomes are normally swift and finite.
The psychological contract on the other hand has trust, hope and respect as building blocks and are in play at home and at work. If one of these building blocks fail at home, separation is a most likely outcome. If the same scenario plays out at work between an employee, leader, team, or employer – the outcome is infinite, painful, and taxing on the physical and mental health of both the employee and the employer. The latter is then the main reason for a disengaged employee characterised by a troubled mindset, unsafe behaviour, low morale and productivity – negatively influencing other employees, teams, and the organisation/business success.
Diagram 2: The Psychological Contract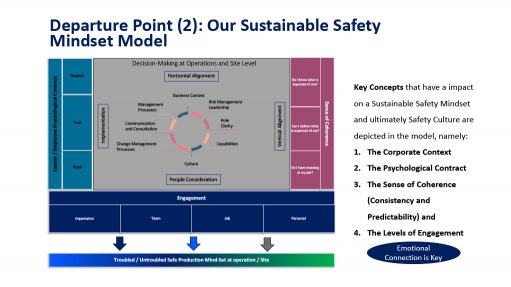 Diagram 2 above highlights four key concepts which have an impact on a sustainable safety mindset and culture. They are:
The corporate context
The psychological contract
The sense of coherence (consistently and predictability)
The levels of engagement
Nurturing and improving a strong psychological contract is best achieved by focussing on key enablers as depicted in diagram 3 below.
Diagram 3: Key Enablers to nurture and improve the psychological contract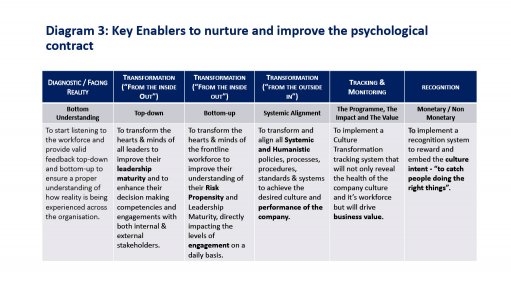 It all starts with a thorough understanding of the current reality followed by work done:
From the top down
From the bottom up
Alignment of both axes – systemic and humanistic (see diagram 1)
Measure the business value realised on a continuous basis and
Reinforcement through both qualitative and quantitative measures.
Key to the success in building a strong psychological contract is the buy-in from all stakeholders and leadership across the organisation.
Jaco Klopper
Klopper and Associates (Consulting Psychologists) – "Behaviour Modification Specialists"
Contact Details for article - Jaco Klopper Managing Director – Klopper and Associates 0795053868 jaco@klopperconsulting.co.za
Edited by: Creamer Media Reporter

EMAIL THIS ARTICLE SAVE THIS ARTICLE ARTICLE ENQUIRY
To subscribe email subscriptions@creamermedia.co.za or click here
To advertise email advertising@creamermedia.co.za or click here
Comment Guidelines