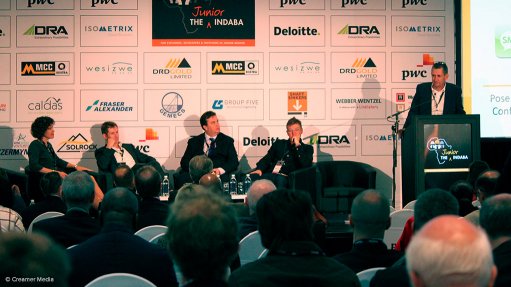 Panel discussion under way at Junior Indaba led by Standard Banks's Sandra du Toit
Photo by: Darlene Creamer
JOHANNESBURG (miningweekly.com) – UK market intelligence firm CRU is most optimistic about the prospects for zinc, tin, nickel and, to a certain extent, platinum over a 12-month time horizon and named copper, bauxite, nickel and gold as good commodities to be in over the longer term.
CRU principal consultant Ben Jones told the Junior Indaba in Johannesburg on Thursday that he expected a divergence across bulk commodities and base metals.
Jones formed part of a panel discussion led by Standard Bank mining head Sandra du Toit and participated in by Regarding Capital Management chairperson Piet Viljoen and Standard Bank mining research head Tim Clark. (Also watch attached Creamer Media video).
Clark said heart had to be taken from the mining industry finding the bottom, after a period of cost cutting, and experiencing a rebound and a restart because the waning of supply had brought it into the present healthier state.
"We've seen the bottom, we've seen very bad days and it's unlikely that we'll see those bad days again, simply because companies are a lot more sensitive now about their balance sheet position and growth," he said.
He described capital expenditure as being at a record low and spoke of a dearth of growth projects at a time when global urbanisation was creating a natural demand.
Growth management had been replaced by austerity management that was still reluctant to spend until they experienced appropriate returns, which would over time create opportunities for junior mining companies.
"My sense is that funders are starting to feel a little more comfortable again," Clark observed.
The opportunities for good projects to grow and be delivered were beginning to return.
"The result is opportunity will exist for juniors, with a little more certainty on the outcomes," he added.
Viljoen told the Junior Indaba, attended by Creamer Media's Mining Weekly Online, that investors would consider investing in businesses that were sustainable through the cycle and where managements focused on keeping a good handle on costs and engaging in appropriate capital allocation policies.
"I'm very optimistic about the future. These obstacles we see in front of us right now are actually opportunities and we must treat them as such. Over the long term, there's tremendous upside," Viljoen said.