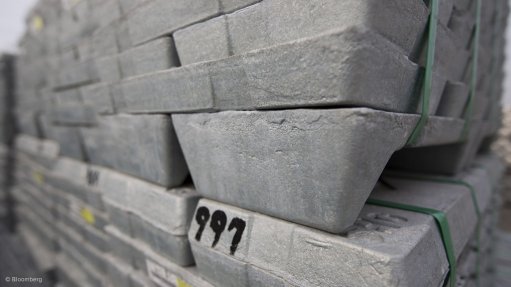 Refined zinc prices are expected to be on a downward trend until 2025, as weak demand growth failed to match with a surge in production, analysts said.
"Demand for zinc will be relatively weak in coming years while zinc mining and refined output are still growing. This will create pressure on zinc prices," said Dina Yu, an analyst at consultancy CRU Group.
Zinc prices on the London Metal Exchange (LME) could fall to $3 050 a tonne this year, from $3 442 a tonne in 2022, and will likely decline further to $2 525 in 2024 and $2 000 in 2025, according to CRU Group.
Global refined zinc output is expected to increase by almost 1.3-million tonnes over the coming five years, with an increase of 800 000 tonnes in ex-China and around half a million tonnes in China, said Yu.
Demand of refined zinc globally this year is expected to grow 2.7% year-on-year, flipping from a sharp fall in 2022 of 4.1%, due to recovery in China and Europe, but not enough to meet with a 3.4% growth in supply, CRU data showed.
In China, the world's top zinc consumer, the refined zinc market could see a surplus of 245 000 tonnes this year and is likely to stay in surplus in 2024 and 2025, according to industry data provider SMM.
"Zinc smelters in China are (running) at almost 100% operation rate. They are enjoying the profit and cheap raw materials," said Yanchen Wang, managing director at SMM UK.
In the rest of the world, the surplus of refined zinc expected this year is even higher than in China, at 381 000 tonnes, before easing to 150 000 tonnes in 2024 and 50 000 tonnes in 2025, SMM data showed.
Sister metal lead could see a global deficit in 2022 almost disappearing in 2023 before switching into a surplus next year. That could push LME price down to $2 045 a tonne this year, from $2 147 a tonne in 2022, according to CRU.