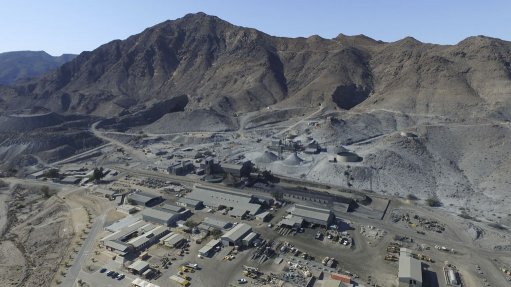 ROSH PINAH Namibia is an attractive mining jurisdiction, hosting many operating mines, including Rosh Pinah
Zinc miner Trevali Mining Corporation has added high-quality zinc production to its existing portfolio and expanded its asset and geographic diversification this year, securing its position as a global top-ten zinc producer.
Trevali announced in August that it had completed the acquisition of a portfolio of zinc assets from Glencore and certain of its subsidiaries, including an 80% interest in the Rosh Pinah mine, in Namibia; a 90% interest in the Perkoa mine, in Burkina Faso; and an effective 39% interest in the Gergarub project, in Namibia. Production from these mines will be added to its established zinc mines – Santander, in Peru, and Caribou, in Canada – more than doubling its current production to about 410-million payable pounds of yearly zinc output.
"We are very pleased to finalise our acquisition of the Rosh Pinah and Perkoa zinc mines, which marks a truly transformational event for Trevali shareholders by establishing the company as a multi-asset, top-ten global zinc producer," says Trevali president and CEO Dr Mark Cruise.
Trevali investor relations and corporate communications VP Steve Stakiw highlights that the addition of these African zinc assets provides significant benefits for Trevali's shareholders by increasing the company's scale of production and exploration potential in a strengthening macro-zinc environment. "All the deposits remain open for expansion and active resource expansion programmes are in progress."
Stakiw further highlights that Burkina Faso and Namibia already host many operating mines and are attractive mining jurisdictions. While Namibia has a longer history of mining than Burkina Faso, development in the latter is increasing, with a growing focus on support infrastructure in the country.
Trevali has enjoyed a strong strategic business relationship with Glencore since 2010 and, consequently, the opportunity to acquire the Rosh Pinah and Perkoa zinc mines arose and presented an accretive, value-adding acquisition for Trevali, says Stakiw.
"These increase Trevali's zinc portfolio to four mines – we certainly viewed this as opportune, given the strong projected fundamentals for zinc, especially as these mines are fully operating and have been de-risked."
Glencore has been granted certain board nomination rights, the right to participate in future equity offerings by Trevali to maintain its pro-rata ownership in Trevali and consent rights on any future material asset sales.
Glencore has also agreed to a 36-month standstill and to hold the share consideration for at least 24 months following the closing of the transaction in August. The standstill prohibits Glencore from taking certain specified actions without Trevali's approval, including launching a takeover bid or increasing its ownership in Trevali.
"Trevali is excited about these recent African acquisitions and we'll certainly continue to monitor and evaluate additional accretive opportunities in the zinc space," says Stakiw.
Through its transaction with Glencore, Trevali has also been granted an option to acquire a 100% interest in the Heath Steele zinc/lead/silver/copper/gold project, in Canada, including certain related exploration properties and assets.
Zinc Market
Trevali explains that zinc supply and demand fundamentals continue to support a bullish scenario for the metal in the short to medium term. The zinc concentrate market continues to remain tight, as evidenced by historical low spot treatment charges (TCs), with Benchmark TCs also at their lowest levels in many years. The TCs are expected to drop again in 2018.
Stakiw further highlights that, with almost 10% of global zinc production coming off line over the past few years, owing to mine closures resulting from orebody depletion, there have not been enough major new Tier-1 mines coming on line to offset the current supply deficits.
Additionally, global zinc consumption continues to grow by between 2% and 4% a year, with about 280 000 t to 560 000 t of new zinc required every year.
"Zinc inventory levels are nearing decade-low levels and are now below ten days' worth of global consumption, which is historically when zinc prices have rallied. We certainly envision at least a few years of strengthening zinc prices, if not longer," Stakiw concludes.