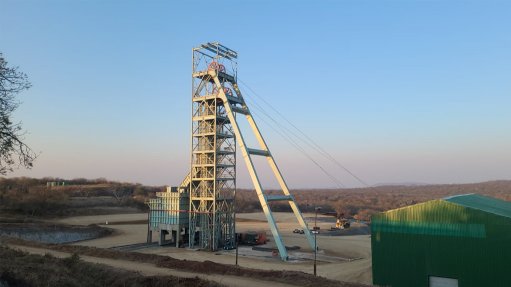 BLANKET MINE Caledonia's Blanket mine reached its long-term yearly production target of 80 000 oz in 2022
Junior miner Caledonia Mining is investing into its flagship asset, the Zimbabwe-based Blanket mine, to improve the mine's sustainability and ensure continuous operations.
The Blanket mine achieved Calendonia's long-term yearly production target of 80 000 oz in 2022 and the miner is taking steps to ensure it can continually mine the resource on a sustainable basis.
These efforts include steps to stabilise grid electricity coming into the mine, the establishment of a solar photovoltaic power plant and installing of backup diesel generators to meet the mine's power needs when loadshedding is enforced or otherwise during periods of unstable grid supply.
If not controlled, Caledonia says power surges experienced at Blanket can cause severe damage to the mine's electrical equipment.
Power surges are regulated by autotap transformers that are installed to normalise fluctuations up to 10 MVA, but the miner says current fluctuations vary up to as much as 12 MVA.
As a result of loadshedding and low voltage occurrences, two 10 MVA autotap transformers were installed in the fourth quarter of 2021. This installation reduced the voltage fluctuations and reduced the power cost by lessening the use of diesel for backup generators.
Blanket's use of diesel for generating electricity – assets which can supply the whole mine with electricity – decreased from about 3.31-million litres in 2021, to 1.42-million litres in 2022.
Solar Powered
To mitigate against the current electricity situation, Caledonia has constructed a 12.2 MW solar plant at a cost of about $14.3-million (including construction costs and other
project planning, structuring, funding and administration costs), supplying the Blanket operations.
The solar plant was fully commissioned early February this year, and provides about 27% of Blanket mine's average daily electricity demand. The plant has been providing power to Blanket from its initial connection to the Blanket grid in November 2022.
In 2020, Caledonia raised $13-million (before commission and expenses) through the sale of 597 963 shares at an average price of $21.74 apiece to construct the solar plant, following which it initiated a tender process to identify parties to submit proposals for a solar project that would reduce Blanket's reliance on grid.
In another effort to improve its access to electricity, Caledonia's management is in discussion with the Zimbabwean power utility to obtain an improved supply of electricity. This may include an additional supply line that will result in fewer outages and a power supply that has a higher power factor. Blanket may potentially pay a different kW/h rate for this supply line.
Further, Caledonia's board has allocated about $3-million towards a capital programme to address the remaining issues relating to the electricity supply from the grid, which includes
installing capacitors to improve power use efficiency and installing further autotap changers to stabilise the power at Blanket's Central Shaft.
Capital Development
Caledonia is also investing resources into a main capital development project to establish and improve infrastructure which will allow for production at 30 and 34 levels below the current operations.
As such, another level (38 level) is intended to be added in due course through a decline construction.
Central Shaft is currently being used to hoist development waste, people and material – thereby freeing up capacity at Number 4 Shaft to hoist ore.
Investment in 2022 comprised the construction of the grizzly rock passes at the ore passes on 26 and 30 levels that is 50% complete, mining of the clear and dirty water sumps at 34 level,
and the completion of the raise boring return airway connecting 30 and 34 levels and the conveyor and primary crushing plant on surface.
Development from Central Shaft has continued northwards and southwards on 26, 30 and 34 levels towards AR South and Eroica.
In addition, work continued on several other developments, including Eroica Decline 3 which will continue down to the 30 and 34 levels (990 m and 1 110 m below collar, respectively) and will connect to the haulages from Central Shaft. Progress in 2022 was stopped at 870 m to allow for level development to take place.
In addition, haulage at the 930 m level was mined from the bottom of Decline 4 in the Blanket section, designed to facilitate the opening up and development of the BQR and 3 Orebody zones. This work has been accomplished successfully and the updip development has since linked to 870 m level, some 60 m above.
This connection has improved access and ventilation, allowing for rapid strike development to take place on multiple sublevels. It is currently ongoing along the 2 Orebody section. This is an area with higher than average mine grades.