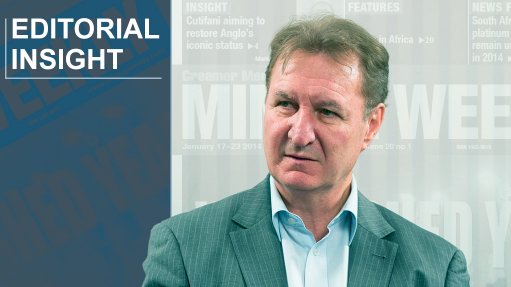 Many a small gold miner has left Zimbabwe unpaid for gold produced. Now Zimbabwe's Finance and Economic Development Ministry has taken over the long-standing $50-million Reserve Bank of Zimbabwe (RBZ) gold-dealing debt with a view to settling it in the short term. Read on page 18 of this edition of Mining Weekly of the RBZ subsidiary concerned – Fidelity Refineries & Printers (FRP) – enjoying a statutory monopoly as the sole legal buyer and miller of the gold produced in Zimbabwe. FRP wants to boost its capacity to buy and refine gold as Zimbabwe struggles to produce enough to be re-admitted to the London Bullion Market, the world's top gold trading counter. Zimbabwe was ejected from the group in 2008, when its yearly gold production plummeted to less than 3 000 kg as some mines succumbed to hyperinflationary pressures. RBZ is sitting with no gold reserves as a result of FRP's loss of credibility.
The Malawi government is doing mineral exploration in the hope of attracting gold, platinum and diamond mining in particular and mineral exploitation in general. Read on page 19 of this edition of Mining Weekly of Malawi's Geological Survey Department reporting occurrences of alluvial gold in streams, platinum and nickel in rock formations and diamond shimmers in kimberlitic structures. With uranium, titanium sands, bauxite, rare-earth elements, phosphate and coal also being indicated, the country is keen to proceed with further geological work to get a better idea of the country's full mineral potential. Currently, mining contributes 10% to Malawi's gross domestic product and government is working on that percentage doubling in the foreseeable future. Among the coal mines are Eland Coal Mines, Kaziziziwi and Macoal Mining.
A permanent mining exhibition, sponsored by the Southern African Institute of Mining and Metallurgy, has opened at the Sci-Bono Discovery Centre, in Newtown, Johannesburg. Read on page 16 of this edition of Mining Weekly of the mining exhibition being established to educate the general public on the role of mining and the way in which it influences their daily lives, as well as to encourage learners to consider a career in the mining industry. Among the many interactive exhibits is an interactive wall with touch-screen televisions featuring the entire mining process, from mining to beneficiation. Sponsors of the artefacts include the Chamber of Mines of South Africa, the Council for Geoscience, theme park Gold Reef City, computer equipment manufacturer Dell, information technology infrastructure consulting firm Smart Computer Solutions, earthmoving equipment dealer Barloworld Equipment, mine support systems company New Concept Mining, resource and infrastructure- focused engineering project house TWP Projects, electrical contractor Dow's Electrical & Lighting Supplies, mining equipment manufacturer Joy Global and miners Impala Platinum, AngloGold Ashanti and Kumba Iron Ore. More exhibits and displays will be added over the next few years with the aim of turning the mining exhibition into a visitor attraction for Sci-Bono and the City of Johannesburg.