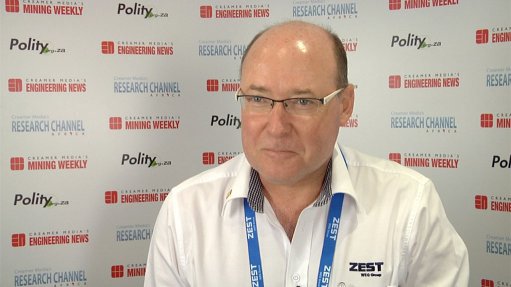 Zest WEG Group CEO Louis Meiring
Zest WEG Group, a subsidiary of leading Brazilian motor and controls manufacturer WEG, has a strong commitment to contributing to the development of the African region, and has been servicing the mining sector on the continent for more than 35 years.
An in-depth understanding of the harsh conditions found within the mining sector and years of experience on the African continent have ensured that Zest WEG Group's service offering is fit-for-purpose. By leveraging best-practice engineering and manufacturing capabilities, the group is able to offer a range of standard off-the-shelf products as well as end-to-end energy solutions.
From single product installations to individually customised solutions, which are application specific, the latest technology is used to ensure optimum performance and reliability without compromising on energy efficiency.
Zest WEG Group's product lineup includes low- and high-voltage electric motors, vibrator motors, variable speed drives, softstarters, power and distribution transformers, motor control centres, containerised substations, mini substations, diesel generator sets, switchgear, cogeneration and energy solutions, as well as electrical and instrumentation engineering and project management services.
WEG products are engineered to facilitate a safe and reliable mine and plant with operational stability and the highest-possible production levels as an objective. Reduced maintenance and ease of serviceability assist in lowering the total cost of ownership for the mine.
Supporting customers is key and Zest WEG Group operates a strategically situated network of branches and distributors across the continent. The group is constantly reviewing its sales and support network to ensure that customers across the region have access to the highest levels of technical support, as well as easy access to product and parts.
Besides the South African operation with its eight branches, the group currently has registered businesses in Mozambique, Tanzania, Zambia and Ghana, with distributors in Angola, Botswana, Cameroon, the Democratic Republic of Congo, Côte d'Ivoir, Kenya, Mali, Mauritania, Mozambique, Namibia, Senegal, Tanzania, Zimbabwe and Zambia.