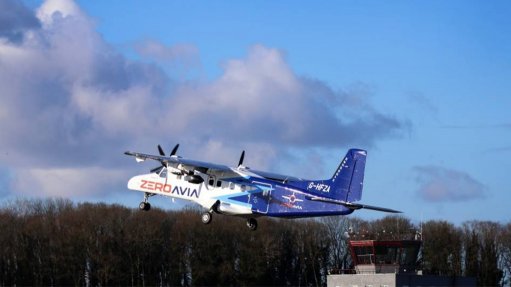 ZeroAvia's modified Dornier D 228 takes off on its first flight with a hybrid-electric powertrain, in January
Photo by: ZeroAvia
Zero-carbon emissions aircraft powertrain developer ZeroAvia has announced a partnership with liquid hydrogen technology company Absolut Hydrogen. The two companies will cooperate on examining liquified hydrogen production, storage and refuelling at airports. ZeroAvia is an Anglo-US company, while Absolut Hydrogen is a subsidiary of France's Groupe Absolut.
ZeroAvia's converted 19-seat Dornier Do 228 testbed aircraft flew last month, in level flight, while, for the first time, using only its hydrogen-electric power train. (This aircraft has been modified by having one of its two Honeywell TPE-331 turboprop engines replaced by the company's 600 kW hydrogen-electric power unit, which is designated ZA-600.) This was the aircraft's third test flight.
But while the ZA-600 uses gaseous hydrogen, the company's next powertrain, now under development and required to power larger (40-passnger to 80-passenger) aircraft, the ZA-2000, will need to use liquid hydrogen as fuel. This is because liquid hydrogen has greater volumetric energy density than gaseous hydrogen. The ZA-2000 is targeted for entry-into-service in 2027.
Absolut Hydrogen is a world-leading developer of liquid hydrogen systems for use in heavy-duty mobility applications, in aviation, shipping and on land. This is an extrapolation from its parent group's great expertise and experience regarding complex cryogenic systems. Absolut Hydrogen can provide hydrogen liquefaction systems with production capacities ranging from less than 50 kg/day, through 100 kg/day (using a Turbo-Brayton-based hydrogen liquefier) to 1 t/day (using the same technology).
"As well as building our in-house liquid hydrogen knowledge over the past few months, it has been critical to establish partnerships to begin building the ecosystem than can deliver liquid hydrogen fuel for larger aircraft, at larger airport locations," explained ZeroAvia VP: infrastructure Arnab Chaterjee. "Retaining and growing aviation will bring us all closer together and keep the world small, but it depends upon this quest for zero-emission aviation being successful."
"This partnership with ZeroAvia is an opportunity to take a new step towards a more sustainable aviation," highlighted Absolut Hydrogen CEO Jérôme Lacapère. "Liquid hydrogen is considered the most advantageous state for tomorrow's aviation and heavy-duty mobility in general, and Absolut Hydrogen enables its availability thanks to its H2 [hydrogen] liquefiers. I am convinced this partnership will lead to new standards on liquid hydrogen infrastructure for aircraft."
The two companies will cooperate to construct and demonstrate the production and storage of liquid hydrogen in an airport context. The ultimate aim is to examine the developments in technology, operational concepts, and safety standards and procedures for larger-scale application to provide aircraft with liquid hydrogen fuel.