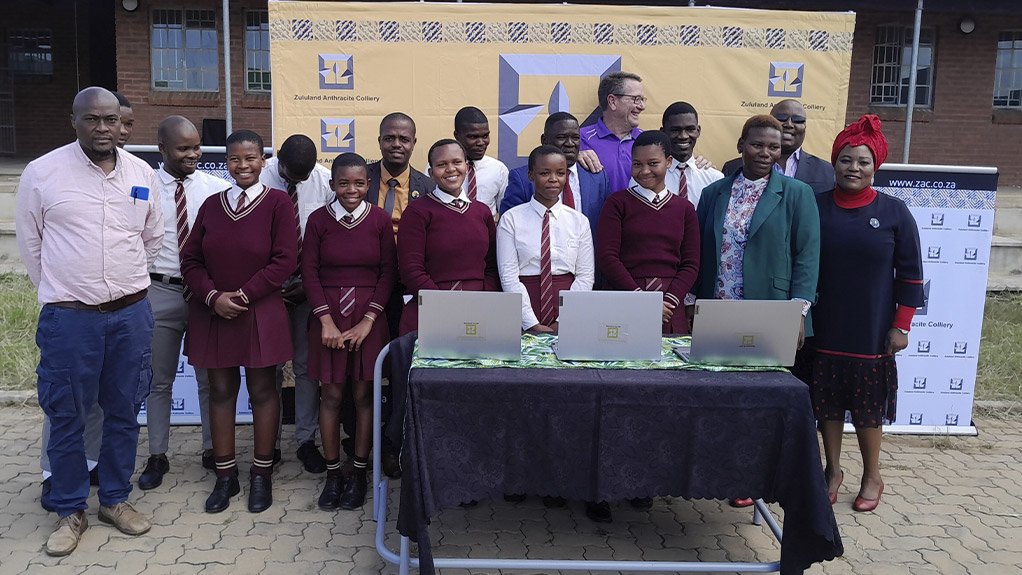 Learners at Mvalo Secondary School will have an opportunity to get computer literacy skills, following a handover of 18 laptops by ZAC together with Rich Steel on 31 May 2023.
The laptops were purchased with proceeds from the 5th annual ZAC Golf Day event, meant to raise funds for social upliftment projects. The initiative highlights the increasing importance for schools to incorporate computer literacy as part of the curriculum, to help learners become competitive in a digital world. The Covid-19 pandemic also accelerated the pace of digitisation, putting a spotlight on the need to implement technology in the classroom.
"It would be ideal to have every learner acquire computer skills by the time they complete their matric because this is a basic requirement for job seekers. Industries across the world are using technology to run their operations which is why we need to ensure that young people are digitally empowered before they reach tertiary education level," says ZAC GM Wayne Rowe.
Rowe noted that the initiative forms part of the company's commitment to support skills development among ZAC's host communities. He also thanked the headline sponsors including The PumpSmith, SA Minerals Laboratories Ithuba, Sandvik Mining, Rock Solutions as well as JA Engineering for their invaluable contribution toward making the ZAC Golf Day charity drive a success.
Lungeleni Zulu, acting principal at Mvalo, said the laptops would assist the school to set up its first functional computer laboratory. "We feel very excited to receive computers for our school. This will allow learners to do assignments, conduct research and complete tasks with confidence, as we are in the fourth industrial revolution (4IR)," Zulu says.
Rich Steel's auction purchase of the ZAC floating Trophy at the golf day event was a notable contribution. The MD of Rich Steel, Richard Ndwandwe said the cause is close to his heart because he was also under-resourced as a learner. "To see those learners matching the standard of children that come from well to do families will be of great achievement for our company," says Ndwandwe.
Mvalo specialises in science with an enrolment of 115 pupils, and 5 teachers. Before the handover of the laptops, the school had a classroom set aside for computer studies, but they lacked equipment.
Grade 11 learner Sphephelo Nqulunga said they looked forward to becoming more tech savvy. "It will benefit us a lot especially when it comes to working on assignments and preparing us for life after matric. This will also help our school to grow from strength to strength," says Sphephelo.