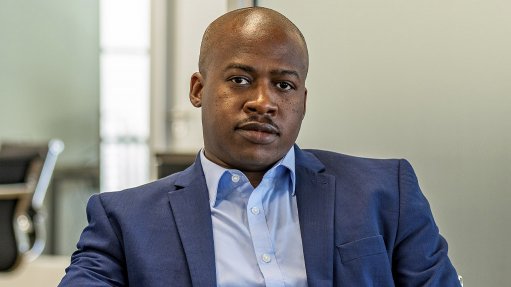 Wärtsilä Southern Africa business development manager Wallace Manyara
In leading the transition towards a decarbonized and 100% renewable energy future, innovative technology leader Wärtsilä Energy assists its customers by developing market-leading technologies, which include the likes of future-fuel enabled flexible power plants and hybrid solutions, or even energy storage and optimization technology.
This, the company explains, ensures increased efficiency, reliability, and guaranteed performance, which has assisted Wärtsilä in remaining a "provider of choice" to several mining companies globally.
Wärtsilä Southern Africa business development manager Wallace Manyara explains that the company "creates optimal paths towards 100% renewable energy systems by providing all the essential technologies, solutions and value-adding services for sustainable and reliable power systems".
He adds that there are "a number of benefits" that the company's solutions provide, including favourable power plant start up times, flexibility, and efficiency.
"Wärtsilä multi-fuel engines can instantaneously switch fuels while maintaining full output and high efficiency and our engine performas at altitude. Our solutions are at the very core of future energy systems. We understand the role those different technologies play in our customers' power systems and enhance the assets of the customer through software, engineering, procurement, and construction (EPC) offerings, and global service capabilities," says Manyara.
He adds that "a deep understanding of the energy transition and power systems" helps Wärtsilä's customers find their optimal and most efficient path towards 100% renewable energy while future-proofing their power system.
Wärtsilä has established offices in South Africa, and a total output of over 7000 MW at over 600 installations. The company's technologies produce more than 25% of the national electricity in over 25 countries.
Wärtsilä has delivered 74 GW of flexible power plant capacity and more than 80 energy storage systems in 180 countries around the world, Manyara notes.
He adds that the company "wants to lead the transition to a 100% renewable energy future in South Africa".
To achieve this, Manyara states that it will take "a variety of solutions to decarbonise and have security of power supply, such as balancing power plants which can use future fuels, battery energy storage solutions and energy management platforms".
However, key to this will be support to clients with lifecycle services, which can improve reliability, performance and efficiency, which lowers costs and emissions.
Overall, Wärtsilä power plants can be used for base-load applications or for peak-load needs or to complement renewable energy.
"Our engines can handle liquid fuels such as HFO/LSHS, LFO, LBF or natural gas. Versatile dual-fuel engines can switch between liquid fuel and gas, online," says Manyara.
Regarding researching hydrogen as a fuel, Wärtsilä is developing the combustion process in its engines to enable them to burn 100% hydrogen, and the company has tested its engines with blends of up to 25% hydrogen and 75% natural gas.