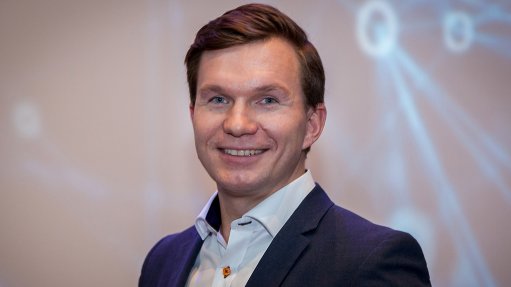 Jakob Rutqvist, Sandvik VP strategy and commercial for battery and hybrid/electric-vehicles business unit of Sandvik Mining & Rock Solutions.
JOHANNESBURG (miningweekly.com) – The world's largest battery-electric truck for underground mining is on its way to becoming commercially available in 2024.
Sandvik's 65 t TH665B machine removes between 1 t and 2 t of carbon dioxide (CO2) a day, along with heat and noise.
"When we talk about sustainability and electrifying mining, we focus a lot on what we can reduce, such as CO2 emissions, heat and noise. That's one side of the coin, and that's great.
"But what's important to emphasise, too, is that you can also increase a lot of things. Battery-electric machines have more power, which provides the potential to improve performance, speed and tons moved," Sandvik VP strategy and commercial for the battery and hybrid/electric-vehicles business unit of Sandvik Mining & Rock Solutions Jakob Rutqvist highlighted to Mining Weekly in a Zoom interview. (Also watch attached Creamer Media video.)
By the end of this year, Sandvik will have three proven battery-electric production units to help satisfy the rapidly increasing demand for decarbonisation – a 4 t loader, 18 t loader and 50 t truck.
The 65 t truck will be the next big product launch, amid the company's overall commitment to provide – by the end of 2025 – an offering covering all the major size classes, with the exception of low-profile machines.
"Low profile is one of the potential next steps beyond 2025," said Rutqvist.
The official unveiling of the 65 t battery-electric truck was one of the attractions of this month's Electra Mining Africa exhibition in Johannesburg, which was attended by more than 30 000 people at a time when major mining companies the world over are going all out to meet their net-zero decarbonisation commitments.
The deployment of a full renewables-powered Sandvik loader and truck fleet underground is calculated to cut total mine emissions by around 35%.
When engaged in heavy load work on a steep ramp, the 65 t battery-electric truck has a runtime of roughly one-and-a-half hours to two hours.
When on level terrain, that runtime can extend to three hours before requiring the battery to be swopped, which takes about five minutes. While one battery is in operation, the other is charging.
The low-noise TH665B, which also has collision avoidance and digital prompt systems, is to undergo site acceptance testing at Western Australia's Sunrise Dam gold mine, beginning early next year.
"We're going to put it to very hard use with Barminco and AngloGold Ashanti for the first half of next year. I'm sure we'll learn a lot, and then we'll implement some improvements, and maybe some product upgrades, based on what we learn," said Rutqvist.
Sandvik's first battery-electric entry into Africa will be with the 18 t battery-electric LH518B underground loader at South Africa's South Deep gold mine, a mechanised operation 50 km southwest of Johannesburg, where a 60 MW solar power development is under way.
On the development of the solar farm, Rutqvist said: "I was very impressed when I saw that last week."
The commissioning of the battery-electric loader, already a commercial product, will begin early next year.
"We're well prepared, both on the customer side and on Sandvik's side, for a successful introduction of this technology in South Africa," said Rutqvist.
Canada is currently the leading battery-electric market, with Australia, northern Europe and Africa rapidly picking up pace.
Mining Weekly: What milestones has Sandvik already achieved when it comes to electrification?
Rutqvist: We started a very long time ago. The first electric loader came out the same year I was born, so that's 1982, and the first electric truck came in the late 80s. These were cable electric, connected to the mine grid with a cable. We launched our first automated electric loader in 2009 and then acquired Artisan Vehicle Systems in 2019, which is where I sit right now. This is our R&D hub, battery- and prototype factory for battery-electric vehicles, the big new thing. This year is a milestone because we've secured some very large orders for up to 20 machines in a single order, and we're also looking at decarbonising the diesel machines.
When it comes to decarbonising underground mining activities, what is Sandvik's unique selling proposition?
Our slogan in the battery electric space is 'rethink the machine, not the mine'. Our battery electric products are probably the easiest to implement. The charging system can be placed wherever needed and moved as the mine evolves. The battery change-out process is done by the machine itself. We don't take automotive technology and repurpose it for mining, but keep investing in battery systems for mining, which gives us some of the fastest, strongest and highest-performing battery electric products that you can find for an underground mine.
When your 65 t battery-electric truck was started on the exhibition floor at Electra Mining Africa in Johannesburg, visitors were none the wiser because of its very low noise level. How close to being noiseless is this machine?
The operators and the people working around the machines are very surprised because they can actually have a conversation close to the machines whereas before they couldn't, so I would say its low noise level is mostly a worker health and a work environment benefit. Then from a safety point of view, we need to make sure that its low noise doesn't become a risk, so a proximity detection interface has been implemented as an option, and the trucks can been fitted with a new Sandvik/Newtrax collision avoidance system.
Even more significant is the heat that is eliminated.
Heat is eliminated because electric motors are so much more efficient than internal combustion engines. About 90% of the energy put into an electric machine goes towards the work that needs to be done, whereas about 30% reaches the intended use with an internal combustion engine. The rest comes out as heat. In addition, the battery machine can recapture potential energy on the way down a decline through regenerative braking, where a diesel machine would just convert that into heat. Depending on the application, electric machines generate 80% to 85% less heat. The better work environment is one of the biggest benefits mine crews find with these machines. Then there is also the benefit of not needing to ventilate out the excessive heat.
To what extent does the heavy weight of the battery inhibit the performance of battery-electric trucks?
That's a good question because for the loader, the battery weight actually provides an improvement. This is because a conventional diesel machine is very front heavy, so you lose quite a bit of your traction in the rear as you start to fill the bucket, whereas with a battery loader, you have all that weight of the battery in the back, providing quite a significant improvement in traction. For the truck, it can be a negative because that additional weight is carried up and down, especially when it comes to ramp hauling. We do mitigate some of that with regenerative braking given that the additional payload puts energy back into the battery on the carry down. There's also an impact on machine stability from the additional weight in the front. It's not a negative but it's something that we have to think through with the design of the machine, and look to some oscillation, suspension, cabin and seat design changes, to ensure the same comfort and stability.
There's cable electric, battery electric, electric-diesel hybrids, trolley-battery hybrids – in what situations are these best used?
As a general principle, we don't have any preference for what our customers use and want to be able to offer whatever is the most suitable, most efficient for each application. Sometimes it's batteries, sometimes it's cable, sometimes it's low-emission diesel, sometimes it might be trolley. In general, cable electric can make a lot of sense in a very fixed footprint with well-maintained, well-structured and very systematic operation. We have sold more than 600 cable electric loaders to date, so there are some mines where that works well. When it comes to heavy work on very long ramps, the 65 t battery-electric truck going to Australia for site acceptance testing has great potential.
In the interests of genuine decarbonisation, will it be recommended that the electric trucks be recharged using solar, wind or hydropower?
It's certainly better if you want to reduce emissions. If you charge your batteries with renewables or nuclear, then you have 100% reduction of the operating CO2 emissions from that vehicle, whereas if you charge with a natural gas, coal mix, or some high emission electricity, then you might look at 20% reduction. It's still a reduction, but it's very much less, so if you want to reduce emissions optimally, certainly you want to put renewables in the battery.