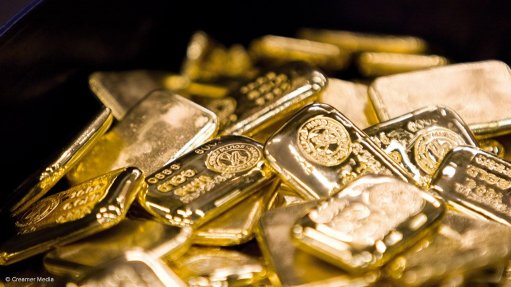 Gold bars produced at Rand Refinery, Germiston.
Photo by: Duane Daws
JOHANNESBURG (miningweekly.com) – Synchronised global economic growth, shrinking central bank balance sheets, rising interest rates, insubstantial asset prices and market transparency are the trends that will be gold's best friends in 2018, the World Gold Council said on Tuesday.
These trends, the council said in delivering its outlook for gold in the new year, would maintain gold's relevance as a strategic asset and with greater transparency ensuring that customers are better served.
Outlining how gold had outperformed all major asset classes except stocks in 2017, the council reported an $8.2-billion inflow into gold-backed exchange-traded funds and a 13.5% gold price rise in dollars, the greatest yearly gain since 2010. In the first three quarters of last year, US jewellery demand hit a seven-year high and China's consumer demand increased by 12%.
An upward growth trajectory is expected to continue in China, even if at a slower pace, and the demonetisation and tax implementation that shocked the market last year are expected to become gold positive this year in India, where mandatory jewellery hallmarking will put an end to under-carating.
The trade-data reporting initiative of the London Bullion Market Association and the suite of exchange-traded contracts launched by the London Metal Exchange's LMEprecious would provide greater transparency and transacting efficiency in the London wholesale market.
If a tax exemption for gold is approved in Russia, the initiative may herald the development of a new gold investment market, in keeping with gold-backed investment vehicles around the world, which ease and cheapen access to gold.

Continued economic growth, the council's research shows, underpins gold demand and as incomes rise, demand increases for gold jewellery and gold-containing technology, such as smartphones and tablets.
"Income growth also spurs savings, helping to increase demand for gold bars and coins," said the UK-based council, which has operations in India, the Far East and the US and whose members are made up of gold mining companies.
The council's econometric analysis demonstrates that rising wealth underpins gold consumer demand, which then supports gold prices.
The interaction between investment and consumption also results in gold's lower correlation to other mainstream financial assets, making it an effective diversifier.
"In our view, the potential headwinds to gold may not be as strong as some think. Gold can help investors manage financial market risks. Our analysis of gold's performance during different US real-rate environments reveals that when real rates are between 0% and 4%, gold's returns are positive, and gold's volatility and correlation with other mainstream financial assets are below long-run averages. These attributes can have a positive effect on portfolio performance," the council said in its release to Creamer Media's Mining Weekly Online.