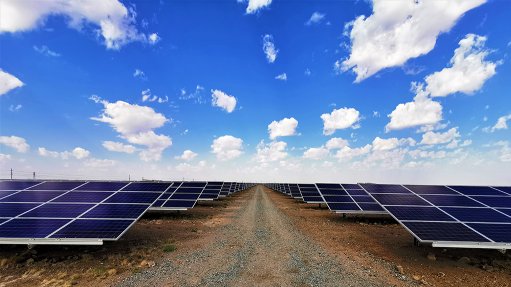 With almost half of South Africa's exports at risk as the country's key trade partners prioritise imports from low-carbon economies, a new report urges South Africa to roll-out at least 190 GW of renewables by 2050 to sustain its economic competitiveness and lay the basis for employment creation.
Titled 'It all hinges on Renewables', the report has been published jointly by the National Business Initiative, Business Unity South Africa and the Boston Consulting Group.
South Africa, the report states, is the second most carbon-intensive economy globally when compared with other economies with a gross domestic product (GDP) of more than $500-billion. It is also more than twice as carbon-intensive as the G20 average.
"This puts almost 50% of exports at risk as key trade partners prioritise imports from low-carbon economies via carbon border tax adjustments and other mechanisms.
"Amid stalled GDP growth, unemployment at about 35% and rising inequality, 'more of the same' will not be enough."
The report, thus, calls for the ramp-up of renewables to be declared a "national priority" so as to unlock the R6-trillion required over the next three decades to decarbonise the economy, R3-trillion of which will be required in the power sector alone.
"Capturing the opportunity presented by the green hydrogen economy requires potentially up to 170 GW to 200 GW of additional dedicated renewables capacity.
"That means South Africa will need to build about 6 GW to 7 GW of renewables every year for the next three decades for the power system alone.
"The annual renewables build rate would further increase if the green hydrogen opportunity is pursued."