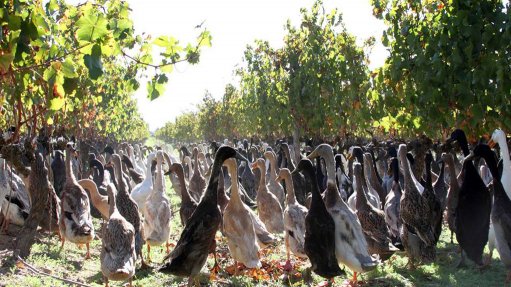 DUCK ARMY Around 1 000 Indian Runner ducks have been employed to eradicate the white dune snail population at Vergenoegd Wine farm in Stellenbosch
About 1 000 Indian Runner ducks have been employed by Stellenbosch-based wine farm Vergenoegd Wine Estate to eradicate white dune snails and other insects which inhabit and feed on the vines in the vineyard.
According to Vergenoegd winemaker and viticulturist Marlize Jacobs, the ducks – which have been employed by the farm since 1983 – ensure that products and wines produced meet sustainability criteria.
"There are quite a few criteria that need to be met, including the conservation of at least 5 ha of informal land, continued recycling practices, sustainable use of agrochemicals and alien clearing, for Vergenoegd to qualify for sustainability recognition. As a record of sustainability compliance along with certification, Vergenoegd's range of wines carry labelling."
These efforts are an initiative by Biodiversity Wine Initiative led by conservation organisation World Wide Fund For Nature (WWF), which recognises exceptional efforts by wine farms to farm sustainably.
The ducks, which are a sustainability measure, are escorted to the vineyard twice daily. Although a popular tourist attraction, the flock is not the cheapest of options, compared with using conventional pesticides, Jacobs notes. Maintenance and grain for the 'employees' amount to about R30 000 a month, Reuters reported in May.
"You need extensive management with such a large flock. The breeding programme, which results in the hatching of about 300 ducks a year, is quite intensive and requires staff with knowledge on how to handle the hatchlings."
The ducks also need a herder when they move between their pen and the vineyard, as well as between the vine rows to cover the complete area and effectively find snails, Jacobs says, adding that Vergenoegd has three permanent employees who tend exclusively to the ducks.
She points out that, while some farms in the surrounding areas are also using Indian Runner ducks, none do it on such a large scale; "To establish a flock of 1 000 ducks is very costly and can only be done over a number of years."
She remains unsure whether the practice is sustainable for other South African wine producers, adding that it could be advantageous to the industry should other wine farms start a similar practice.
"All over the industry and worldwide, dangerous harmful pesticides are being phased out, so I believe that, one day, you will be forced to use alternative methods because pesticides kill all insects, even the friendly insects."
Waterbird Habitat Project
The growth of the Vergenoegd flock of Indian Runner ducks has led to the creation of the Vergenoegd Waterbird Habitat Project which provides other landowners with guidelines and examples of how they can rehabilitate or alter existing waterbodies, used for regular irrigation, to make a perfect habitat for indigenous water birds.
Environmental service provider NCC Environmental Services strategic leadership and business developer Andrew Purnell says several pilot sites to set up habitats have been identified in the Western Cape and include Lourensford wine farm, in Somerset West, Arabella Country Estate, near Hermanus, and the Drie Kuillen Nature Reserve, near Worcester.
He adds that by establishing an indigenous wetland plant project nursery, farms will be able to produce plants for the project and subsequently provide training for farmworkers to build floating island structures, until the project has reached a stage where the islands can be sold to landowners.
Purnell explains that the floating islands are porous platforms that will float on a dam and have plant matter growing on and through them; as the plants grow, they will produce root systems that extend into the dam.
"The root systems are then colonised by good bacteria and microbes which form a biofilm that is highly efficient at taking up and metabolising pollutants and nutrients. This biofilm provides the base for a highly effective food chain and the roots provide refuge and a food base for fish," he adds.
Partners in the project include bird conservation agency BirdLife SA along with Vergenoegd Wine Estate, Conservation in Action, Cape Nature and the WWF.