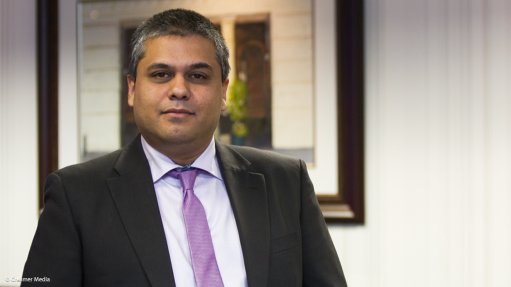 Wescoal CEO Waheed Sulaiman
Photo by: Duane Daws
JOHANNESBURG (miningweekly.com) – South African coal mining and trading company Wescoal has posted its "best financial results ever" as it reins in costs, ramps up operations and sets a stable foundation for sustainable growth.
The JSE-listed firm on Thursday posted a 76.1% surge in headline earnings a share to 27.1c apiece for the year ended March 31. Earnings a share rose 66.6% to 26.2c for the year under review.
"Late last year, R52-million in capital was raised and these funds were used to derisk and expedite key elements of the Elandspruit project, which realised its steady-state production of two-million tons a year and, with continuous coal supply contracts to State-owned power utility Eskom, formed the foundation for Wescoal's performance," said CEO Waheed Sulaiman on Thursday.
During the year under review, the group increased production at its flagship Elandspruit colliery from zero to 165 000 t/m within three months, using internal funding mechanisms.
Further, optimisation and quality management projects were completed at the processing plant, unlocking Wescoal's capacity to treat more than 200 000 t/m run-of-mine.
Profit after tax for the 12 months to March 31, jumped 78.8% to R51.8-million, owing to a better-quality debtor book, increased productivity and cost savings across the group.
Wescoal's cost-saving strategies and cash flow management enabled the reduction of overall debt and freed up working capital during the year under review.
"We reduced operating expenses by R22-million to R168-million, down from R191-million last year," said CFO Izak van der Walt.
Operational earnings before interest, taxes, depreciation and amortisation (Ebitda) increased 42.1% to R152.1-million, with the mining division's Ebitda 31.2% higher at R124.7-million and the trading division maintaining Ebitda at R31.9-million.
"Wescoal trading met expectations in a difficult and volatile environment. Multiple business interruptions and financial stresses experienced by non-Eskom domestic coal consumers impacted negatively on the division resulting in reduced overall revenues," Sulaiman said.
Group revenue remained flat at R1.6-billion, as sales volumes from the trading division muted that of the strong sales reported by the mining unit.
Overall sales for the 2016 financial year reached 2.8-million tons, with sales from the trading division down 9% to one-million tons owing to increased focus on managing business risk and shareholder returns, while the mining division reported stable sales of 1.7-million tons for the year under review.
Meanwhile, in the short term, Wescoal would focus on the operationalisation of its Intibane and Khanyisa collieries, while increasing the overall resource base through corporate activity and resource acquisitions.
During the year under review, water-use licences for both Intibane and Khanyisa were secured, with significant progress made in increasing Khanyisa's resource base and life-of-mine to 2020.
"During the year, we successfully concluded the acquisition of additional resources from neighbouring mining right holders. The Khanyisa mining activities now cover some 11-million mineable tons in situ coal, extending its life to 2020," he said.
"Regulatory authorities are assessing various submissions and licensing applications in respect of mining activities at Khanyisa, which itself has a remarkable history under the Wescoal banner having been given a three-year lifespan some nine years ago."
Further, the company strengthened its management base, with key skills retained and deployed across the organisation and operations in-house.
"The legal, human capital and financial departments have been bolstered through recent appointments and this has resulted in a revitalised executive management team, as well as better alignment with industry best practice," he pointed out.
Wescoal had also reported progress in achieving its short-term strategic objective of historically disadvantaged South Africans (HDSA) ownership in excess of 50%.
"Over the past year, Wescoal has increased its HDSA ownership level to over 40% in line with our stated objective of becoming an HDSA-controlled company by December 31," Sulaiman said.
Wescoal also announced a R10-million year-end dividend to be distributed to shareholders.