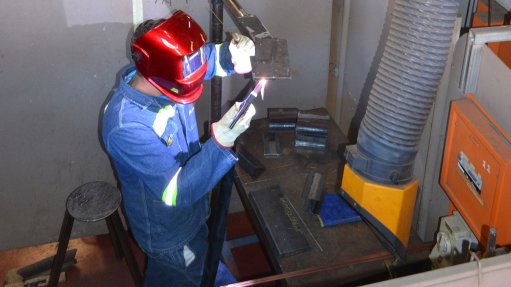 QCTO IN ACTION A trainee practising his gas-tungsten arc skills in the Southern African Institute of Welding welding school
Welding has been dubbed the "miracle career" by Johannesburg-based training institute the Southern African Institute of Welding (SAIW), owing to the number of opportunities associated with it.
Manufacturing is essential for economic growth and, with welding forming a significant part of manufacturing, welding is at the core of growth in the sector, SAIW executive director Sean Blake tells Engineering News.
"Welding also caters for professions such as engineering and fabrication. This makes welding a relevant career path that is in line with what the market needs to foster a successful economy."
The SAIW offers holistic and reputable training courses, ranging from entry level to experienced artisans wanting to upgrade their qualification or obtain an internationally recognised qualification, explains Blake.
"We are striving to be an all-inclusive training facility, with all welding jobs and services catered for."
SAIW training courses are internationally recognised, owing to the institution's membership of the International Institute of Welding (IIW). Member countries of the IIW strive to achieve the same standards and are working on a system of harmonised examinations, Blake points out. "Examinations written in South Africa would be exactly the same in any other country globally that is part of the IIW."
Another advantage of SAIW's forming part of the IIW is that it enables the institute to use leading technologies and access research and development findings recognised globally.
"There is mutual collaboration in the welding community through the IIW. We have an annual meeting, where institutes and academics liaise – it's a global community working together for the benefit of the global community," he indicates.
Quality Skills Training Programme
Speaking at an education solutions seminar hosted by welding solutions company Lincoln Electric, SAIW business development manager Etienne Nell said that welding had been identified as one of the scarce skills in South Africa and globally, with the American Welding Society forecasting a shortage of 250 000 skilled welding personnel by 2020.
This is owing to few welders being properly qualified and certified, and very few meeting the required skills level needed for new and existing projects.
As such, Nell pointed to a possible solution to mitigate the skills gap, with training solutions that were being introduced in South Africa.
Nell cited three components for a lasting solution to the country's welding skills problems: Authorised Training Bodies, the new Quality Council for Trades and Occupations (QCTO) curricula for artisan training, and reputable training equipment suppliers, such as Lincoln Electric, industrial gas company Afrox, international welding supply store ESAB Africa and international welding solution and alternative energy supplier Fronius.
Facilities in South Africa accredited by SAIW – which is the IIW's Authorised National Body (ANB) – form the foundation of long-term solutions to the country's lack of welding skills. "IIW ANBs seek to achieve excellence in the training, examination and qualification of welders globally and now follow a detailed welder training guide called the Bratislava Agreement," Nell said.
He explained that the agreement was developed and agreed on by all 56 IIW member countries and aims to achieve harmonisation in the training, examination and qualification testing of welders globally. It provides for the assessment of theoretical knowledge and practical skills.
Referring to the new South African QCTO curriculum, Nell explained that it was 90% based on the Bratislava Agreement, making it a truly international curriculum.
South Africa's QCTO curriculum was worked on for more than two years by a welder training curriculum development committee, which consisted of senior academics and industry stakeholders, including Nell, as well as lecturers from the University of the Witwatersrand, State-owned power utility Eskom, materials handling company Bell, industrial development zone and deep-water port Coega, oil refinery PetroSA, petroleum brand Caltex, crude oil refinery Sapref and other stalwarts from the South African welding industry.
The QCTO curriculum is now a national qualification, called an Occupational Certificate: Welder, with South African Qualifications Authority number 24100 and QCTO curriculum number 651202. The Occupational Certificate does not replace any other qualification; however, those wanting to register a new apprentice for a trade must now follow QCTO requirements when training. New welding artisan trade tests will be QCTO-based within the next three to four years.
"The welder training committee thought it best to stop labelling university-trained professionals as 'white collar' and artisans as 'blue collar'. Now, to become an artisan, a candidate must still complete 5 400 hours of training, so that everyone is on the same level. If one looks at the total number of hours a university student spends before graduating, it equates to about 5 400 hours. Of that time, the direct number of contract hours a week is often low," Nell explained.
He added that this qualification ensured that a sound skills base was developed at artisan level, which would serve as the foundation for achieving the coded welder status required by the national standards used in South Africa.
"The SAIW has been IIW-focused for more than 16 years, and has applied for QCTO accreditation for our training school. Our 2017 intake of foundation students will be the first group to be taken through the new QCTO curriculum," Nell concluded.