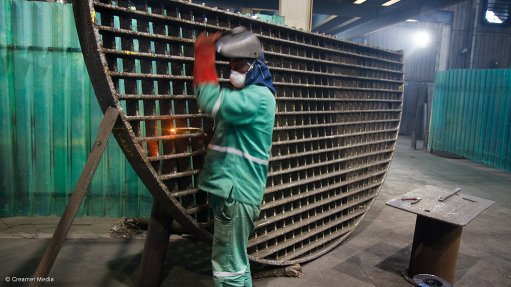 As a producer of primary products used across all sectors, mining is certainly the backbone of many economies worldwide. Extracting and refining minerals and metals from the depths of the earth are done in unforgiving conditions, in some of the most remote, harsh and arid places on the globe. Tough conditions require tougher solutions, says wear-protection solutions provider Welding Alloys South Africa (WASA).
The Johannesburg, South Africa-based company has been actively involved in the mining industry since the late 1970s. Over the past 40 years, WASA has gained extensive knowledge of wear and wear-related problems in the industry and has placed itself in a strategic position to offer wear-protection products and solutions to the African mining industry. "With our Hardplate™ range of products, outperforming traditional quenched and tempered materials by between five to nine times, based on total wear life, we offer some of the best solutions currently available," says the company.

Its portfolio of products and solutions consists of a range of locally produced chromium-carbide overlay plate, expert engineered wear solutions, a range of joining and hardfacing welding consumables, ceramics, wear audits, ISO 3834-3-certified manufacturing capability and a team of expert sales and technical engineers to provide customer service and technical advice to reduce costs and increase productivity.
No matter what the wear challenges are, WASA has the solution. "From small soft rock mining operations to some of the largest, deepest and most remote hard rock mines in the world, our products and innovative engineering solutions have provided ultimate wear protection when needed most," emphasises the company.
WASA's current African customer base includes mining operations in countries such as the Democratic Republic of Congo, Zambia, Mozambique, Namibia, Ghana and Burkina Faso.
When time is of the essence, WASA is the go-to provider of engineered wear-protection solutions.