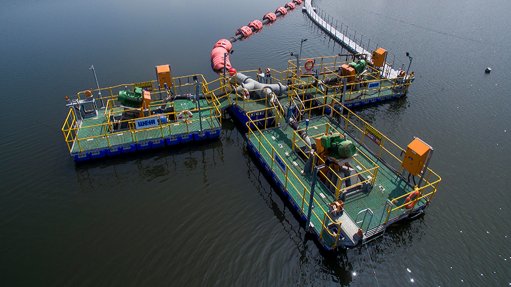 COMPREHENSIVE WATER SOLUTIONS Weir Minerals offers engineered to order pontoon barges to suit their customers' dewatering requirements
Optimising water use is a priority for equipment supplier Weir Minerals Africa – it is an area that can often be overlooked but contributes significantly to a mine's environmental, social and corporate governance drive, as well as its bottom line.
"Our product and service offering aims to assist mines in reducing their overall water consumption while optimising their water use requirements," says Weir Minerals Africa pumps GM Marnus Koorts.
He says that when assisting a mine with its water requirements, Weir Minerals Africa's starting point is to gain an understanding of the mine's often unique challenges – for example, seepage or water accumulation in unknown areas – evaluate the site, which often reveals unexpected outcomes, and put together a tailor-made solution designed to integrate into existing infrastructure and resolve the problem areas.
Koorts' colleague Weir Minerals Africa engineering head Christian Stehle emphasises that such solutions are generated and delivered in collaboration with the company's in-house engineering team, an offering few original-equipment manufacturers provide.
"When dealing with water, it is important to understand that it is a dynamic situation where changes can be frequent. Our team understands this and knows how to manage it with the support of our extensive product range," states Stehle.
So strong is Weir Minerals' engineering capability that the company has coined the term 'engineered to order' – a phrase that demonstrates its focus on delivering customised integrated solutions.
The company designs and engineers a full range of dewatering pumps and equipment under well-known brands Multiflo, Warman, Envirotech and GEHO that are suitable for any dewatering, drainage or water transfer application. This provides optimum pumping performance in the most arduous conditions in applications worldwide.
These dewatering pumps are part of Weir Minerals Africa's extensive range of mine and dewatering products, including Cavex hydrocyclones, Enduron dewatering screens, speciality Linatex hose, Isogate valves, and tailored Multiflo pontoons and barges.
Following a partnership agreement with technology group Andritz, the company also offers the Isodry brand. This incorporates a range of equipment that has been specifically developed to deliver first class solid-liquid mechanical separation for the mining and aggregates industries, including thickeners, filter presses, centrifuges, and vacuum belt filters.
Both Stehle and Koorts confirm that Weir Minerals Africa, together with all Weir Group companies, has, and remains invested in, technology. This investment assists with any sustainability drive, particularly when used in conjunction with water management solutions.
A prime example of the company's dedication to providing technology-driven solutions is Synertrex – an intelligent analytics platform that can easily be integrated into existing systems. It helps operations to understand wear rates, forecast replacement part timing and assists in making decisions that improve overall efficiency without unexpected downtime.