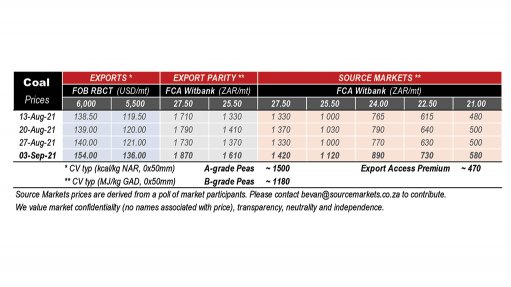 The September roll-over sees a massive jump in spot monthly prices, with a further strengthening of the forward curve, which remains significantly backwardated.
The story of coal's meteoric price rise in 2021 has been one of expensive natural gas and underperforming renewables in the face of severe weather events. Coal-fired power across most of Europe is expected to ramp up further in 2021, with a 35% efficient coal plant currently more profitable than a 49% efficient gas equivalent, on a clean dark vs spark spread comparison.
As coal plants are retired and replaced with renewables, operators are experiencing generation deficiencies where renewables lack adequate battery storage to cover adverse weather conditions. Gas-fired generation has therefore become critical to plug baseload gaps, leading to the spike in gas prices.
Coal prices, already under pressure from lower supply, are simply playing catch-up. European TTF gas supplies remain tight, with LNG imports also weak. However, new Russian gas supply from the Nord Stream 2 pipe could start to alleviate gas supply problems from next year.
In China, domestic coal prices may retreat slightly towards the end of summer as coal production increases, but low coal inventories and restocking for winter will stop coal prices from falling too sharply.
Meanwhile, coal producers around the world face an interesting dilemma, ranging from getting out while prices are high (Anglo, BHP), or acquire more assets (Glencore) and make hay while the sun shines, hoping those profits will more than offset the cost of restoration later on.