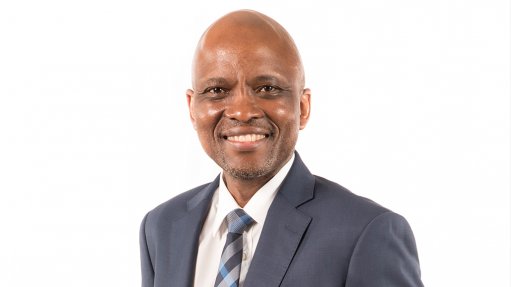 Minerals Council South Africa president Mxolisi Mgojo
JOHANNESBURG (miningweekly.com) – "We need exploration to grow our industry," Minerals Council South Africa president Mxolisi Mgojo said on Monday during a virtual State of the Mining Nation media briefing in which he described exploration as one of the low-hanging fruits that could change South Africa's economic trajectory in the short term.
Mgojo flashed a graph on to computer screens showing the plunge in direct investment, as well as underperformance of the South African economy, and said: "If we don't fix this, the spectre of a full-blown sovereign debt crisis that is currently facing us will indeed become a frightening reality." (Also watch attached Creamer Media video.)
Speaking on the eve of the Investing in African Mining Indaba, he said that no number of investment conferences that solicit pyrrhic pledges would attract and create investment.
The evidence of this was clear, and linked to the perennial under-performance of the South African economy over more than a decade, Mgojo added.
The only way that South Africa, as a nation, was going to exit its downward spiral trajectory was for the President and the entire Cabinet to realise that South Africa had to become a competitive investment destination, in the top quartile of the World Economic Forum competitiveness rankings.
"And then, they need to back this up with decisive action," said Mgojo. "As you are aware, the economic crisis we face as a country was not created by Covid-19 – it existed well before the pandemic," he said, calling for:
structural and institutional reforms to stabilise the fiscus and public sector debt;
the restructuring or the sale of non-performing State-owned enterprises;
improved policy certainty; and
a reduction of 'red tape' to make South Africa a much easier place to do business.
The Economic Reconstruction and Recovery Plan tabled on 14 October 2020 did not, he said, address the criticality of these structural and institutional reforms.
Instead it focused on a huge infrastructure plan which government had neither the capacity nor the balance sheet to be able to deliver – "and it is not, as has been touted, the product of a business-government 'meeting of minds'.
"As many of you will be aware, the mining industry, through Business for South Africa has done an enormous amount of work in making a meaningful and proactive contribution to what needed to be done to be competitive and create investment in South Africa. It has been incredibly disappointing that a lack of decisive action has meant that – six months after the proposals were tabled – we still don't have a coherent and inclusive plan," he told the media conference in which Mining Weekly participated.
"At the risk of repeating myself, what is needed, urgently, is decisive action from the President. Words and vague intentions simply do not cut it in the worlds of dollars and yen.
"Government needs to partner with, and enable the private sector investment to grow the economy. It can do this by allowing private sector investment into rail, ports, electricity, pipelines, for example. The current state-owned enterprise model has failed the nation, and SOEs [State-owned enterprises] continue to constrain competitiveness and economic growth," said Mgojo, the CEO of Exxaro Resources.
Demonstrating the very real value of a strong mining industry was the fact that rising commodity prices lifted mining value even though 2020 production was 10% lower and export value was up 24% even through export volumes were down, owing in part to SOE constraints.
GREENFIELD EXPLORATION NEEDED
Mgojo decried the fact that in 2019, South Africa accounted for only 1% of global exploration expenditure and only 0.1% of greenfield exploration, which contrasted sharply with Canada and Australia, for example.
Between 2000 and 2018, Canada, he said, attracted, on average, $2-billion in exploration dollars a year and Australia $1.8-billion, compared with a mere $194-million attracted by South Africa during the same period.
He gave the reasons for this as:
lack of transparency in the permitting system;
delays in the issuing of permits;
regulatory uncertainty; and
lack of properly structured tax incentives for individuals/entities to invest into exploration in South Africa.
MINING MODERNISATION
Mgojo said that innovation and the Fourth Industrial Revolution (4IR) technologies had helped the mining industry to manage the pandemic more effectively than would have been the case five to ten years ago.
Applications that were previously shunned by employees and unions, such as wearables and the remote monitoring of employees, were now embraced to ensure the wellbeing and safety of mineworkers as they returned to work after the lockdown.
"We have always advocated a people-centred, 4IR-enabled approach to modernisation of the sector," he said.
Using 4IR technologies would also make South African mining and the rest of the economy more globally competitive and, ultimately, enable mining to make an even larger contribution to the economy and society.
R300M ON VACCINATING THREE-MILLION PEOPLE
Mgojo used the words of Professor Koleka Mliasana of the National Health Laboratory Service to emphasis that it was not vaccines but vaccinations that were going to save South Africans from the coronavirus.
"And this distinction is an important one. Our collective priority and responsibility as a nation is to get as many 'jabs-in-arms' as possible, as quickly as possible, to save lives and livelihoods.
"We believe that as an industry we can vaccinate between 60 000 and 80 000 people a day - so around three-million in two months. And that's not just our own workforce of 450 000 people," he said.
For every employee vaccinated, the industry envisaged vaccinating at least five more people, be they employee family members or community members, which meant:
providing safe custody and storage of vaccines;
determining eligibility based on medical priorities;
administrative back-up and record-keeping, such as registering who has had the vaccine and when, and ensuring that, where necessary, the second vaccination was done;
providing health care personnel and disposables; and
monitoring.
"In addition, massive educational campaigns are required and our estimates are that the industry will spend around R300-million to vaccinate three-million people," Mgojo said.
Using its significant healthcare infrastructure and capacity, the mining industry was willing and able to work collaboratively, with government and labour, to roll out the vaccination programme successfully to save lives and livelihoods.
Despite the challenges faced during 2020, the mining industry:
sold R608-billion in primary mineral sales compared with R552.5-billion in 2019;
exported R414.5-billion in sales compared with R361.7-billion in 2019
contributed R361.9-billlion to the gross domestic product compared with R376.4-billion in 2019;
employed 451 427 people compared with 460 015 in 2019;
paid employees R148.5-billion (2019: R143.5-billion) and contributed R26.2-billion (2019: R22.7-billion) to pay-as-you-earn taxes on behalf of employees; and
paid R34.7-billion in value added taxes (2019: R36.9-billion) and R11.8-billion in royalties (2019: R8.6-billion).
Also released by the Mineral Council at the briefing was its 2020 facts and figures pocketbook, which is published on its website.