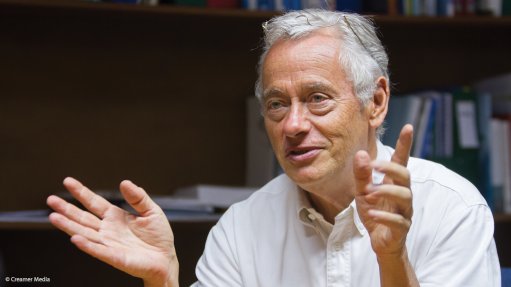 Mike Muller
Photo by: Duane Daws
JOHANNESBURG (miningweekly.com) – The Cabinet Ministers responsible for approving the second phase of the Lesotho Highlands Water Scheme should be asked to explain why this important project is being delayed – and should also be pressed to take decisions on acid mine drainage (AMD) projects as new sources of short-term water.
In all cases, decisions relating to long-term water supply need to be taken in the next couple of months to avoid a real crisis from developing, Wits School of Governance visiting adjunct professor Mike Muller, a former Department of Water Affairs director-general and National Development Plan commissioner who chaired the World Economic Forum's Global Agenda Council on Water Security from 2012 to 2014, warned in a video interview with Creamer Media's Mining Weekly Online.
Even if the contract for the second phase of the Lesotho Highlands were signed in January next year, water from it would only be available in 2024 – four years later than planned – which could result in a water shortage in Gauteng and the surrounding provinces reliant on the Vaal river system. (Also watch attached Creamer Media video).
"We know that around 2018 to 2020 the capacity of the Vaal system to provide water, if there is a serious drought like we're having now, will be insufficient, and we need to take some measures to deal with that, but some of those measures are going to take time," said Muller.
Even AMD – about which he has several reservations but for which plans and technology are in place – should be given the go-ahead.
"We need to get moving otherwise what we save by delaying we will lose many times over when we actually deal with real water shortages," said Muller, who described as "embarrassing" the South African government being slower than the Lesotho government to decide on the Lesotho Highlands Water Scheme's second phase.
"I get worried. This is how we got into the energy crisis. We had everything in place but somehow the decision just didn't get taken," Muller said.
He conceded that the Lesotho project's process was "complicated, delicate and nuanced" involving two governments, a treaty, an estimated R10-billion capital cost and Lesotho running the procurement process and South Africa providing the funding at a time of significant financial stringency. (Also watch Creamer Media video attached).
South Africa's Trans-Caledon Tunnel Authority (TCTA) and the Lesotho Highlands Development Authority were required to work together to decide how to proceed and then to implement that procedure.
The two governments had to study the implications and consumers in South Africa would need to start paying immediately once the contract was signed to avoid a sharp rise in water tariffs, as has taken place with electricity.
Tariffs needed to be increased slowly over time so that consumers would have grown accustomed to paying additional amounts, as had happened with Phase 1B.
That approach could be repeated with Phase 2, but it meant National Treasury, the Department of International Relations and Cooperation, the Water Affairs Department, TCTA and Rand Water getting their act together.
The Water Affairs Minister needed to present Lesotho Highlands Water Scheme proposals and AMD project decisions to the Cabinet, together with an outline to the Finance Minister of the required capital expenditure.
As Department of Water Affairs director-general from 1997 to 2005, Muller was responsible for the development and implementation of policy and legislative reform and initiation of a range of national water programmes and projects that gave ten-million people access to safe water.
He also co-chaired water-sharing negotiations with Mozambique and Swaziland and led the South African side in earlier Lesotho project talks.
Before that, he was responsible for infrastructure and policy programmes at the Development Bank of Southern Africa and managed water and sanitation programmes for the Mozambique government from 1979 to 1988.
"I venture to say, because we keep changing Ministers, I don't think the Ministers actually even understand what needs to be done."
He urged that Ministers be challenged to explain why they were taking so long.
"Ask them to explain why the Lesotho government has asked South African parliamentarians to come and discuss the delays, which I believe has just happened," Muller said, adding that he found it interesting that Lesotho should have to "very politely" call the South African government to account for the delays.

In cost terms, Lesotho water, which was gravitationally fed into the Vaal, remained the cheapest currently available way to increase supply into the Vaal system. (Also watch attached Creamer Media video).
AMD treatment would be significantly more expensive and would require the intensive use of scarce electricity. But the bigger danger was that neither the one nor the other would be ready in time.
Should a drought cut supply, water authorities would have no option but to cut consumption, in the same way as State utility Eskom had done with load-shedding.
In Port Elizabeth, where the local authority failed to build a treatment works and pipeline even though there was adequate water available to bring into the city, factories had been asked to close down.
"We don't want to have to do that. If we are to avoid that, we have to take the right decisions at the right time and then implement them," Muller added.
South Africa has a water plan that extends to 2030 and which is modified to meet demand.
Apart from the Lesotho water and the water that flows naturally into the Vaal river, water from the Tugela river in KwaZulu-Natal is pumped, also using a lot of electricity, over the Drakensberg into the Sterkfontein dam and then the Vaal.
Water from the Komati river, used by Eskom power stations in Mpumalanga, is also brought into the Vaal system.
As part of the overall plan to 2030, various locations have their own particular water sources and their own particular challenges.
The Umkomaas river has an abundance of water to serve the area of Durban, but to build a dam and pipeline to transfer it to the north of Durban, where the demand is building up, will be costly.
It could be argued that building a desalination plant north of Durban, to obtain water from the the sea, which is under discussion and also energy intensive, would save considerable capital, but then during periods of drought, the cost of desalinated water would rocket.
Again, the economics needed to be worked out and decisions taken.
The Cape Town area, which needs more water in the next ten years, could also decide to build a desalination plant or to recycle wastewater that currently goes out to sea or to go for groundwater sources that have been discovered.
Muller's preference would be for AMD - which accounts for 15% of water pollution with urban wastewater, agriculture and industry making up the other 85% - to be allowed to settle deep underground rather than being pumped back to surface and treated at high expense and energy intensity.
While it was convenient to treat AMD because of its emergence from a limited number of locations, it was much harder to control municipalities and farmers, and it might be wiser to retain funds for the solving of the far larger 85% problem.
While the immediate water focus was on municipalities losing much to leaks and consumers not paying for water, South Africa needed to be strategic and also worry about where the municipalities were going to get their water resources in the future.
"If we don't keep our eye on those long-term projects, we can be running around and putting our fingers in the dyke and fixing leaking pipes, but if in ten years time there is no water to go into those pipes, there won't be any leaks, but there also won't be any water for you and me," Muller commented to Mining Weekly Online. (Also watch attached Creamer Media video).