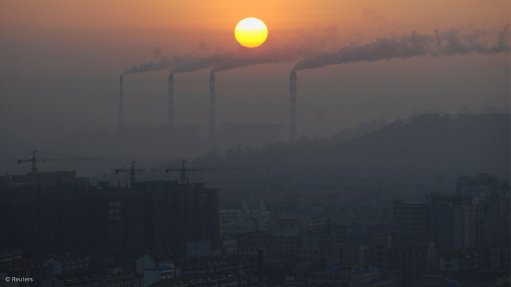 Photo by: Reuters
PERTH (miningweekly.com) – The Western Australian government will draft a Bill that will provide Western Australia's resources sector with further investment and regulatory certainty as it transitions to a low-carbon future.
The Greenhouse Gas Storage and Transport Bill aims to provide Western Australia's mining, liquefied natural gas (LNG) and natural gas industries with access to opportunities to decarbonise, such as mineral carbonation and carbon capture, utilisation and storage (CCUS).
"The Greenhouse Gas Storage and Transport Bill will provide resources projects with further long-term certainty while protecting and creating more jobs in the sector," said Mines and Petroleum Minister Bill Johnston.
"The Bill is one of a number of options the government is exploring to deal with climate change and we are working hard to ensure the proposed technologies are safe and secure.
"Decarbonising Western Australia's resources sector and developing a legislative framework to support these goals is essential to the growth and economic diversification of our state," the Minister said.
The state government has set a target of net-zero emissions by 2050.
The state government said this week that there would be broad consultation with the resources industry and WA community on any proposed legislative amendments before the Bill is finalised.
The Australian Petroleum Production and Exploration Association (Appea) and Chamber of Minerals and Energy of WA are already supportive of this reform.
Appea said that the proposed Bill was a positive development to reduce emissions and contribute to a cleaner energy future.
Appea Western Australian director Claire Wilkinson said the oil and gas industry is committed to net-zero emissions by 2050, with some companies planning to reach that commitment earlier.
"Billions of dollars have already been invested by our sector in cleaner energy technologies such as carbon capture and storage (CCS) and hydrogen.
"CCS is a proven, viable method and the oil and gas industry is well-positioned to deliver the technology. With Western Australia home to most of the oil and gas activities in Australia, CCS is a key tool in our decarbonisation toolkit to reduce emissions.
"Our technological expertise, deep knowledge of Western Australia's subsurface environment and our commitment to reducing emissions provide us with an advantage to deliver more CCS as well as ultimately support a new hydrogen industry with this process."
Wilkinson said the industry looked forward to participating in the government's consultation process on the Bill.
"We support this move by the Western Australian government. By providing regulatory certainty in this area, it will not only reduce emissions but give business confidence to invest, create jobs and grow the economy," she said.