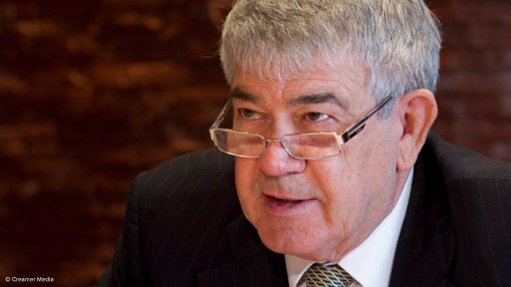 Brian Gilbertson
Photo by: Creamer Media
JOHANNESBURG (miningweekly.com) – A resolution for the removal of the MD and CEO of the ASX-listed Jupiter Mines as a member of the board was passed at the company's general meeting on Wednesday, when mining doyen Brian Gilbertson was not re-elected as chairperson.
Jupiter's focus is on the highly successful Tshipi Borwa manganese mine in South Africa's Northern Cape. The company holds a 49.9% interest in Tshipi é Ntle Manganese Mining, which operates the Tshipi Borwa mine. It has disposed of its Australian iron-ore assets.
The request for the resolution to remove Priyank Thapliyal as MD and director was made by shareholder AMCI Group LLC on August 17.
More than 78% of shareholders voted against Gilbertson's re-election and more than 73% voted for the resolution removing Thapliyal as a director.
The level of Thapliyal's remuneration was the main focus of shareholder dissatisfaction, along with it being allowed by Gilbertson. Thapliyal was removed as MD but remains Jupiter CEO.
The hybrid meeting was overwhelmingly virtual with only company secretary and CFO Melissa North at the Jupiter head office, at Level 10, 16 St Georges Terrace, Perth, Western Australia.
Gilbertson wished everyone godspeed as he bowed out and Thapliyal chose not to respond to his removal from the board.
In the run-up to the meeting, however, Thapliyal urged all shareholders to cast their votes considering the critical company-defining issues that Jupiter faces.
As reported by Mining Weekly, unlisted empowered South African mining investment company Ntsimbintle Holdings, chaired by Saki Macozoma, in May grabbed headlines by becoming the biggest shareholder in Jupiter.
"We welcome the outcomes of the shareholder resolutions," said Macozoma.
"At the shareholder level, the outcome of these resolutions indicated it was time for governance change and accountability.
"We're fully engaged with our own long-term investment and in Jupiter Mines of the core asset, the Tshipi Mine.
"Our considered approach to all our investments is to ensure the mines in which we invest, and support in operation, can best reach their potential and extract a future premium. This obviously includes the world-class Tshipi Manganese asset." Macozoma added in a release to Mining Weekly.
In acquiring just under 20% of Jupiter, Ntsimbintle is entitled to an effective 47% of the profit from the manganese ore produced by the Tshipi Borwa mine, in the southern part of the Kalahari basin. This has put it in a strong position, as Tshipi is one of South Africa's biggest manganese ore exporters. (Ntsimbintle is still only entitled to 37% of the ore which it trades through Ntsimbintle Marketing & Trading in Singapore.)
Jupiter has been moving forward as a pure play manganese company after embarking on a demerger process for its iron-ore assets.
Despite 2021 financial year mining challenges including delayed fleet mobilisation, excessive rainfall, equipment availability and the Covid-19 lockdown, Tshipi nonetheless reported healthy ore exports.
For the 2022 financial year, the company has been focusing on managing costs, addressing outstanding items for expansion of the Tshipi Borwa mine to 4.5-million tonnes a year and consolidating the mine and other opportunities in the Kalahari manganese field.
Jupiter declared a A$59-million dividend for the 2021 financial year, after posting a net profit after tax of A$126-million.
Yeongjin Heo and Hans Mende were re-elected as directors.
The board will appoint an acting chairperson in the coming days and has commenced the process to appoint a suitable permanent replacement.
Gilbertson has been a director of Jupiter since 2010 and was instrumental in the transaction which brought together Jupiter and investors to create the Tshipi manganese mine.
The mine has transitioned from a greenfield project and Jupiter thanked Gilbertson, 78, for what it described as "his unwavering commitment and valuable contribution".
In acknowledging Gilbertson, Macozoma described the former Gencor and BHP Billiton head as having "a distinguished career in global resources, unequalled by most".
Like Ntsimbintle, Gilbertson recognised the Tshipi manganese mine for the top-quartile asset it is.
Macozoma described Tshipi as representing a future facing resource and committed Ntsimbintle to continuing to adopt a positive forward outlook to other well-suited future mining ventures.
NTSIMBINTLE'S OTHER MANGANESE ASSETS
Also deserving to be taken into account are Ntsimbintle's other promising manganese assets, which collectively place this company, in the words of Macozoma, to "capitalise further on regional and co-development consolidation opportunities, that will allow it greater exposure to the current extremely attractive manganese fundamentals".
This is because Ntsimbintle's other assets include:
51% of the brand new Mokala manganese mine, which came into production last month, which is expected to produce a million tonnes a year at steady state, and where the major London- and Johannesburg-listed Glencore is the 49% partner;
effective 50.1% of Khwara manganese (where Traxys Projects is the 49.9% partner), on which a bankable feasibility study has been completed and which is located on the northern portion of South32's well-established Wessels manganese mine;
9% of South32's 66-year-old Hotazel Manganese Mines (HMM); and
100% of Ntsimbintle Marketing and Trading, the company's Singapore-based marketing operation that provides pit-to-customer integration across the manganese value chain, and which is augmented by Limeng, Ntsimbintle's port stockpile business in China, which has its own staff and which sells stockpiled manganese ore directly to the Chinese end customers.
Formed in 2003 to pursue exploration and mining opportunities emerging in the South African manganese sector, Ntsimbintle scored big with its investment in Tshipi, which has overtaken HMM and Assmang in manganese ore exportation at a time of growing demand and constrained supply.
The company with the management contract to run Ntsimbintle Holdings is Safika Resources, headed by CEO Justin Pitt who left Rand Merchant Bank in 2002 to set up Safika Resources together with Macozoma and Moss Ngoasheng, and where Gina Bleyenheuft is CFO. The executive team has spent nearly 20 years spearheading the executive and transactions work for the company.
Ntsimbintle Holdings owns 74% of Ntsimbintle Mining, with the remaining 26% owned by OMH Mauritius (Corp), a 100% owned subsidiary of ASX-listed Singapore-trading business, OM Holdings, that has a smelter complex in Samalaju, Sarawak, Malaysia.
Ntsimbintle Mining, in turn, owns 51% of Tshipi, Ntsimbintle and Safika's premium asset.
Ntsimbintle applied for the Tshipi mineral rights at the start of the new millennium and it was Macozoma and Pitt who raised the R2-billion needed to build the mine.
Macozoma was earmarked to be chairperson and Pitt CEO of what was to be a listed entity, with current Ntsimbintle Mining CFO Lyndsay Maseko, but due to unfavourable market conditions experienced whilst embarking on an initial public offering in Johannesburg and London three years ago, the listing did not take place.