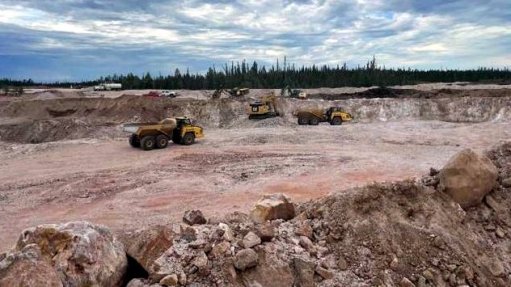 PERTH (miningweekly.com) – ASX-listed Vital Metals has signed a binding term sheet with triple-listed Quebec Precious Metals (QPM) for the acquisition of QPM's 68% interest in the Kipawa heavy rare earth exploration project and 100% interest in the Zeus exploration project, in Quebec.
Under the terms of the agreement, Vital Metal would purchase the project interest for C$8-million, payable in six tranches on the reaching of certain milestones. The first C$150 000 deposit payment was made on the signing of the term sheet, with the second C$2.35-million becoming payable on the acquisition of the projects.
A further C$2.5-million would become payable on the first anniversary, while a further C$1-million would be payable on each of the consecutive three anniversaries.
Kipawa is a heavy rare earths project, located 50 km from Temiscaming in Quebec, with a mineral resource estimate of 15.5-million tonnes of eudialyte, 6.3-million tonnes of mosandrite, 5.1-million tonnes of britholite and a proven and probable reserve estimate of 19.8-million tonnes.
Vital Metals MD Geoff Atkins said on Wednesday that the acquisition of the projects provided Vital with a unique opportunity to become a producer of both heavy and light rare earths.
"Having commenced operations of Canada's first rare earths mine at our Nechalacho project in Northwest Territories, the potential to develop the Kipawa project will allow us to produce a full suite of rare earths. It has potential to increase Vital's position as a strategic player in the North American critical minerals supply chain at a time where demand continues to grow."
"Part of Vital's corporate DNA is our ability to identify the most efficient and effective way to develop rare earth projects. Similar to Nechalacho where we have applied an alternative development strategy to greatly reduce capital costs and development timelines, we see similar opportunities for improvements to the existing development strategy at Kipawa and we look forward to defining our development strategy over the coming months."
Atkins said that the acquisition was an ideal opportunity to cement Vital's place as a leading rare earths producer not just in North America, but globally.
"The introduction of heavy rare earths into our product suite will increase the value of the rest of our offering as we will be a single supply source for both heavy and light rare earths.
"In addition, Kipawa is the only rare earth project in the world in which Toyota directly invested, with an initial stake of 49% which was converted to a 10% NPI in 2014."
The acquisition is subject to a number of conditions, including Vital conducting a due diligence, as well as joint venture partner Investissement Québec waiving its rights of first refusal over Kipawa.