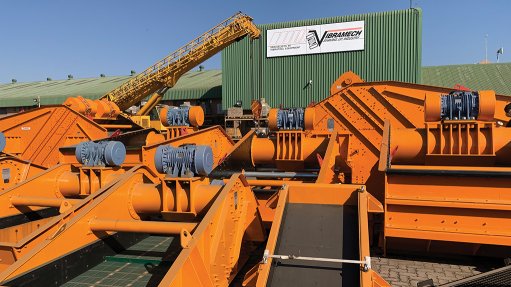 Southern Africa's largest manufacturer of vibrating mineral processing equipment, Vibramech, is proud to announce its biggest single order in its 43 years of operation.
During the course of 2020, Vibramech will supply over 30 units of vibrating equipment to a state-of-the-art marine diamond processing vessel. The equipment ranges from heavy-duty and high-capacity primary scalping screens, to diamond recovery feeders. The large primary scalping screens are the biggest operational machines on sea-going processing plants and have been methodically designed and tailor-made using the latest finite element and strain gauge techniques.
"We are pleased by the fact that we have a dedicated 25 year-plus database comprising our meticulous developments, which have empirically improved the longevity of our vibrating equipment, in particular for those used in the marine diamond processing industry. Underlying these developments are our client relationships, through which we not only receive valuable feedback on their requirements, but with whom we closely work to implement innovative ideas," says Vibramech MD David Massey.
Vibramech also supplies equipment to mining and mineral processing industries throughout Africa, Eurasia, Australasia, North and South America. Vibramech's equipment operates in processing plants, ocean vessels and mining operations world-wide and it boasts extensive experience in gold, diamond, coal, iron ore, manganese, platinum, chrome, nickel, uranium, copper, mineral sands and aggregate operations.
"We engineer solutions for each client's unique mineral processing requirements. Our current installed base of over 15 000 pieces of equipment makes us the Southern African leader in market share. We are proud to be the preferred supplier of vibrating equipment to project houses and mines in Southern Africa, and we have earned the reputation of being an OEM that designs and manufactures robust and durable screening equipment," continues Massey.
Vibramech's robust equipment is specifically designed for harsh operating conditions. "Our equipment needs to withstand the high wear associated with the screening of abrasive ores. We also have a range of speciality liner materials, paint specifications and wear prevention compounds which are used to combat the effects of corrosion in the marine and refinery applications. Vibramech even offers the option to install a screen in stainless steel," explains Massey.
Vibramech has developed a proven and comprehensive range of vibrating equipment, including:
• Multislope, or banana, screens
• Horizontal and inclined screens
• Dewatering screens
• Primary and secondary sizing screens
• Crusher product screens
• Degrit screens
• Floats and sinks screens
• Classifying screens
• XRT and X-ray prep screens and feeders
• DMS feeders, grizzly feeders, pan feeders, tubular feeders and grease tables
All vibrating equipment is built to perform within strict dynamic parameters, ensuring sound dynamic behaviour and reliability. All internal mating surfaces are machined to maintain stringent dimensional tolerances and Vibramech's quality assurance programme uses full 3D vibration analysis.
Vibramech employs over 200 staff and manufactures all its equipment in its high-tech, 25 000 m² facilities based in Chamdor, West of Johannesburg.
Vibramech designs and manufactures equipment without the use of subcontrac-tors, ensuring complete control over quality and scheduling, while offering the flexibility for clients to optimise the design and geometry of vibrating equipment to specification.
Vibrator motor and geared exciter repairs are all conducted to original-equipment manufacturer specifications and Vibramech is the exclusive URAS vibrator motor distributor for Africa and the Middle East.
Vibramech has Regional Sales Engineers in eMalahleni and Lephalale, providing on-site support to clients in Limpopo and Mpumalanga, and a permanent Sales Engineer in Letlhakane, Botswana. Vibramech is a broad-based black eco-nomic empowerment company and is compliant with the South African National Accreditation System.
Vibramech invites all customers to visit its website at www.vibramechglobal.com for any mineral processing requirements.
Phone: +27 11 762 5501
Email: vibramech@vibramech.co.za
Physical address:
17 Chenik Street, Chamdor, 1739