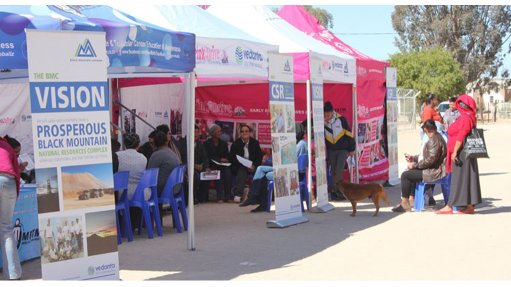 Zinc producer Vedanta Zinc International, supported by the Pink Drive outreach programme, hosted its sixth yearly five-day cancer screening drive across the Namakwa district in the Northern Cape recently.
The Pink Drive mobile clinics are known for providing free breast health assessments across South Africa and have been successful in providing additional screenings, testing, cancer awareness and education.
During the Pink Drive activation, 729 community members from O'kiep, Nababeep, Bergsig, Pella and Pofadder in the Khai Mai and Nama-Khoi district received free breast health assessments and were screened for breast and prostate cancer.
In addition to the cancer screenings for both men and women, 2 500 Covid-19 face masks were also donated to community members.
Vedanta's Gamsberg operation GM Pieter Van Greunen says the company supports the Pink Drive initiative because Vedanta understands that the early detection of cancer is key for a better chance of remission and recovery.
"Our communities are the backbone of our Black Mountain Mine complex. Being able to make a difference in their lives is one of our priorities," he adds.
Community member Imelda van Schalkwyk says she found out on her first visit to the Pink Drive that she had breast cancer, and subsequently went for treatment and surgery. "I would like to encourage people in the other towns, who have yet to be screened, to please take part in the initiative which carries no cost, as it is only for your own health," she says.
"For almost 20 months, South Africans have been navigating Covid-19; it is understandable that many could have neglected to have important cancer screenings, so we brought it to the communities. Fighting cancer is just as important as fighting the pandemic," says Van Greunen.