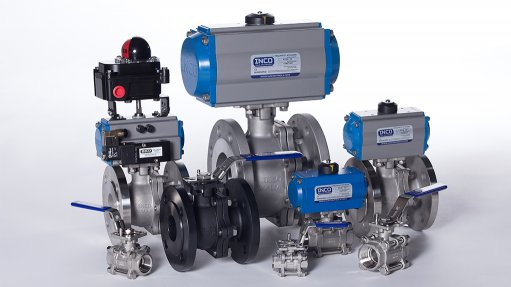 EXCEEDING EXPECTATIONS Zambia's acceptance of the IncoValves and Controls range, whose design is based on lowering the total cost of ownership for end-users and increasing uptime, has exceeded AR Control's expectations
Demand from the Zambian mining industry for valves, and actuator technology manufacturer AR Controls' product offering, is stable and increasing since Hakainde Hichilema became the seventh President of the country in August last year, says AR Controls CEO Julien van Niekerk.
"Demand is relatively stable, owing to our large installed base and the customer satisfaction that we have cultivated over nearly 30 years, facilitating ongoing maintenance, repair and operation (MRO) business."
However, there is also improved new business development from an MRO perspective, as well as new installations, owing to greater project activity in Zambia on the back of the country's new administration.
As Zambia is a global player in copper production, AR Controls predominantly supplies the country's copper mining industry, but the development of nickel projects in Zambia is on the rise, as supply from Russia, the world's largest nickel producer, is being disrupted by the Russia-Ukraine war.
The Zambian mining industry was until recently a closed market, as a result of the previous administration, with no blue-chip players making any substantial capital expenditure commitments, states Van Niekerk.
"We are seeing an open economy in Zambia that is supportive of the mining industry."
Consequently, global mining company First Quantum Minerals (FQM) has made a significant investment in its operations in the North Western province, where Hichilema launched the company's Enterprise – a low-cost, high-grade nickel sulphide mine – in July.
"Zambia is now poised to become one of Africa's largest nickel producers with FQM's commissioning of the Enterprise mine. We are seeing Zambia become a major player in a commodity besides copper for the first time," says Van Niekerk.
Product Offering
In terms of linear valves, AR Controls' knifegate valves form a large part of the company's business model, says Van Niekerk.
"Knifegate valves are always going to be there, irrespective of the minerals being extracted and processed."
The company's butterfly and ball valves are also trending.
"Zambia is one of the premier destinations for our IncoValves and Controls product range, which comprises our quarter- and part-turn products. This includes our INCOLOK concentric and high-performance butterfly valves, and our INCOVALVE range of general and severe service ball valves."
Having acquired IncoValves and Controls in 2016, the Zambian market's acceptance of the brand has exceeded AR Controls' expectations.
The IncoValves and Controls range design is based on lowering the total cost of ownership for end-users and ensuring significantly increased plant availability and uptime.
"Standardisation has also been a major driver to reduce inventory costs and add value to not only the operations side but also end-users' supply chain management," says Van Niekerk.
The IncoValves and Controls range also includes the INCOAIR RT Series rack and pinion pneumatic actuators and the INCOAIR HPY Series scotch yoke pneumatic actuators.
Further, automation and control and feedback solutions form an important part of AR Controls' business as the world continues to digitalise, says Van Niekerk.
"Processing plants are not being left behind in this respect, so there is greater dependence on digitalising and automation to remove the operational risk associated with having a human controlling the inputs for processes."
Over the past five to eight years, AR Controls has invested in substantial research and development in this area to offer solutions that allow for improved plant availability, reduced inventory costs and slower attrition rates in automation and instrumentation products, he adds.
For example, AR Controls advocates that expensive instrumentation be remotely mounted in an enclosure housed away from the valve to significantly reduce the attrition rate of this technology.
"This makes the maintenance and replacement of the valve so much easier from a rigging point of view. "Our valves are heavy and cumbersome, they carry a large envelope and when you have sensitive and relatively small instrumentation physically fastened to such a valve, it often gets damaged or destroyed during maintenance," highlights Van Niekerk.
AR Controls has seen increasing demand for this solution in Zambia in light of the robust copper price. Previously, the substantial initial capital cost involved in remotely installed instrumentation, especially when the copper price slumps, has hindered uptake.
"But if you approach an end-user that is cognisant of lowering total operating costs measured over time, the additional onset capital costs amortise relatively quickly," says Van Niekerk.
Considering that electric-vehicle manufacturing has doubled in the past 12 months, from 4.5% to 9% of global automotive manufacturing output, he forecasts that demand for copper will remain robust and on an upward trajectory for several decades to come.
While the current operating environment in Zambia is positive, the future prospects are looking "extremely good" for the Zambian people and operations located in the country.
From FQM's $1.25-billion S3 expansion to diversified natural resources company Vedanta Resources' $1.5-billion pledge to revive Konkola Copper Mines following the end of legal action between the company and the Zambian government, significant investments are set to be made in the country, Van Niekerk concludes.