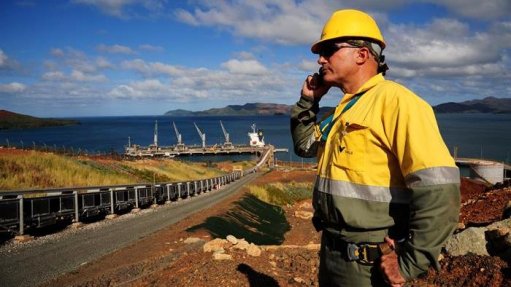 Brazilian major Vale has announced that the Goro nickel and cobalt mine, in New Caledonia, will be placed on care and maintenance, after failing to reach an agreement with Australian miner New Century Resources to acquire the operation.
The exclusivity period that Vale and New Century entered into in May lapsed on Tuesday, without the ASX-listed company submitting a binding offer for Goro.
New Century explained that although it believed there was strong potential for sustainable long-term operations at Goro, negotiations with various stakeholders had not been able to generate a funding package and equity structure for Vale-Nouvelle-Caledonie (VNC) that "adequately accommodates a suitable risk/reward scenario".
Mining Weekly earlier reported that Vale has agreed to contribute up to $500-million of a $900-million working capital package that will be used to fund the ongoing capital requirements of VNC. The French State would have contributed a €200-million facility, while New Century would have arranged for $100-million in long term debt and a $100-million contribution through a combination of third-party VNC level strategic investment and offtake from the Goro project.
Vale said in a separate statement that it would start the required steps to place VNC on care and maintenance, in preparation for a possible shutdown of the operation, should no sustainable solution be found in the coming months.
At the same time, the company was continuing efforts with the French State, the South Province of New Caledonia and VNC management to achieve a positive outcome for the future for the operations.
"All parties to this negotiation have invested significant effort in an attempt to reach a solution for the sustainable future of VNC," said Vale CEO Eduardo Bartolomeo.
"Vale and everyone involved in the divestment process - including the South province of New Caledonia, the French State and VNC management - continue to explore alternatives to create a viable future for VNC, all of which will contemplate Vale's exit. We remain hopeful of a positive outcome and are working with all the parties involved with that purpose in mind."
The Goro deposit consists of 193.5-million tonnes at 1.36% nickel and 0.13% cobalt, containing 2.63-million tonnes of nickel and 249 000 t of cobalt.