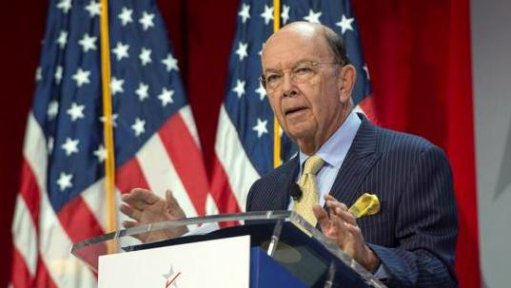 US Secretary of Commerce Wilbur Ross
The US has initiated a probe into vanadium imports to determine whether the "present quantities and circumstances" of imports threaten to impair national security, US Secretary of Commerce Wilbur Ross announced on Tuesday.
The investigation follows a petition filed by domestic producers AMG Vanadium and US Vanadium, requesting an investigation under Section 232 of the Trade Expansion Act.
The petitioners assert that domestic industry is adversely impacted by unfairly traded low-priced imports, limited export markets due to value-added tax regimes in other vanadium producing countries, and the distortionary effect of Chinese and Russian industrial policies.
Vanadium is used in the defence industry and critical infrastructure. It is integral to certain aerospace applications. The US is almost entirely reliant on imports for the material.
the country produced an estimated 470 t of contained vanadium In 2019, whereas its apparent consumption was 8 300 t, according to the US Geological Survey.
The US imports ferrovanadium from Austria (48%), Canada (22%), Russia (14%), Korea (11%) and other countries (5%). Vanadium pentoxide comes from South Africa (44%), Brazil (29%), China (11%), Taiwan (6%) and other countries (10%).
"We will conduct a thorough, fair, and transparent investigation to determine whether vanadium imports threaten to impair US national security," Ross said in a statement.
The investigation, conducted by the Department's Bureau of Industry and Security, will provide the opportunity for public comment until July 20.
Headquartered in Cambridge Ohio, AMG is the largest recycler of spent catalyst in the world and the largest ferrovanadium producer in North America. US Vanadium operates the Hot Springs, Arkansas, high-purity vanadium processing facility.