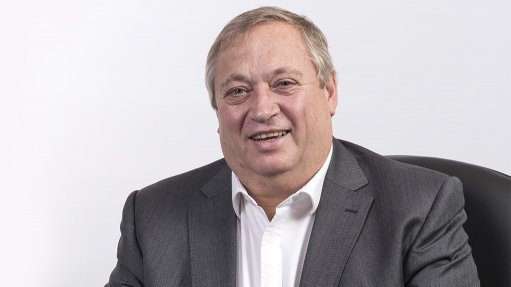 Sibanye CEO Neal Froneman
Precious and battery metals miner Sibanye-Stillwater reports that a subsidiary of ASX-listed ioneer – its proposed joint venture (JV) partner at the Rhyolite Ridge lithium/boron project in Nevada, in the US – has received a conditional commitment for a proposed loan of up to $700-million from the US Department of Energy (DoE) to support the development of Rhyolite Ridge.
The proposed loan is to be made under the DoE Loan Programs Office's Advanced Technology Vehicles Manufacturing (ATVM) loan program, which aims to support the Biden-Harris Administration's critical minerals strategy, including domestic US production of critical minerals.
If completed, the proposed loan would be the first-ever by the DoE to provide financing for the processing component of a project where lithium is extracted and refined at site.
The proceeds from the proposed loan and Sibanye's expected equity contribution to secure its 50% stake in Rhyolite Ridge – once all conditions precedent for completion of the JV have been fulfilled or waived, as applicable – are anticipated to fund a substantial part of the preliminary project capital.
The proposed loan remains subject to negotiation and documentation of long-form agreements and various conditions and may be revised to match updated project economics leading up to financial close following achievement of certain conditions.
"Sibanye's battery metals strategy is primarily focused on the US and Europe in recognition of the developing need for battery metals for the transition towards greater electrification of their established automotive industries.
"Sibanye is well placed to be a supportive partner and add significant value to Rhyolite Ridge given its complementary global mining experience and expertise, including its US mining operational and project development expertise, hydrometallurgical expertise and deep relationships with automakers and automotive original-equipment manufacturers globally," comments Sibanye CEO Neal Froneman.
He adds that Sibanye is encouraged by the DoE's commitment to the development of the US national battery metals mining industry through supportive funding programs such as the ATVM program.
"Rhyolite Ridge is a high-quality lithium project that is ideally positioned to supply locally mined and beneficiated metals to support the US battery ecosystem. The proposed loan represents a significant step towards further derisking funding and ultimately progressing Rhyolite Ridge to production.
"If finalised, this loan will ensure that the project can be swiftly advanced once the necessary permits have been granted and the outstanding conditions fulfilled. This is a significant milestone in the development of Rhyolite Ridge, which promises to positively contribute to reducing climate change," Froneman says.