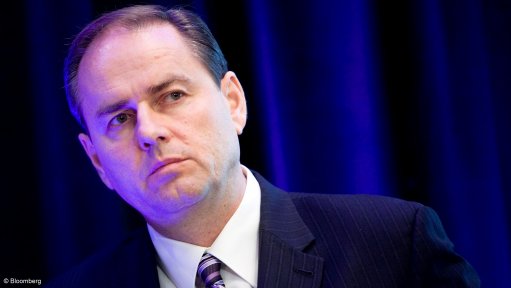 Cameco CEO Tim Gitzel
Tim Gitzel, president and CEO of uranium major Cameco, believes optimism and confidence in the uranium market is growing, with demand going up, while supply is decreasing.
"The fundamentals are really quite simple, demand is on an upswing and utilities have a growing wedge of uncovered requirements, precisely at the same time that supply is on a downswing, and today's prices are insufficient to reverse this trend.
"Our optimism and confidence in the uranium market transition is growing," he said in a conference call, the transcript of which was published online, on Friday.
About 450 nuclear reactors are running, with another 50 in the pipeline. This, while supply is starting to come off. The Ranger mine, which Rio Tinto's Energy Resources of Australia operates in the Northern Territory, is heading towards closure, with only about ten months of production left. French nuclear group Orano's Cominak uranium mine, in Niger, also has only about a year of production left.
The global uranium industry has been under intense pressure since the 2011 Fukushima disaster in Japan triggered a shift away from nuclear power, resulting in a multi-year slump in uranium prices.
Large producers have halted operations, with Cameco having closed its McArthur River/Key Lake mine, in Canada, to preserve the tier-one operation for a stronger price environment. The major is purchasing material on the spot market to fulfil its contract obligations.
In 2019, Cameco purchased a total of 19-million pounds of uranium – not all on the spot market, but a large portion of it was – compared with its guidance of 21-million to 23-million pounds. The 2019 purchases were double what the company produced, with output of 9-million pounds in the year.
The group also drew on inventory last year, which Gitzel said "made sense to do".
Total uranium sales volumes came to 31.5-million in 2019 at an average realised sales price of $33.77/lb, or C$44.85/lb.
To meet its committed deliveries and to achieve its desired working inventory, Cameco plans to purchase between 20-million and 22-million pounds of uranium in 2020 – the majority of which will be drawn from the spot market.
Gitzel believes that with the uranium price not sufficient yet to restart idled capacity, it certainly is not rational to invest in new greenfield capacity, which means that those projects are pushed out even further.
"Current prices are putting future supply availability at risk. This is not sustainable. The longer the transition takes, the greater the likelihood that the uranium price will go beyond what is required to incentivise tier-one production to return to the market.
"We expect this will provide the opportunity for us to capture additional value in our contract portfolio and support the restart of our tier-one assets."
Cameco reported net earnings of C$74-million in 2019, up from C$41-million in 2018. Adjusted net earnings, however, fell from C$211-million in 2018, to C$41-million in 2019.