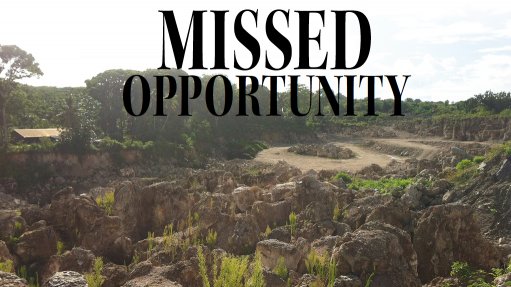 JOHANNESBURG (miningweekly.com) – The entire topside of the island of Nauru, in the Central Pacific, has largely been mined out and requires extensive rehabilitation, says Asian Development Bank (ADB) economist Roland Rajah.
The tiny island nation, with a population of about 10 700 residents on an area of about 21 km2, has depended heavily on the phosphate mining industry since it started exporting phosphate ore in 1907. However, the impact of strip mining on about 80% of the surface area has been "severe", according to environmentalists and industry analysts.
"The vast majority of the population, as a result, live along Nauru's narrow coastline," Rajah points out.
He says Nauru's history is widely regarded as a classic example of the natural resource curse, whereby substantial resource wealth in the context of weak institutions has a "deleterious effect" on the country's long-term development.
Rajah points out that, during the 1980s, the country was one of the richest in the world but, by the 2000s, it had become a poor developing country.
He says the lessons are similar to those elsewhere in the world, where countries have failed to translate substantial mineral wealth into sustainable long-term development, owing to poor governance and unsustainable economic policies.
"The imperative needs to be building up Nauru's institutions needed to make the most of the country's resource wealth and save and invest for the future through a sound vehicle, which is subject to transparency and strong governance requirements, as well as investing in the skills and education of the local people and domestic infrastructure," Rajah emphasises.
A senior research fellow at the Botswana Institute for Development Policy Analysis, Professor Roman Grynberg, has cited Nauru as a prime example of where mining was undertaken unsustainably.
Speaking at the second International Diamond Omugongo, in Windhoek, Namibia, in December 2015, he said: "The case of Nauru is what can happen if you continue mining unsustainably indefinitely."
Further, Rajah says "historical economic mismanagement" led Nauru to an economic crisis in the late 1990s, which meant that the opportunity presented by significant phosphate deposits to build a sustainable economic future at a good income level was largely lost.
According to the Australian Department of Foreign Affairs and Trade's 'Nauru: 2012/13 Aid Programme Performance' report, following the decline of the country's phosphate industry in the 1990s and the poor management of its finances, including taking on unsustainable debt levels, Nauru's prospects had improved.
"With a revitalised phosphate industry, significant increases in fisheries income and a return to prudent macroeconomic management, modest but growing revenues have been flowing to government since 2006."
However, according to the ADB's 'Nauru: 2014 Strategic Country Analysis' report, State-owned enterprises had monopolised activities related to the production and export of phosphate, which is the second major contributor to the country's national income after foreign aid flows.
The ADB notes that the limited phosphate reserves have forced government to address the core problem of a lack of sustainable economic growth.
The bank points out that Nauru's greatest challenge is to diversify economic activities beyond a reliance on phosphate mining, foreign aid and revenues from fishing licences.
"Other possible industries, including niche tourism, commercial tuna fishing and the manufacturing of dolomite tiles, are not expected to replace the [economic productivity of the] phosphate industry . . . at least not in the medium term.
"Additionally, the growth prospects of Pacific micro-States, such as Nauru, might be limited even in the medium to long term," states the ADB.
Rajah tells Mining Weekly that mining activities in Nauru are currently depressed. He attributes this partly to the island's port mooring system that has been heavily damaged, owing to rough weather conditions and inadequate maintenance, which has made it difficult and expensive to ship phosphate from the country.
"Things should improve once the mooring system is repaired, but that is not likely until some time next year," he states, cautioning that the outlook for the phosphate industry remains uncertain.
Rajah also highlights that Nauru's primary phosphate reserves are expected to be completely exhausted in the near future: "Mining of secondary deposits is under way, but the amount that is economically feasible for mining and export remains uncertain."
However, State-owned phosphate miner Republic of Nauru Phosphate (Ronphos) asserts that demand for the country's phosphate is strong and continuing trends in the phosphate market globally are translating into a higher and more stable global demand for phosphate ore.
The company's success will be achieved through "well-targeted" capital expenditure, efficient operations, ensuring that there are no new liabilities and a reorganisation of its debt repayments. Ronphos says it also expects the dividend projection of $6.4-million to be at the low end of what might be realised.
According to Ronphos, the actual income that will be earned and, therefore, the dividend paid, is very sensitive to price, the foreign exchange rate between the US and Australia, and sales volumes.
"However, it is expected that selling price, rather than production volumes, will be the most significant determinant of our revenues," adds the company.
Ronphos is working on Project Zero Dust to reduce phosphate dust emissions through the commissioning of two new phosphate drying kilns.
State-owned Nauru Rehabilitation Corporation (NRC) says, after it has completed the sea wall projects around the island to secure the country's eroding coastline, it intends to start a reforestation project on the island.
The NRC explains that the reforestation project aims to achieve a long-term solution by implementing a ridge-to-reef approach that combines a functional, representative and sustainable national system of coastal- and marine-managed areas that are integrated into the adoption of appropriate and sustainable land-management practices in adjoining and upstream watersheds.
The corporation will also improve government environmental management capacity and effectively reduce land degradation, as well as enhance protection for marine and coastal biodiversity and habitats. The NRC notes that the project will also improve coastal livelihoods and create a sustainable management system for Nauru's natural resources.
NAURU'S FUTURE
Rajah comments that Nauru's economy is experiencing an economic resurgence, owing to "substantial new windfall income" associated with its regional asylum seeker and refugee programme, as well as record fishing licence revenues, owing to better regional fisheries management.
"This has provided the country with a second chance to build a more sustainable future . . . government has established a new sovereign wealth fund, the Nauru Intergenerational Trust Fund, which will save and invest a good portion of current windfall revenue . . . and be subjected to strong governance and transparency arrangements."
Although the wealth fund, along with other economic reforms, creates a better chance for Nauru to maintain greater sustainability "this time around", a lot of work remains to be done, Rajah concludes.
Nauru government officials declined Mining Weekly's requests for comment on the state of the mining industry and how it had negatively impacted on the country ecologically and environmentally.