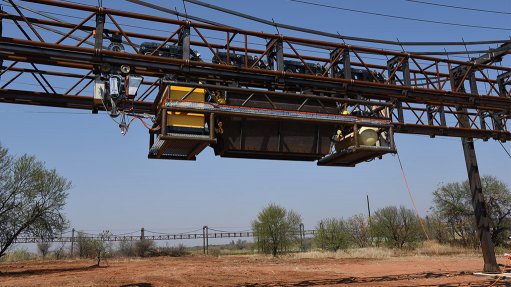 SUSPENDED TRANSPORTATION Futran Holdings has developed the Futran OreVeyor suspended underground mining transportation system
Negative investor sentiment in the mining sector over the past four years has slowed the local mining industry's adoption of a new, suspended underground mining transportation system, designed by South African transportation system solutions provider Futran Holdings.
Futran Holdings, the developer and rights holder of the elevated Futran transportation technology that is now being deployed at surface mining operations, in Mpumalanga, has been refining its technology for underground mining transportation applications for the past three years. The company has developed the Futran OreVeyor system, which it believes will "revolutionise" underground transport in mining.
Futran Holdings CEO Andries Louw states that the system can be used to haul waste, reef, materials, ore and people "using the same system along the same track at the same time". This translates into one tunnelling system required for all a mine's transportation requirements, saving on tunnelling expenses, transportation time and infrastructure costs. The on-demand, automated system can also continue to haul material while blasting takes place, increasing output while lowering costs.
He explains that the Futran Holdings management team was initially resistant to move into underground mining, but that encouragement from large mining companies, such as Anglo American Platinum and African Rainbow Minerals Platinum convinced the team to explore the application of the system in underground mining. Working with the industry, Futran Holdings managed to adapt the surface-based Futran OreVeyor system technology for underground mining applications and refined the process flow to meet the needs of a typical underground operation.
He explains that Futran Holdings was focused "on lowering haulage costs that got the industry really excited about the prospect of fewer and smaller tunnels, the deployment of a multi-use transportation system, increased productivity and mining automation that results from the use of the system". He emphasises that "the mining industry pointed out to Futran Holdings that, when deployed in underground mining, the Futran OreVeyor is more than just a truck and conveyor belt alternative; it is a transformative technology that enables the industry to change the way in which it designs and plans its mines to lower costs and increase productivity".
Although the system is ready for deployment, mine plans are executed over many years and the lack of growth and investment in the platinum mining industry since 2014 has led to a decrease in new tunnelling project investments, Louw explains.
He explains that, going forward, Futran Holdings will "work hand-in-hand with a mine that wants to incorporate the system into its long-term mine plan and investment cycle" to progress the technology.
However, amid a scarcity of investments in underground mining, Futran Holdings is focusing on the on-surface deployment of the OreVeyor system while it is "waiting for the mining investment cycle to turn before it will refine its underground mining applications". Nonetheless, the company is engaging with mining operations on an ongoing basis and is looking forward to renewed investor sentiment in underground transportation systems, Louw assures.
"We now rely on a renewed spirit of investment in underground mining before we can proceed," states Louw.
Futran OreVeyor
The Futran OreVeyor underground mining system is an elevated track network that uses switches that have no moving parts, from which loads can be suspended and moved.
The system uses a range of pod-type transportation modules that can carry loads weighing up to 20 t. The system's lightweight, superstrong and elevated framework can be attached to underground tunnelling systems. It can move horizontally and vertically, resulting in the carrying of ore from the mine face to the surface without the ore being rehandled, Louw explains.
"Each pod has a programmed job card, which means it can execute a task completely differently from the pod in front of it. The pods are not connected to each other and run on demand. It's like Uber – you call a pod when you need one. Also, none of the pods require a driver."
Louw further highlights that it is the system's ability to combine underground mining transportation requirements that sets it apart. Mining houses are required to blast extensive tunnelling systems at immense capital costs, but the system will result in a substantial saving for mining houses, predominantly owing to its being able to safely transport all materials, equipment and employees on one suspended modular system that requires a much narrower tunnel than mining houses are usually required to create.
"With the Futran system, you need smaller and fewer tunnels because you can use the same tunnels and shafts for people, waste, reef, equipment and material," he concludes.