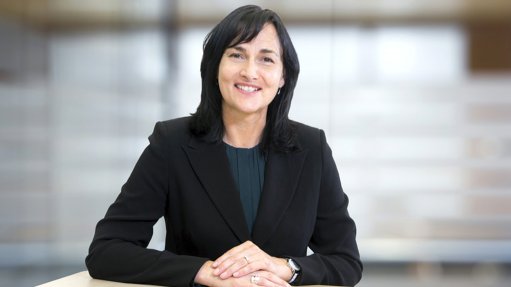 Anglo Platinum CEO Natascha Viljoen.
JOHANNESBURG (miningweekly.com) – The first potential underground mining at Anglo American Platinum's opencast Mogalakwena platinum group metals (PGMs) mine in Limpopo is targeted to start towards the end of 2024 and build up slowly to a full underground unit by the end of the decade.
"We're nearing the end of phase one of the decline development, which will start to give us the access to the underground drilling," Anglo Platinum CEO Natascha Viljoen disclosed in response to Mining Weekly during the company's latest investor day media call.
The aim of the development of the two exploration declines, now under way, is to gain access to the underground orebody faster, as well as supplement surface drilling with underground drilling.
"If everything goes according to plan, and pending the conversion of the current exploration decline permits to mining permits, and the completion of the mining feasibility studies, we're targeting to start the first potential underground mining towards the end of 2024 and slowly building that up to a full underground unit by the end of the decade," said Viljoen, with the underground life-of-mine (LoM) continuing as part of the 100-year life-of-asset.
"At the moment, we see that the openpit runs into 2045 and we'll see the transition to underground by the end of the decade," Viljoen added.
Investment decisions are being carefully sequenced, with the most value accretive options including continuing with Mogalakwena's current opencast configuration while fast-tracking underground development through twin exploration declines to enable faster underground drilling to understand the orebody better, building the third concentrator and successfully relocating communities.
Regarding capital expenditure (capex), Anglo Platinum FD Craig Miller said the company would step up to R2.5-billion in 2023 on the exploration decline itself.
He put the capital estimate for the third concentrator in the range of $1-billion to $1.5-billion.
The earliest the third concentrator would be needed is in 2026 and the latest 2028, with approvals commencing in 18 to 24 months' time.
Targeted is a 12-million-tonne-a-year concentrator of simpler design, the level of tonnage implying possible closure of the south concentrator. A coarse particle recovery plant being commissioned should improve recoveries of the third concentrator.
CLIMATE CHANGE
Meanwhile, climate change is delivering production blows and creating new risks for the JSE-listed company to mitigate and manage, said Viljoen.
As part of climate resilience and water management at Mogalakwena, Anglo Platinum has doubled its pumping capacity, learning from its experience in January and setting the operation up to better respond to downpours.
Activities to reduce carbon emissions at the mine and along the operational value chain are being advanced. Renewable energy and green hydrogen mobility are also being brought in to lower carbon footprints.
Despite recent rainfall events still having impact, Mogalakwena is viewed as now being far better set up for high rainfall events as mining operations across all five continents shield themselves increasingly from profound climate disruptions in what is seen as a rapidly changing world.
Capital reinvestment in processing assets at Mogalakwena is creating the opportunity to learn what the future of project execution will look like in the current environment.
Learnings include how the disrupted supply chain is navigated, which continues to be impacted.
"I think it is starting to set us up for this new world and how we respond to the energy transition, and the competition that we will see for human and capital resources in a highly capital-intensive environment," said Viljoen.
These issues were evident during the full rebuild of Anglo Platinum's Polokwane smelter, which began in the third quarter of this year and was set back by the delivery of sub-standard refractory materials and companies involved in furnace rebuilds for Anglo Platinum over a decade-and-a-half going into business rescue.
Although the issues delayed the Polokwane smelter's rebuild, reheat began last Thursday and the first matte tap is now expected in early January.
With the delay, work-in-progress inventory of 350 000 PGM ounces has built up.
As a result, refined production is expected to come in at around 3.8-million PGM ounces, within guidance.
Most of the work-in-progress inventory should be refined in 2023, with about 100 000 oz spilling over into 2024. This equates to R7-billion worth of earnings before taxes, interest, depreciation and amortisation.
HIGH LEVELS OF INFLATION
There has been no cost relief with the disruption to supply chains and import logistics constraints all leading to high levels of inflation.
Mining input inflation of more than 12% has been experienced this year, largely owing to field explosives and chemical cost increases.
Unit cost of production in 2022 has been impacted by ongoing inflationary pressure on input costs on higher diesel, fuel, and consumable prices, taking unit cost guidance for the 2022 to R15 300 per PGM ounce, or $950 per PGM ounce.
Total capex for 2022 is expected to be around R17.3-billion, including stay-in-business capital of around R9.5-billion.
Renewable energy projects with Envusa Energy, a jointly-owned Anglo American and EDF Renewables company, are expected to enable Anglo Platinum to generate energy cost savings from 2024 onwards from lower-cost self-generated renewable energy.
In 2023 and 2024, metal-in-concentrate production is predicted to reduce on lower grades at Mogalakwena.
Lower volumes at the Amandelbult mine will be followed by infrastructure closures, with the aging Merensky concentrator on the way out. While working on replacing the ounces lost from infrastructure closure, the U1 and U2 concentrator plants can process the mined production, driving better efficiencies, lower costs, and reduced ongoing capex. The cost benefits in closing the plant will be around R200-million a year.
Work continues on the mechanised section at Amandelbult, albeit with a slower production ramp-up of ounces. A decision will be taken at the end of 2023 as to whether to continue with the programme or adopt a modernised conventional method of mining.
The Kroondal Joint Operation, which is 50% own-mined material and 50% purchase-of-concentrate material and is coming towards the end of its LoM, switches to a tolling agreement in 2024 and the Siyanda purchase-of-concentrate agreement switches to a tolling agreement in 2025.
This will result in lower metal-in-concentrate production volumes, reflecting the change in commercial terms.
As a result, metal-in-concentrate production is expected to be between 3.6-million PGM ounces and four-million PGM ounces for the next two years, with the impact of the move to higher proportions of tolling material in 2025 moving metal-in-concentrate production guidance to 3.5-million PGM ounces to 3.9-million PGM ounces.
With the Polokwane smelter back online, all produced metal-in-concentrate should be refined, as well as the release of the build-up in work-in-progress inventory.
Incorporating normalised recovery losses, refined production, excluding tolling in 2023-2024, is expected to be 3.6-million PGM ounces to four-million PGM ounces and 3.3-million PGM ounces to 3.7-million PGM ounces in 2025.
Unit cost guidance for 2023 will increase to between R16 800 a PGM ounce and R17 800 a PGM ounce, or between $990 a PGM ounce and $1 050 a PGM ounce, as a continuation of high energy, chemical, explosives, diesel, and other imported input costs, as well as lower production are foreseen.
Capital inflation was equally impacted in 2022 with high increases coming through in copper, structural and stainless steel, and freight.
The difficulty in securing skilled labour materials at the quality required as well as businesses going into business rescue, has led to further pressures on project capital.
Between R10-billion and R11-billion is Anglo Platinum's stay-in-business capital guidance for 2023 with the emphasis on buying heavy mining equipment, replacement and maintenance and further enhancement to tailings dam stability.
IRIDIUM SUPPLIES
On the concern that is being expressed in some circles about inadequate supplies of iridium to meet green hydrogen electrolyser needs, Viljoen pointed out that the highest prill for iridium is associated with upper group two, or UG2, reef and therefore Amandelbult plus the far eastern limb Modikwa and Mototolo mines.
The prill split would not change significantly at Mogalakwena and the target for iridium would be to build back the production profile at Amandelbult.
Iridium is a by-product of PGMs mining and widespread recycling is seen as a way of improving its supply outlook.
"The other thing to remember with iridium for electrolysis, for instance, is that iridium is only required for PEM electrolysis and then obviously for fuel cells and with electrolysis being predominantly stationary, the recycling market would not be too difficult to get going, getting that iridium back into the market.
"Then, of course, there are also alternative electrolysis technologies available. You don't have to do PEM electrolysis save that, however, PEM is the most effective when you link that to the cyclic effect of renewable resources," said Viljoen.