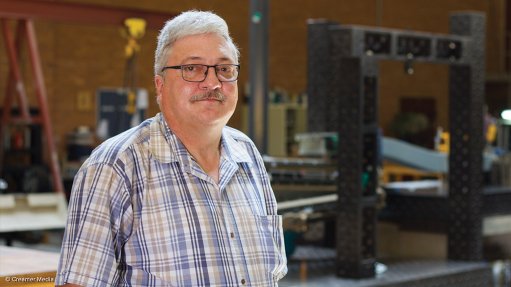 DANIE BURGER CMTI Group has embarked on a fundraising round that will close during the first quarter of this year to satisfy growth and the significant demand for South African mechanised-mining solutions
Photo by: Creamer Media
The MT3500X/NX and MT950 ultralow-profile (ULP) machines designed and developed by mining equipment and machinery supplier CMTI Group can facilitate mining at lower operating heights and at greater depths, as well as in inaccessible areas, such as remnant pillars and barred panels.
"This is the outcome of a 12-year-long mechanisation programme as a joint venture with some of the world's largest platinum-group metals (PGMs) and gold mining houses, and more than three years of testing the sophisticated solutions in arduous South African underground mining environments," says CMTI Group MD Dr Danie Burger.
The company worked in partnership with PGM miners Sibanye-Stillwater, formerly Sibanye Resources, and Impala Platinum, and gold producers Gold Fields, Harmony Gold and AngloGold Ashanti to develop cutting-edge, remote-controlled mechanised equipment for narrow-vein mining operations.
CMTI Group assumed control of the latter part of the mechanisation programme, during which time it also benefited from the support of the Technology Innovation Agency and the Department of Trade and Industry.
The company is manufacturing the equipment at its manufacturing facility in Gauteng, Pretoria, which was opened in early 2017.
Burger says that, as part of the ramp-up, CMTI embarked on a fundraising round, which will close during the first quarter of this year, to satisfy growth and the significant demand for South African mechanised-mining solutions.
MT3500X/NX ULP
This push by the mines to primary involvement in mechanisation innovation, as opposed to a vendor-driven approach, has led to "a quantum surge" in the development of primary mining platforms, as is demonstrated by the tried-and-tested performance capabilities of the MT3500X/NX ULP, says Burger.
"This model can navigate the steep and undulating orebodies that are prevalent in South Africa's deep-level gold mines, as well as the less steeply dipping gradients encountered underground in platinum mines. By incorporating highly advanced and compact electronics, we have developed a powerful platform that can operate in stoping widths of 1 m."
He further explains that the tethered MT3500X/NX's four tracks are individually driven and can swing around a centre point to negate vertical obstacles as high as 400 mm, while the machine's camoplast SD high-duty tracks are steerable.
The model also incorporates a Hydac mini-control hydraulic system and Kollmorgen KBM57 motors that provide 1 750 Nm of torque traction and 6 200 Nm of swing torque.
"Equipped with a rock-breaking attachment, the MT3500X/NX has facilitated the introduction of a nonexplosive solution in these underground mining environments. This has been on top of mines' research and development agenda for decades to overcome the many limitations posed by single-shift time blasting and face availability."
Burger also indicates that the machine aligns itself with the rock face and drills the hole. It then indexes the breaker to the hole's position and inserts it to impart lateral force to the rock, which is broken vertically along the axis of the hole and at about 45º, he explains.
"This attachment features a 7.5 kW drifter to drill 48-mm -diameter holes to depths of 700 mm, as well as two spiking cylinders, while its 500-mm-long breaking blade allows for an advance of 700 mm, and a 150 mm fragmentation size."
Burger highlights that mineworkers can still complete other tasks within close proximity of the rock-breaking operations, despite the considerable amount of energy that is being imparted to the face.
MT950 ULP
The MT950, with its ultra-fine sweeper and dozer blade attachments, complements the blasting process by significantly accelerating the stope-cleaning processes within 24 hours, Burger highlights.
While the MT950 has replaced conventional vamping methods employed to reclaim ultra-fine gold that are restricted by safety protocol, the machine is also being gradually deployed in the vast expanse of mined-out areas in the country.
"One shaft that was mined 20 years ago still has 7 000 ha of fines, with yields of between 12 g/t and 16 g/t. Moreover, the MT950 can be used to clean the back-ends, especially in PGMs operations, where up to 30% of daily production lands up, owing to poor blasting practices," Burger says.
The MT950's Kollmorgen AKM 51-1 motors, which are battery-operated, operate at 82 V and a maximum current of 106 A. Its 80AH LifeP04 batteries have a running time of up to seven hours and are replaceable.
He further highlights that the MT950 features high-durability camoplast tracks, with the machine that can wade in water and mud as deep as 500 mm. The ULP also has a maximum operating speed of 6.5 km/h and flipper rotation speed of 90º in three seconds, although the machine is electronically limited to 3 km/h for better control.
"During the first phase of development at various mines, the ULPs are being operated from the gulley. The second phase will entail running them from the surface and, eventually, off site in controlled conditions as part of the last and final phase."
The ULPs complement CMTI's other underground mining technologies, which include an electric-hybrid diesel locomotive and integrated brake tester, both of which were also ready for commercial contracting in the beginning of this year, Burger concludes.