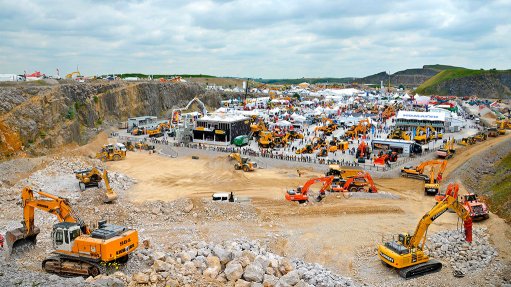 UNIQUE OFFERING Hillhead demonstrates real 'job of work' in a live quarry environment
The Hillhead international quarrying and recycling show is famous for its live demonstrations and 2016 is expected to be no different, with a range of equipment being put through its paces in a live quarry environment.
Demand for the 2016 event has been strong with every square metre now allocated, including a new outdoor area at the southern end of the site and an extended registration pavilion. The show will take place from June 28 to 30 at sustainable building materials and construction solutions business Tarmac's Hillhead quarry, near Buxton, Derbyshire, in the UK.
More than 460 exhibitors are scheduled this year, with all major industry players returning, as well as some "exciting" new companies.
The quarry face will host large excavators and faceshovels of about 40 t, hydraulic breakers, large wheel loaders with buckets of 4 m3 and above, and rigid and articulated dumptrucks.
Leading suppliers featured will include Swedish multinational manufacturing company Volvo, American construction and mining equipment manufacturer Caterpillar, British construction manufacturing company JCB, South Africa-based equipment manufacturer Bell Equipment, global construction equipment company Doosan, multinational automotive manufacturer Hyundai, Switzerland-based equipment manufacturer Liebherr, Japanese multinational manufacturer Komatsu, US welding equipment provider Miller, global construction equipment manufacturer Case, UK hydraulic plant and attachment hire company Worsley Plant, multinational conglomerate company Hitachi and truck manufacturer Terex Trucks.
The exhibition will also feature a rock processing area operated in the 'crusher alley', where companies will showcase the latest tracked and skid-mounted crushers, screens, scalping grids and stockpiling conveyors from manufacturers. A recycling area to the south of the site will show a range of crushing, shredding, screening and washing equipment, using material, including general construction and demolition waste, reject concrete blocks, waste asphalt and brick rubble transported to the site.
Organiser QMJ Publishing notes that the working demonstration areas are what make Hillhead unique, as it provides the opportunity to see plant and equipment doing a real 'job of work' in a live quarry environment in the four separate demonstration areas at the show.
To ensure that visitors are able to make the most of the Hillhead exhibition, UK-based privately owned publishing and exhibition business QMJ Publishing has made a new Hillhead application (app) available for download through both the Apple and Google Play stores. The app is sponsored by the professional membership body for quarrying the Institute of Quarrying.