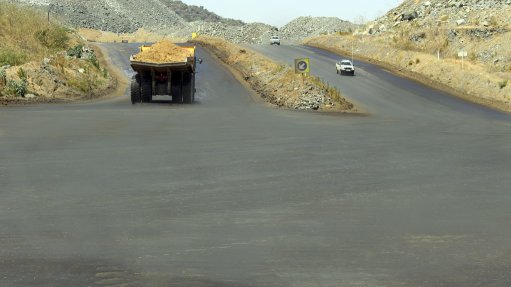 DAMAGED TYRES Tyre life is directly affected by the condition of haul roads
A tyre management project under way at Anglo American Platinum's (Amplats') Mogalakwena platinum mine, in the Waterberg district of Limpopo, aims to increase hauling days without tyre failures to improve the operation's productivity and safety, as well as facilitate financial savings by making hauling operations more cost effective.
According to Amplats' results for the six months ended June 30, the Mogalakwena complex yielded 178 700 oz of platinum in the first half of 2016, mine cost per ton milled of R415/t.
Mogalakwena's tyre management operation, dubbed Wheels of Fortune, a joint venture between Australian tyre management company Otraco and local dust control management solutions provider Dust-A-Side, was initiated in 2013 and has surpassed the initial target of 40 consecutive tyre-failure-free days.
By introducing operator training, awareness sessions and incentive schemes, Dust-A-Side, a Centurion-based company with ISO 9001 and ISO 14001 accreditation, has tried to reinforce the importance of prolonging tyre life at mining operations.
"With the aim of adding value to the Wheels of Fortune project, Dust-A-Side focused on providing capable graders and operators, an efficient road maintenance programme and regular communication and reporting. To gain buy-in from mineworkers and increase output, operator training awareness sessions and incentive schemes were implemented to ensure proper equipment use and accountability," the company notes.
Amplats contracted Dust-A-Side, which also does business in Africa, Australia and Chile, in 2013 to manage the primary and secondary haul roads at its flagship mine, near the town of Mokopane, as well as ensure quantifiable costs saving in terms of haulage.
"Hauling costs contribute to 45% of mining costs and large mining trucks remain the main contributor," says Dust-A-Side.
According to US earthmoving machinery manufacturer Caterpillar's 2013 field guide, haulage costs are 2% wear, 3% maintenance, 16% tyres, 14% operator, 25% repair, 18% fuel and 22% ownership related.
"Tyre life is directly affected by the condition of haul roads. Damaged tyres have critical financial consequences and, if there is such damage, hauling and subsequent mining operations cannot continue. The maintained roads at Mogalakwena have allowed for less premature tyre damage and decreased wear."
Daily operational activities at the openpit mine, which budgets for the hauling of 85-million tons of earth a year, include having grader operators and supervisors on duty during each of the mine's eight-hour shifts to ensure adherence to road maintenance.
With 222 tyres on the 37 dump trucks in service, Dust-A-Side also assists in ensuring that there are no cambers and cross falls on haulage roads, which could damage tyres, as well as checking that demarcation and signage is correct, and proactively designing road layout for the mine.
According to Amplats, the Wheels of Fortune campaign reduced tyre damage by 25% in 2013, with 88 damaged tyres recorded. In 2014, this improved to 66 damaged tyres and, as of 2013, it has yielded a 22% year-on-year improvement, initiating a 18% rise in production due to reduced tyre damage.
"The campaign's stakeholders achieved a record of 54 consecutive days without premature tyre failure in 2015, from April 1 to May 23, with only one failure recorded in the 80 days from March 4 to May 23 in the same year," Dust-A-Side points out.

According to Amplats, the project ensured "excellent" teamwork among the three companies involved and accounted for improved awareness of operators owing to the training provided.
"Daily tyre-pressure surveys, as well as prompt corrective measures, were undertaken to identify and address possible shortcomings that could possibly damage the haul trucks' tyres.
"Further, the improved supervision and maintenance on all haul roads, loading and dumping areas, along with the daily inspection and communication regarding the condition of these areas to relevant stakeholders, immediately yielded benefits.
"The recognition system [associated with the tyre management programme] has enabled the company to reward positive initiatives and planned achievements. The project continues to yield benefits through collaboration and team commitment," states Amplats.