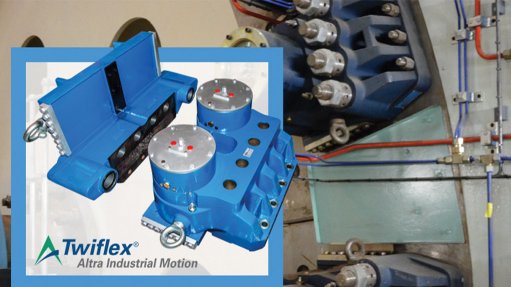 Over the past 30 years the main technological development in brakes for mine hoists has been the replacement of less efficient drum brakes with Hydraulic disc brakes.
At the forefront of this development is the British Company Twiflex.
Twilfex, part of the ALTRA INDUSTRIAL MOTION CORPORATION, are headquartered in Bedford England having moved from their historical base in Twickenham some ten years ago. Twiflex VKSD and VMS modular brake ranges are typically used in mine hoisting.
These are spring-applied, hydraulically-released fail-safe brakes, which have a "parked off" feature, meaning they can be adjusted to remove all stored energy. To assist with maintenance the brakes incorp-orate a monitoring system to signal brake pad wear and loss of braking force.
For mine hoists the brakes are designed for over two million braking cycles and providing they are maintained correctly will easily last the life time of the mine.
In South Africa there are in excess of one hundred installations of Twiflex brakes on mine hoists. Service of these installations is either done via the hoist Original Equipment designer or via Sintech who have been the Twiflex distributor since 2009.
Sintech based in Boksburg, Johannesburg are capable of specifying brakes for new applications as well as rebuilding existing brakes when required in their state of the art workshop. Field service is also an option as we have a team of factory trained technicians.