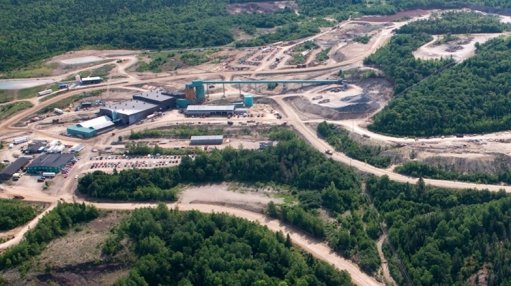 The Caribou operation in Canada
Financially troubled Trevali Mining has suspended operations at its Caribou mine, in Canada, and placed the expansion of its Rosh Pinah mine, in Namibia, on hold, as the miner filed for protection from its creditors.
Trevali was on Friday granted an initial order for protection from the British Columbia Supreme Court under the Companies' Creditors Arrangement Act (CCAA).
The zinc miner last week defaulted on a $7.5-million debt payment, having suffered several setbacks lately, including a flooding event that shuttered its Perkoa mine, in Burkina Faso, and low productivity rates and equipment availability at Caribou.
The company on Friday opted to suspend operations at Caribou, citing operational and financial challenges.
"The decision to suspend operations is a difficult but necessary step to address challenges at the Caribou mine," said president and CEO Ricus Grimbeek.
"This was not an action taken lightly and we are aware of the uncertainty created and impacts this decision has on the community and on our team. The Trevali team have worked hard to improve the mine's position and Trevali appreciates their dedication."
The mine will be put on a care-and-maintenance programme immediately to preserve the value of the mineral resource and mine assets and protect the environment in the mine's vicinity. While mining and milling activities have been wound down, those employees dedicated to environmental compliance and general maintenance activities at the mine site will continue.
No timeline for a potential restart of operations has been defined.
At Rosh Pinah, the RP2.0 expansion has been suspended, while the company pursues a financing initiative. Trevali recently received credit approval from Standard Bank for $110-million to fund the project, but still has to negotiate other components of a comprehensive package for RP2.0.
The early works programme at Rosh Pinah is also under review, Trevali noted.
Following the receipt of the initial credit protection order, Trevali will continue to operate throughout the CCAA proceedings. The management will remain responsible for the day-to-day operations, under the general oversight of the court-appointed monitor FTI Consulting Canada.
Trevali will fund itself during the proceedings through cash on hand and cash flow generated at the Rosh Pinah mine.
Last week, the company revised its full-year production and cost guidance for the Rosh Pinah mine with production guidance of 62-million to 66-million pounds of payable zinc, a C1 cash cost of $0.84/lb to $0.90/lb and an all-in sustaining cost of $1.22/lb to $1.28/ lb.