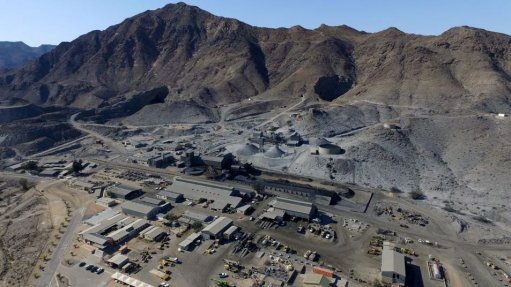 The Rosh Pinah mine, in Namibia
Canada-headquartered Trevali Mining on Wednesday announced a 15-year power purchase agreement (PPA) with Emerging Markets Energy Services (Emesco) for the supply of solar power to the Rosh Pinah mine, in Namibia.
The PPA will deliver 30% of the zinc/lead mine's power requirements over 15 years. The solar power agreement will also assist in reducing greenhouse gas emissions at company level by 6%.
Emesco will be responsible for the design, permitting, financing and implementation of a solar energy system on a neighbouring property at no cost to Trevali. The power will be sold to the mine at a fixed rate that is expected to reduce energy costs by 18% over the 15-year term of the agreement.
Trevali said that, should it proceed with the RP2.0 expansion project, Emesco would increase the delivery of power to Rosh Pinah to remain at 30% of the mine's yearly energy consumption as regulated by the modified single buyer framework in Namibia.