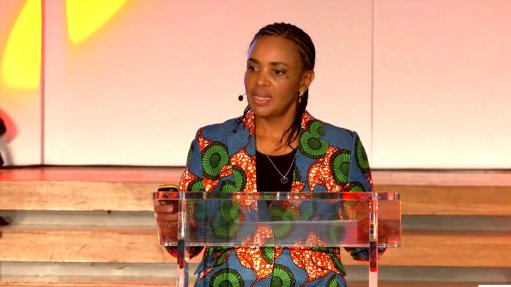 Transnet CEO Portia Derby
State-owned freight logistics group Transnet intends launching its much-anticipated tender for new locomotives in August, having recorded a 5.6% drop in rail volumes last year as a result of a combination of locomotive shortages and serious operational and security problems.
The group lost a total of 1 500 km of overhead copper wire to theft in 2021/22 and was also unable to maintain a number of locomotives, largely as a result of an ongoing dispute with the Chinese Railway Rolling Stock Corporation (CRRC), which is refusing to supply the utility with specialised spares.
Operational and security difficulties on the main line between Durban and Johannesburg, for example, have resulted in Transnet Freight Rail (TFR) effectively forfeiting all container volumes to road hauliers, which have themselves experienced serious security incidents, often triggered by protests against foreign truck drivers.
Speaking during the release of the group's 2021/22 results, CEO Portia Derby said Transnet initially intended launching the locomotive request for proposals (RFP) in July, but the internal deadline was shifted to ensure that various legal and governance matters were dealt with ahead of the tender.
Ongoing disputes with some of the original equipment manufacturers (OEMs) that participated in the so-called '10-64' contract for 465 diesel and 599 electric locomotives is core to the delay, as Transnet did not want to proceed until it was satisfied that the tender would not be interdicted.
The R50-billion contract, which was halted in 2019 on the basis of it being deemed "irregular and illegal" by Transnet, has featured heavily during proceedings undertaken as part of the State Capture commission, which was chaired by Judge Raymond Zondo, who has since been appointed chief justice.
Derby said it was premature to offer specifics about how many locomotives Transnet would seek to procure under the new tender, nor whether diesel locomotives would be prioritised in light of the ongoing theft of overhead cables.
She had indicated previously, however, that it was likely that the RFP would be for at least 400 new locomotives, given that Transnet had taken delivery of 595 locomotives under the 10-64 contract.
However, with about 300 locomotives currently "parked", partly as a result of an absence of spares, it is possible that the tender could be enlarged. That said, Derby indicated that an alternative OEM support strategy would be pursued for the existing fleet if the current deadlock with CRRC was not resolved.
She said that following a recent successful court application, which was taken together with the Special Investigating Unit, in relation to CRRC's moves to have the review of the 10-64 matter dismissed, Derby said "we are now at least in a position where we can safely start a new procurement event".
"We definitely need additional traction power," she added.
Derby also confirmed that TFR was pressing ahead with a bidding process for the sale of 16 rail slots to third-party operators, despite market misgivings over the design of the slot-sale process.
She acknowledged that concerns had been raised, particularly about the two-year duration of the allocation, but said that TFR had committed to making slot sales a permanent feature of the rail business.
"It's not a pilot," Derby insisted, adding that she was optimistic that there would be operators for the slots from April next year, by which time the number of slots would be increased to 42.
The bidding process had been delayed as a result of recent flooding in KwaZulu-Natal and the tender would now close at the end of August.
In its results statement, the group said it appreciated the importance of improving the performance of TFR's operations.
It also stated that "significant progress" had been made towards concluding adjusted long-term contracts with the Coal Export Parties (CEPs) following the force majeure notices issued in April.
"Most CEPs have participated in good faith, and we have received sign-off from both major CEPs and all emerging miners.
"We await the full cooperation from one major CEP and its affiliates," the statement reads.
Transnet said it had continued to provide transport services for all CEPs while contract negotiations continued.
Meanwhile, the group reported a 1.8% rise in revenue to R68.5-billion and a profit for the year of R5-billion, from a loss of R8.7-billion in the prior year. The result was boosted by an R11-billion fair value adjustments related to investment property.
A Public Finance Management Act (PFMA) exemption received from the National Treasury meant that the group no longer had to disclose PFMA transgressions in its annual financial statements.
Therefore, while it still had R105-billion-worth of reportable transgressions, including about R104-billion in irregular expenditure, their exclusion from the financial statements allowed the Auditor-General of South Africa to express an unqualified audit opinion.
"This is a significant development from the history of qualified audit opinions received in the past four financial years related to the completeness of irregular expenditure," Transnet said.