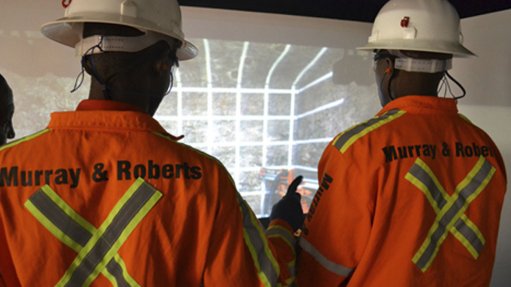 SIMULATED LEARNING The Murray and Roberts Training Academy provides training for an exceptionally diverse client base, including gold producer AngloGold Ashanti
Simulation has resulted in a definite, dramatic reduction in training cycle times, says Bedfordview-headquartered mining contractor Murray & Roberts' Murray and Roberts Training Academy (MRTA) education and training development executive Tony Pretorius.
With five, high-fidelity Cybermine training simulators in operation at the academy in Bentley Park, near Carletonville, in Gauteng, the MRTA is training about 350 operators on the simulators a year.
The MRTA provides training for an exceptionally diverse client base. Besides Murray & Roberts Cementation, independent mining group Sibanye Resources, global gold producer AngloGold Ashanti, independent integrated platinum-group metals producer Northam Platinum and diamond company De Beers all use the underground, mechanised-mining operator training facility.
"At the MRTA, we apply the situational leadership model; tell, sell, participate and delegate," says Pretorius. "Tell", he explains, covers e-learning and instructor-led coaching; "sell" concerns visual-based learning, including elements such as animations, with a focus on reflexive capabilities and the mind; and "participate" refers to the coupling of simulation and virtual-reality three-dimensional (3D) modelling with mock-up training. Once simulation training is complete, operators enter the mock-up environment and then the workplace. This is where the "delegate" stage comes in, which covers workplace-integrated learning towards applied competence.
Simulation plays a vital role in the operator training process at the MRTA, with Pretorius pointing out that "we believe we're the trendsetters in simulation" in the manner in which the learner's psychomotor deficiencies are mapped to the simulation exercises and modelling. However, even before simulation training starts, instructors review individuals' psychomotor and risk propensity scores, with the results coupled to certain simulation exercises to "engineer out" the bad habitual behaviours of operators. "The process starts with the diagnostic Dover Test System (DTS) assessment, rehabilitation training for operators who do not meet the DTS standard, presimulation conditioning and then simulation. We can score the learner's proficiency as they exit the simulated learning environment and enter the mock environment across health and safety, machine appreciation and productivity enhancement criteria."
Solutions Provider
Global supplier of surface and underground mining simulators, military simulators and construction simulators ThoroughTec Simulation has been working with the MRTA for nearly a decade, refining and enhancing its simulation capabilities with Cybermine. "We looked at a number of service providers but it was clear that ThoroughTec was a sound choice, given their global footprint and reputation," says Pretorius.
"Working with innovative institutions that are at the frontline of mine training is always motivating. We knew our reliable, fourth-generation simulators would be worked hard," says ThoroughTec operations VP Richard Bellengere.

The MRTA has four of the latest-generation Cybermine simulators for the training of underground equipment operators. These include engineering group Sandvik's DD320 drill rig, DS310 bolter, Toro 40D articulated dump truck and a LH517 load, haul, dump (LHD) truck. "We clock massive hours on our simulators because most of our mechanised fleet is from Sandvik," says Pretorius. The MRTA is also still operating an earlier generation Cybermine unit for the training of EJC 115 LP LHD operators.
"One of the great things about simulation is that you're assisting the trainee to learn important aspects of operation in a safe environment," says Bellengere, highlighting that there is absolutely no risk to the trainee or the instructor and it saves time and operating costs.
Operators are scored on three levels of proficiency: health and safety, machine appreciation, and productivity enhancement. With health and safety of paramount importance to companies, simulation allows the MRTA to show operators where they are going wrong, the ramifications of their mistakes and how they can be safer in the workplace.
"In terms of machine appreciation, it's absolutely paramount that a mine or contractor's engineering department understand what happens when operating a machine [using various] operators, how this affects different parts and the use of consumables, [as] that's really where the cost lies. Simulation is useful in demonstrating to engineers how operators use the machines," says Pretorius.
Other Technology
Simulation is not the only training tool used at the MRTA. The facility recently bought a virtual reality simulator as part of its mock mine that allows miners in a mechanised environment to take line and grade, and actually mark off a simulated development face. "It gives you all the joys of being underground, without getting your boots dirty," says Pretorius, noting that the technology makes learning fun and provides a fully controlled, conducive environment where people know that they can concentrate on learning, rather than having to worry about the natural environment where they could be harmed during the learning process.
The mock mine also includes areas to learn and practice shaft sinking, development (direction and grade, drilling, support installation and time blasting), bolting, double-drum winching, charging and initiating systems, pipe suspension and installation. An artisan workshop is also located on site.
According to Pretorius, simulation training must form part of the overall integrated process towards applied competence. It should be used in conjunction with other training interventions such as e-learning, visual-based learning, mock-up and workplace competency development.
"We're also very excited about ThoroughTec's new Cybermine Workforce Excellence workforce optimisation and training management platform. "We are passionate about using technology as a learning enhancement tool and this advanced and intuitive platform could form part of our plans to enhance our training capabilities in the future."