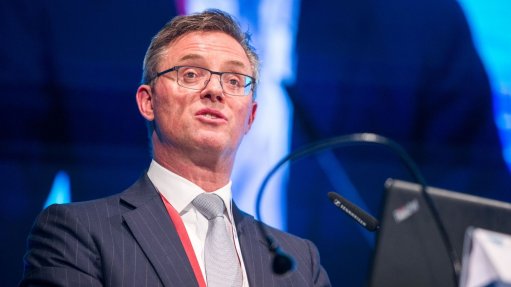 Trafigura CEO Jeremy Weir speaking at the CERAWeek conference in Houston this week.
Looming supply shortages of several key metals like copper and lithium could threaten the global transition to clean energy, according to Trafigura CEO Jeremy Weir.
A dearth of battery metals including lithium and cobalt have underscored the challenges that automakers could face in boosting electric-vehicle output, while deficits in industrial metals like copper could become a problem without increased investment in new supply, the head of the commodities trading house told Bloomberg Television at CERAWeek by S&P Global in Houston.
Trafigura — the world's biggest copper trader — has been vocal in warning that higher prices will be needed to incentivize miners to bring new production online. But Weir also cautioned that protracted permitting processes could stymie new supply even if prices do move higher.
"It's one of my biggest fears with this energy transition: Actually, can we transition, given the supply tightness?" he said. "We have to be more efficient in bringing things online."
Getting to net zero could require almost $10-trillion of metals between now and 2050, according to BloombergNEF, with annual demand peaking at close to $450-billion in the mid-2030s. While steel and aluminum are expected to see the most demand growth in terms of absolute volume, copper is set to be the most valuable opportunity, with an estimated $3.4-trillion of the red metal needed to avert climate disaster.
The supply challenges extend beyond mining, and there are also risks that western economies will fall short in their efforts to boost local metals refining and processing, Weir said.
"Metal processing has been concentrated in China for the past three decades, and it now has to expand out of that footprint for many reasons," Weir said. "The problem is there's a long lead time for these things."