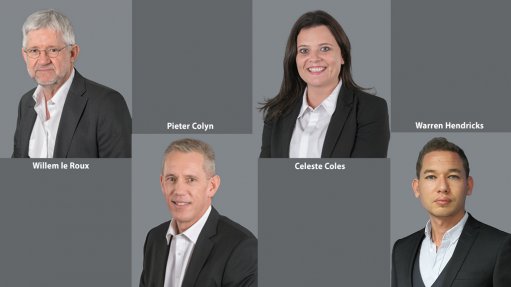 ENSafrica's safety and health webinar team.
JOHANNESBURG (miningweekly.com) – South Africa's new trackless mobile machinery (TMM) regulations published five months ago are one of mining's burning issues and perhaps an undeclared state of national disaster for some, ENSafrica webinar attendees heard on Monday.
TMM is defined as any self-propelled mobile machine used at a mine for mining, transport or associated operations underground or on surface, which is mobile by virtue of its movement on wheels, skids, mechanical shoes or any other device fitted to the machine. (Also watch attached Creamer Media video.)
Excluded are rail-bound equipment, scraper winches, monorail installations, static winches, draglines, winding machinery installations and track-mounted conveyors.
"On Wednesday, 21 December 2022, whilst we were all still doing Christmas shopping, these sub regulations were published for commencement," ENSafrica mine and occupational health and safety executive Warren Henricks recalled during the webinar covered by Mining Weekly. The 2015 regulations governing trackless machines were uplifted, and the Mine Health and Safety Act Trackless Mobile Machinery Regulations for collision avoidance systems promulgated.
In a nutshell, these require mines to provide for anti-collision systems and devices to automatically retard or stop diesel-powered TMM from colliding with pedestrians and other TMMs.
The regulations commenced on gazetting with no transitional provision amid South African mines reporting 17 TMM-related fatalities last year and 16 the year before.
Immediate compliance created a precarious position for some employers, exacerbated by the degrees of regulatory enforcement from region to region.
In certain regions, employers have been required to submit implementation plans, with employers having to rely on collaborative efforts between multiple and respective original-equipment manufacturers (OEMs).
In response to a question, Henricks said the onus is on the employer to determine the risk of collisions and to provide the systems to eliminate that risk with no onus on the OEM to provide TMMs with the required technology.
Applications for exception should be made to the Minister in terms of Section 79 of the Mine Health and Safety Act, who is able to delegate such power to the Chief Inspector of Mines in terms of Section 96. Copied on the exemption application should be the Principal Inspector if response is referred to in the exemption application.
"It's only been five months so far, so it'll be interesting once decisions are made on exemption applications, and how employers deal with the implementation going forward," Hendricks added.
Speaking to journalists at this year's Investing in African Mining Indaba in February, Minerals Council South Africa chairperson Zero Harm Forum Japie Fullard said of TMM-related fatalities: "We're going to do whatever we can to bring those down."
COVID OBLIGATIONS
A second burning issue is lack of clarity around the Covid-19 virus and ongoing compliance requirements of the disease, which was highlighted by ENSafrica mine and occupational health and safety executive consultant Willem le Roux and ENSafrica mine and occupational health and safety executive Celeste Coles.
Le Roux drew attention to the fact that on February 3 this year, in the same regulation in which monkey pox was declared a notifiable disease, the other notifiable diseases listed did not include Covid-19.
"I don't think that one can argue that by scrapping the reference to Covid-19 in the latest notification that one can conclude that reporting is no longer required, and, in any event, the Minister can't just leave out things. The Minister can declare regulations by imposing certain requirements or by changing them or deleting them.
"This hasn't been followed. Perhaps something unknowingly or unintentionally was done, as we know nowadays happens very often. So, my advice is report Covid. When it is diagnosed by the health care provider, report it straight away by telephone and you will find the telephone number on the website of the National Institute of Communicable Diseases. Then you must also report it electronically within 24 hours.
"This obligation is very important because if a person fails to comply with the provision of the regulations, then the person is guilty of an offence and on conviction, liable to a term of imprisonment not exceeding ten years and/or a fine determined by a court of law," Le Roux warned.
MINE OBLIGATIONS
In June 2022, it appears that a letter has been authorised on behalf of the Chief Inspector of Mines and in essence this correspondence sets out guiding principles, which indicate that the Chief Inspector of Mines has imposed revised measures for the prevention, mitigation and management of Covid in the South African mining industries.
"At the end of the day, the mine's risk assessment will dictate the measures that the mine implements at its particular operations related to the management and control of the Covid-19 virus. So, that is your focal point as a mining operation, to make sure that not only your risk assessment considers the current and prevailing literature and circumstances, but that you also take into account your mine-specific conditions and operations.
"So, even though there may not be an obligation to wear a mask in general and in public, your mine risk assessment may indicate that in the very extreme confined stope environments, that a mask, or a certain type of mask, may be beneficial to your operations; and that is an example, I'm not saying that is in fact the prevailing literature," said Coles.
Gatherings are another aspect that will be revised and the correspondence indicates that the prevailing Department of Health legislation will apply and at this juncture, there is no legislation or policies describing any measures that must be taken related to Covid at mass gatherings, Coles added.
Powerpoint and slide presentations and YouTube links are being provided to attendees by ENSafrica executive and mine health and safety department head and webinar host Pieter Colyn.