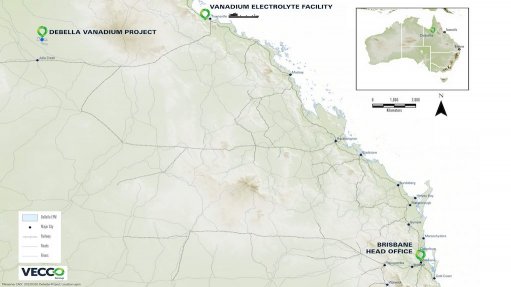 Photo by: Vecco Group
Name of the Project
Townsville vanadium battery manufacturing facility.
Location
Townsville, in Queensland, Australia.
Project Owner/s
Vecco Group.
Project Description
The project will be Australia's first commercial-scale vanadium flow battery electrolyte manufacturing facility.
It will produce 9 Mℓ/y of electrolyte for use in grid-scale vanadium flow batteries, equating to energy storage capacity of
175 MWh/y, with plans to increase the operation's capacity to 350 MWh/y.
The new manufacturing facility will be integrated with the Debella critical minerals mine, near Julia Creek, at which Vecco intends to produce vanadium and high-purity alumina (HPA).
The Debella project will produce 5 500 t/y of vanadium pentoxide and 2 000 t/y HPA over a mine life of more than 50 years.
Until the Debella project comes online, Vecco will use imported vanadium to produce high-grade vanadium electrolyte.
Potential Job Creation
About 21 people when operational.
Net Present Value/Internal Rate of Return
Not stated.
Capital Expenditure
A$26-million.
Planned Start/End Date
The project is expected to begin production later this year. Production at the Debella mine is scheduled for 2024.
Latest Developments
None stated.
Key Contracts, Suppliers and Consultants
None stated.
Contact Details for Project Information
Vecco Group, tel +61 7 3155 6311 or email contact@veccogroup.com.au.