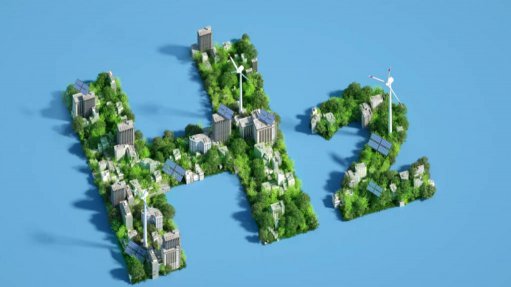 Green hydrogen and fuel cell collaboration announced by Nel and General Motors of the US.
JOHANNESBURG (miningweekly.com) – A joint development agreement struck between global majors Nel Hydrogen US and General Motors (GM) is expected to speed up the development of green hydrogen technology that is competitive with fossil fuels.
The aim of the agreement is to help accelerate the industrialisation of Nel's proton exchange membrane (PEM) electrolyser platform, a user of platinum-group metals (PGMs), which are hosted overwhelmingly by South Africa.
Both companies are looking to enable more cost competitive sources of renewable hydrogen by combining Nel's deep knowledge of electrolysers with GMs' huge insight into fuel cells, which are also PGM-users.
Nel has promising electrolyser technology for clean hydrogen infrastructure and GMs' Hydrotec fuel cell intellectual property (IP) can help Nel elevate to greater scale, against the background of the giant US motor company having more than a half century of experience in hydrogen fuel cell propulsion.
PEM electrolysers and fuel cells are based largely on the same principles in that PEM electrolysers use electricity and water to produce hydrogen and oxygen, while fuel cells reverse the process, using hydrogen and oxygen to produce electricity and water. Both are zero-emission processes that are unrivalled climate change mitigators.
The two companies see substantial synergies being unlocked by transferring the fuel cell know-how of GM to Nel's PEM platform.
"We believe this collaboration will give us a competitive advantage in industrialising the production of our PEM electrolysers and further improving the efficiency of our technology," Nel CEO Håkon Volldal stated in a media release.
Adding Nel as a strategic collaborator is seen by GM as an important step towards commercialising fuel cell technology.
"Electrolysis is key to creating consistent, clean sources of hydrogen to power fuel cells," GM executive director Global Hydrotec Charles Freese pointed out.
The next step by Nel will be to industrialise the production of its PEM electrolyser equipment to enable technology advancement, amid commercialisation of higher performance and lower cost Hydrotec hydrogen fuel cell and battery technologies.
This is seen as opening up new revenue potential for GM as freight trucking, aerospace, power generation and locomotive industries turn to it for performance enhancement and emission reduction.
Automated production is regarded as being key to scaling up electrolyser use and driving down electrolyser cost.
Nel will be compensating GM for the development work and IP transfer on an ongoing basis and pay a licence after successful commercialisation dependent on how much of the end product is based on GM technology.
As a dedicated hydrogen company, Nel is delivering solutions to produce, store and distribute hydrogen from renewable energy.
It serves industries, and energy and gas companies with leading hydrogen technology.
Nel has a long history of continual improvement of hydrogen plants, with its hydrogen solutions covering the entire value chain from hydrogen production technologies to manufacturing of hydrogen refuelling stations, and providing fuel cell electric vehicles with the same fast refuelling and long range as conventional vehicles.
GM is focused on advancing an all-electric future that is accessible to all. At the heart of this strategy is the Ultium battery platform, which powers mass-market to high-performance vehicles.