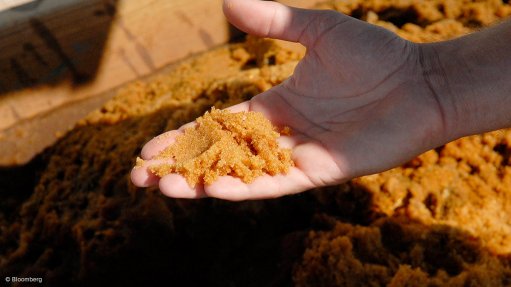 Photo by: Bloomberg
VANCOUVER (miningweekly.com) – Japan's Tokyo Electric Power (Tepco) has revealed that Canadian uranium major Cameco is seeking $681.9-million in damages following a dispute that has driven the former partners to international arbitration.
News agency Reuters reported from Tokyo, Japan, that Tepco has confirmed receipt of a document within which Cameco stated claims following a multibillion-dollar contract cancellation that has weighed on Cameco's quarterly financial results.
Tepco, the operator of Japan's wrecked Fukushima nuclear plant, terminated a supply contract in January, alleging force majeure. Tepco said it has been unable to operate its nuclear generating plants for 18 consecutive months owing to government regulations arising from the Fukushima nuclear accident in March 2011.
This affects about 9.3-million pounds of uranium deliveries through 2028, worth about C$1.3-billion in revenue to Cameco, including about C$126-million in 2017.
Cameco disputes the withdrawal, previously stating it sees no basis for terminating the agreement. Cameco filed for an arbitration in May.
Tepco does not expect the arbitration to affect earnings for the time being, according to Reuters.
A weak medium-term uranium outlook compounds low spot and long-term contract pricing trends, which have crawled sideways at the $20/lb and $30/lb ranges for several consecutive quarters, respectively.