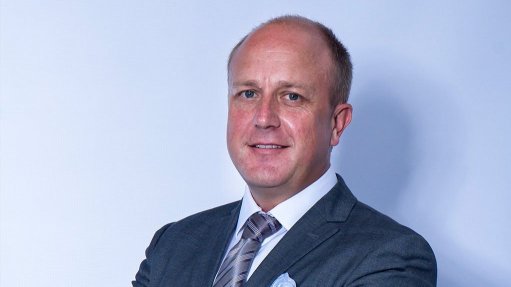 AfriTin CEO Anthony Viljoen
JOHANNESBURG (miningweekly.com) – At a time of galloping global tin demand, the London Aim-listed mining company AfriTin Mining not only has one of the biggest tin resources in the world at Uis in Namibia, but it has also been lucky enough to stumble upon one of the biggest hard-rock lithium resources on the planet, at a time of lithium demand being all set to go through the roof.
The company is poised to have polymetallic revenue streams from a deposit of global significance at a time of a high-flying $33 000/t tin price and the company's tin-mining models being based on a far more moderate $20 000/t.
While demand prospects are sky high, supply prospects have been hobbled by the lack of involvement by majors and an exploration dearth.
"So, as you can imagine, things are very rosy in the world of AfriTin at the moment," said a broadly smiling AfriTin Mining CEO Anthony Viljoen in a Zoom interview with Mining Weekly. (Also watch attached Creamer Media video.)
The company expects to have revenues of more than $500-million a year in the next five years and is setting its sights on becoming a new technology champion of Africa.
Providing minerals for the electronic revolution is the niche it wants to fill: "All of your microchips and semi-conductors are made out of tin and what people fail to understand is that when they talk about a shortage of semi-conductors, the real shortage is in the raw materials and tin is one of those raw materials that is going to literally glue the whole new technology green revolution together," said Viljoen.
In its expanded phase two, AfriTin intends producing 1 200 t of tin a year and sees scope to expand that by eight to ten times going forward.
Mining Weekly: What has led to demand for tin moving beyond the days when one tended to associate tin with jam tins and the like?
Viljoen: Tin has always been associated, exactly as you've said, with tin cans. In fact they were steel cans that had tin plating inside them. So, it's a bit of a misnomer to call them tin cans. What happened in the mid-2000s is a lot of those green electronic boards with all of those silver dots. Those silver dots were actually made of an alloy of tin and lead and when people realised that lead had detrimental health effects, they banned lead in all of this electronic equipment and since then, the solder application has driven the tin demand. You'll see that since about 2005 tin demand has just gone through the roof and 60% of its use is in electronic solder. So, that's its main use but what we are quite excited about is that not only is the solder market just going crazy to the moment but there are a whole lot of new applications specifically around lithium batteries. They are thinking of using tin casing to extend the life of lithium batteries to extend the charge. Although it's been relatively under the radar, I think you're going to be hearing a lot more about tin and you'll also notice that in the last 30 years all the big mining companies have not been involved in tin and have moved out of exploration. You'll see that the tin price is reaching all-time highs at the moment. It really is a perfect storm of factors coming together at the moment. We've got burgeoning demand but there are just no new industrial-scale mines that are coming on stream to provide tin concentrate into the market. We're at the forefront in that we're one of the very few new industrial mines. We've got our colleagues in the Democratic Republic of Congo, but outside of that the lack of exploration in the last 30 years has created a massive deficit in the yearly tin requirements. Tin's current price of $33 000/t is almost all-time high on both the London Metal Exchange and on the Shanghai Metal Exchange.
Mining Weekly: What production is AfriTin hoping to achieve?
We've taken a phased approach to development. The resource that we've got at Uis is just phenomenally big. It is really one of the biggest I've seen in the world. It's an opencast proposition. We wanted to take advantage of the dynamics of the tin market so we went straight into digging holes using a lot of old Iscor data. We got into phase one production but because of the gravity-based nature of the plant, it's all about flow dynamics and making sure that the material runs through the plant as efficiently as possible. There are a few areas that we believe we can expand on and the modular nature of the plant allows us to expand it. We are going to undertake that in the next couple of months and expand that production. Our steady-state production is 60 t of tin concentrate a month and we believe we can push that up to maybe even 100 t of tin concentrate a month with our expansion plans. The real gem of this deposit is our expanded phase two, where we want to go from producing 1 200 t/y of tin and we believe we can expand that by eight to ten times by building a much bigger plant and expanding our footprint to exploit the sheer size of this resource.
Mining Weekly: How will you go about funding that expansion?
We've been very lucky. We've got a really strong share register. We've raised significant equity that will get us to that point. We are also speaking to many of the local banks in Namibia and abroad. Namibia is a very investor-friendly destination to invest in and we can get project finance very easily for phase two of the expansion. For the bigger plant, we'll probably be looking in the region of about $100-million to $200-million. The broad range is dependent on our trade-off feasibility studies that we're in the process of completing. I also need to tell you something that we've stumbled upon that is quite unique about this deposit. Iscor mined it solely for tin, but as we confirmed the historic resource, we have luckily enough stumbled upon one of the biggest hard-rock lithium deposits on the planet. Having a polymetallic revenue streams is something that will take the company to being a miner of a deposit of global significance for the new electronic revolution.
Mining Weekly: How do you market your tin and how will you market your lithium?
We sell our tin at the moment directly to the smelters in Thailand. We have a very good relationship without offtake partners. We've got a three-year offtake arrangement that's renewable. We've got very favourable logistics costs. From mine gate all the way to Thailand only costs us $150/t. Very efficient logistics routes and we sell directly to the smelter. I don't think there'll be a shortage of offtake partners for the lithium, given that the dynamics will probably be even double what it is at the moment.
Mining Weekly: When do you expect to be producing lithium?
It could be as early as the end of the year. We're undertaking a whole metallurgical test work programme to identify the most efficient route in terms of extracting the by-product credits. Those results should hopefully be out in the next couple of months and that will give us a much clearer indication of the recoveries and the scalability of that lithium by-product stream. It should be a relatively straightforward modular add-on to the existing circuit.
Mining Weekly: What is your overall vision for AfriTin?
In the next five years we want to have revenues in excess of $500-million a year. We want to grow AfriTin not only in Namibia, but in the region. We've got ambitions for not only one mine but for a number of mines and we want to be the new technology champions of Africa. We want to fit in the niche of providing minerals for the electronic revolution.